What Angelina Jolie's Relationship With Her Son Maddox Is Like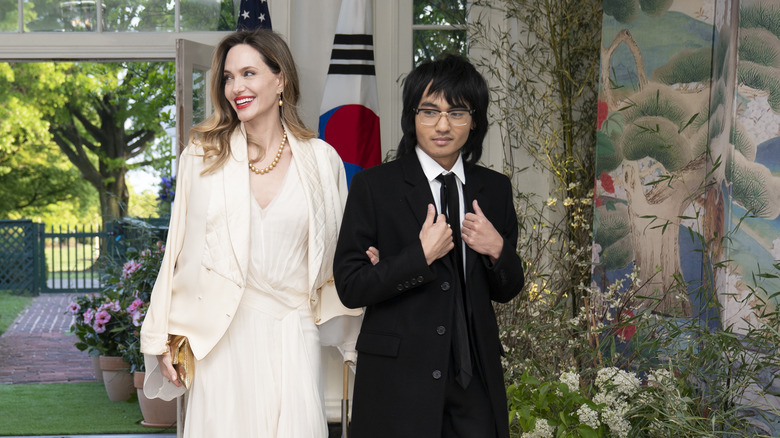 Bloomberg/Getty Images
Angelina Jolie has had a rough time of it lately. In 2016, her two-year-long marriage, and 12-year relationship, with Brad Pitt ended, and the split understandably left Jolie feeling broken. While dealing with the pressures of going through a public divorce, she fought a grueling custody battle, faced the legal drama with their divorce judge, and battled Pitt over their formerly jointly-owned winery. But there's one thing that has kept Jolie going through it all: Her six children.
In a 2023 interview with Vogue, Jolie reminisced about how becoming a mom at 26 irrevocably changed her life for the better. "Having children saved me — and taught me to be in this world differently," she said. "I think, recently, I would've gone under in a much darker way had I not wanted to live for them." The Oscar winner added that she was incredibly proud that her kids had grown up to become better people than her. The "Maleficent" star also shared that she's always strived to create a sense of stability by being somebody they can rely on. 
Like every mother, Jolie was proud that her kids were taking on more familial responsibilities too. Jolie's motherhood journey began with her eldest, Maddox, whom she adopted from a Cambodian orphanage. As the actor recalled to Vanity Fair, she saw several children at the orphanage but sadly didn't feel an instant connection with them. However, when Jolie laid her eyes on seven-month-old Maddox, she teared up because she immediately knew he had to be hers.
Maddox and his mother teamed up for a film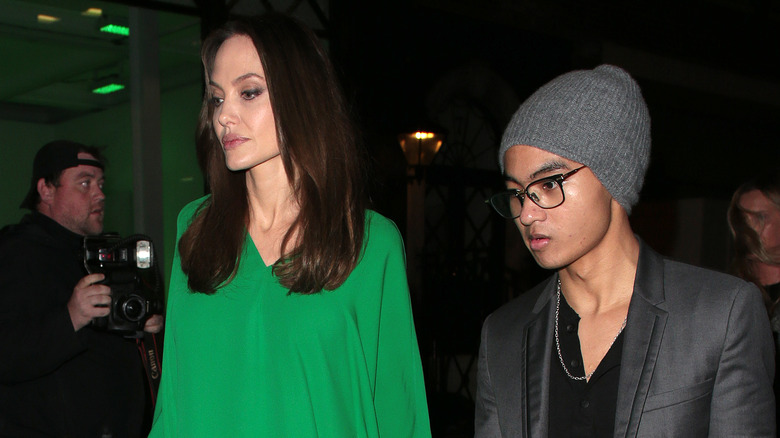 Ricky Vigil M/Getty Images
Despite being married to Billy Bob Thorton at the time, Angelina Jolie adopted Maddox all by herself. After their relationship ended, she raised him alone until Brad Pitt legally adopted Maddox in 2006. Jolie spoke fondly of her eldest son in a 2007 MSN interview, gushing, "Mad's almost 6, and he's just this little intelligent man. He's so smart and so witty. He's like my best buddy. Just the coolest little person I've ever met," (via People).
Out of all the Jolie-Pitt children, it seems like Maddox shares his parents' love of filmmaking the most. In 2013, he made his acting debut playing a zombie in his father's action movie, "World War Z." While Jolie directed the 2017 biopic, "First They Killed My Father," then-16-year-old Maddox worked as an exec-producer on the film. The movie detailed the heartbreaking struggles of Cambodian human rights activist Loung Ung as she tried to survive under Khmer Rouge's rule.
Jolie praised her son for his work in an interview with E! News: "I can never rate my own child, but I couldn't have made it without him and I cannot say that about every producer I've worked with." The actor and activist also revealed to People that Maddox had pushed her to make the film in the first place and even contributed to the script after doing tons of his own research. Meanwhile, Maddox confirmed that he had a fantastic time working with his mom. 
Maddox supported Jolie through a legal battle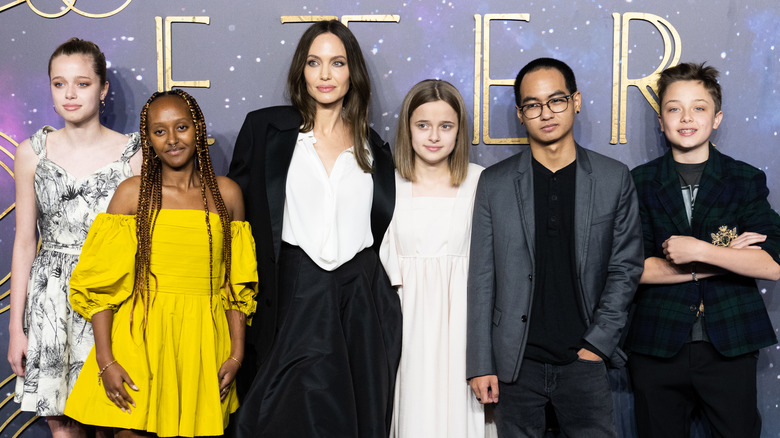 Samir Hussein/Getty Images
In their joint People interview, Angelina Jolie revealed that Maddox had spent four months in Cambodia during which he immersed himself in the culture by reading and listening to real-life, unfiltered accounts from fellow Cambodians. The "Salt" star also proudly noted that her son was taking on more hobbies like flying lessons and learning multiple languages including French and Russian. As an adult, Maddox took a more analytical path in life by deciding to study biochemistry at Yonsei University in South Korea. 
Speaking to ET, Jolie acknowledged that when she dropped him off at the airport, she held back her tears for as long as possible because she didn't want to be an embarrassing mess. The actor recalled how she waved to Maddox way too many times because she wasn't ready to see him off, but he was happy to wave back since he knew the long separation wouldn't be easy on either of them. And while Maddox is close to his mother, the same cannot be said for his father.
An insider informed Us Weekly that Maddox doesn't even identify as Brad Pitt's kid anymore. Their rift supposedly began after a fateful plane ride where Pitt allegedly physically and verbally assaulted Jolie and their kids. Maddox reportedly cut off contact with his dad as a result. Amidst their bitter custody battle, Maddox showed his unequivocal support for Jolie by testifying against Pitt. He also reportedly refused to join a family reunion at Pitt's home and has turned down his repeated requests for a reconciliation.