The Real Meaning Behind Doja Cat's Paint The Town Red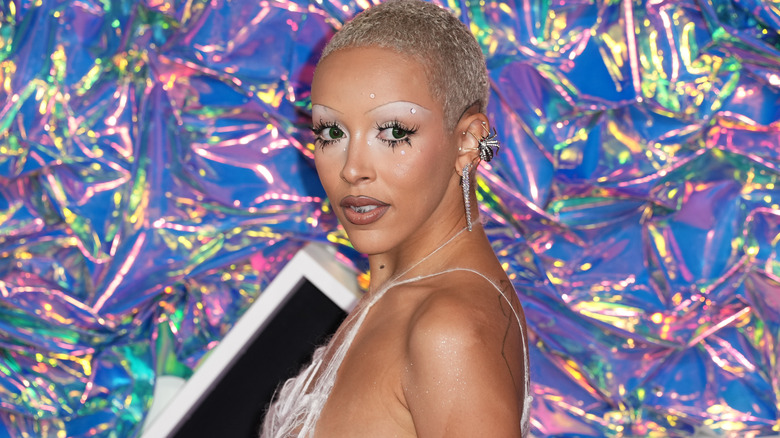 John Nacion/Getty Images
When Amalaratna "Amala" Zandile Dlamini aka Doja Cat released "Paint The Town Red," fans weren't particularly rushing to stream the track after the singer's polarizing comments about them. In a bizarre Threads post, Doja called out her fanbase kittens. She wrote, "If you call yourself 'kitten' or kittenz,' that means you need to get off your phone and get a job and help your parents." When one supporter asked her to share her preferred fanbase name, she clapped back by asking them to delete their account and rethink their life choices. 
Another fan account urged Doja to let her fans know that she loves them, and she responded by telling them that she can't love people she doesn't know. When someone pointed out that they didn't personally know Doja but chose to love and support her career so she could be famous, the singer wrote, "Nobody forced you [I don't know] why you're talking to me like my mother. B**** you sound like a crazy person." 
Unsurprisingly, her fans weren't pleased with her harsh responses, and as a result, Doja reportedly lost around 500,000 followers. Nevertheless, she didn't take her comments back and instead posted an Instagram story expressing how happy she was that these people had unfollowed her because now she could finally be free and show her true self. While this controversy happened a mere week before "Paint The Town Red's" release, it matches the song perfectly since it shows that Doja couldn't care less about her public image.
'Paint the Town Red' shows Doja Cat's darker side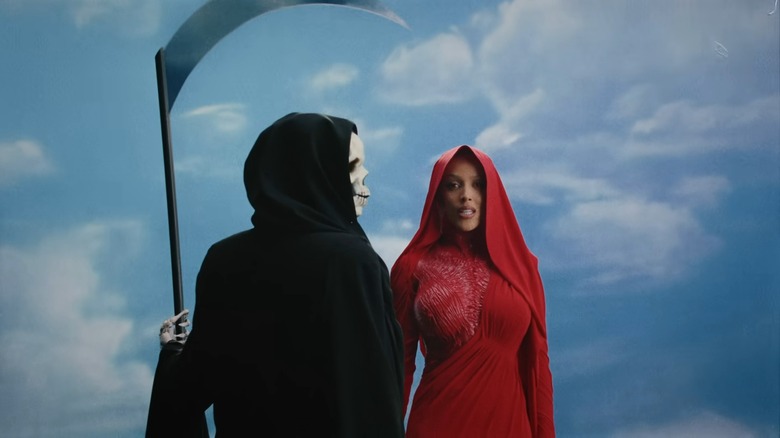 YouTube/Kemosabe Records
"Paint The Town Red" is an unapologetic anthem in which Doja Cat makes it clear that she doesn't care about other people's opinions of her. She sets the song's theme perfectly with the opening lines, "B**** I said what I said, I'd rather be famous instead." Right off the bat, Doja addresses that she doesn't mind if her controversial opinions put her in the spotlight. After her fan interactions, many believed that Doja was drunk off power, and she admits to that in the following line, "I let all that get to my head." 
But she doesn't stop there as she sings, "I don't care. I paint the town red." These lyrics explain that Doja enjoys the power of fame, so she ignores people's negative comments and focuses on enjoying the moment. In the song's pre-chorus, she addresses the dark side of her album "Scarlet" by singing about how she's the devil. The lines could also allude to rumors of her being a devil worshipper that stemmed from the singer's creepy tattoo of a mythological creature called Licenti. 
After Doja debuted the tattoo, some fans called her out for promoting Satanism, but she remained unbothered as she posted a portrait of Licenti captioned, "Your fear is not my problem." After these lines, she acknowledges how hard she's worked for her stunning transformation, which ultimately shot her to fame, and admits she won't settle for anything but the best because she knows she deserves it.
Doja Cat addresses her most controversial statements in the track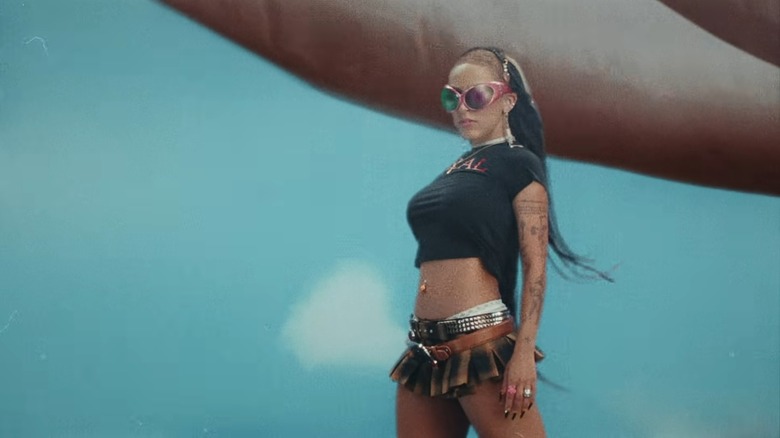 YouTube/Kemosabe Records
"Paint The Town Red's" verses see Doja Cat acknowledge common criticisms of herself. In the first verse's opening lines, she sings, "Said my happiness is all your misery," and follows it up with a cheeky nod to her sex life with her controversial boyfriend, J. Cyrus, who has been accused of racism, harassment, and emotional abuse. She later admits that she doesn't care if fans aren't supportive of the relationship. Doja had previously called her pop albums cash grabs and mocked fans for listening to such mediocre music. 
She addressed this statement in the second verse, singing, "Said pop make money, now you try b****." Doja also alludes to her controversial opinions about her fans by calling out the die-hard ones, "Fans ain't dumb, but extremists are." "I don't need a wig to make you like it" represents how unfazed Doja was after learning that fans weren't too keen on her shaved head look. In the remainder of these verses, Doja sings about her greatness. 
She boasts she doesn't need a featuring artist on her music for popularity. Doja believes she's revolutionizing music by doing things people have never seen before. She showcases her rebellious spirit by referencing Maison Margiela, a haute couture house built on the principles of non-conformity and rebellion. The rapper finishes the second verse by singing, "Fame ain't somethin' that I need no more" to let fans know that she's no longer trying to be famous by maintaining her image but striving for artistry.