B&B's Katherine Kelly Lang Loves The Steamy Thomas & Hope Storyline Just As Much As We Do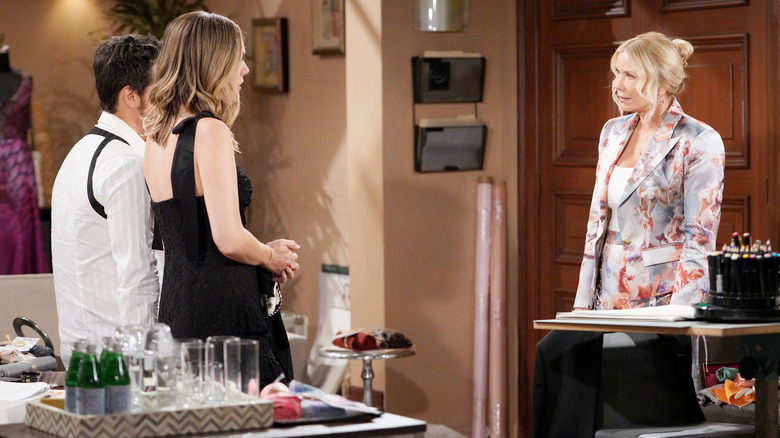 Howard Wise/JPI Studios
It would be a massive understatement to say that Thomas Forrester (Matthew Atkinson) crossed too many lines in his quest to be with Hope Logan (Annika Noelle). Thomas' obsession with Hope led to him making her think her baby was dead, kissing a mannequin lookalike, and using his son as a weapon. However, as time passed, Thomas seemingly put in the work to reform his image and earn back Hope's trust. Throughout this period, they worked closely together on her fashion line, spending countless hours in close proximity to each other. 
Hope began fantasizing about Thomas despite being married to Liam Spencer (Scott Clifton) and she eventually gave in to temptation. Hope made the first move, but unfortunately, her husband had a full view of their scandalous lip-lock. Upon returning home, Hope and Liam made the decision to divorce, freeing Hope to pursue something with Thomas. Hope has made it clear to Thomas that she isn't in love and isn't looking for a serious relationship, but that hasn't stopped him from professing promises of a future with her. 
Hope and Thomas have spent countless episodes steaming up our screens in the throes of passion, but there's one person in their lives vehemently against it. Hope's mother, Brooke Logan (Katherine Kelly Lang), has expressed her outrage, but the actor who plays her feels quite differently in real life. Unlike her fictional counterpart, Lang is not only supportive of the pairing, but she loves watching the electric chemistry exuding from the lovers. 
The actor praised Hope and Thomas' chemistry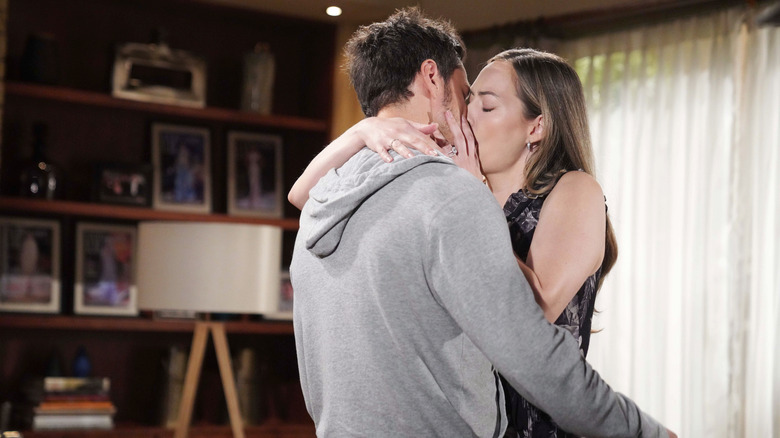 Howard Wise/JPI Studios
Despite having Brooke Logan as an opposing force against their growing romantic connection, Hope Logan and Thomas Forrester have one major supporter in their corner: Katherine Kelly Lang. The soap icon, who plans to continue playing Brooke long into her golden years, as she proudly told Soap Opera Digest, was effusive about their connection during a recent appearance on Australia's "Studio 10" morning show. Lang praised her co-stars by stating, "I think they have very good chemistry, and we'll see what happens!"(via Soaps).
Lang understands that pairing Hope with Thomas after years of him essentially torturing her with one devious scheme after another is controversial. However, she is fully invested in the storyline, reasoning, "I'm sure there are people that like it and don't like it, but I like it! I think it's very interesting. But of course, Brooke hates it. I like it, but Brooke hates it." Brooke has begged Hope not to give up on her marriage to Liam Spencer, but there's nothing left between the two. 
After all, he moved on to Steffy Forrester (Jacqueline MacInnes Wood) before the ink was dry on the divorce papers, while Hope requires undivided attention from her man. Hope and Thomas aren't officially in a relationship, but they're taking steps to avoid anyone else catching them in the act like Brooke. However, during one of their latest encounters at the office, they forgot to lock the door yet again, allowing Brooke to walk in and voice her condemnation once more.