Body Language Expert Reveals How The Royals Really Feel About Prince Andrew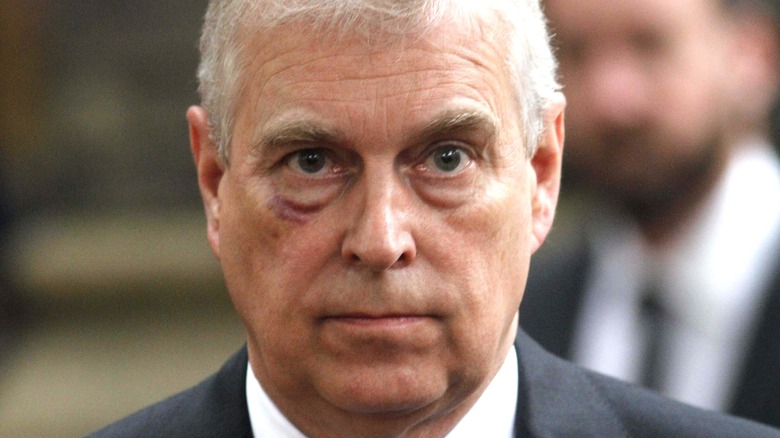 Wpa Pool/Getty Images
As the second son of Queen Elizabeth II, Prince Andrew was once a key British royal. According to People, the prince spent 22 years serving in the British Navy as a helicopter pilot. And, in April 1982, he even went off to the Falklands War. This history of personal sacrifice — and dedication to the crown — once earned Andrew the title of "world's most eligible bachelor." However, in 2023, it mostly means that the unpopular prince had a long way to fall.
Indeed, Andrew's reputation was torn to tatters when it emerged that the prince had a close personal relationship with convicted sex offender Jeffrey Epstein. Photographs released in a 2021 sex trafficking trial of Epstein's former partner, Ghislaine Maxwell, revealed that the three had vacationed together at Balmoral. Per The New York Times, one of Epstein's alleged victims, Virginia Giuffre, also filed a lawsuit against Andrew, in which she accused him of sexually assaulting her while she was a minor. The case was settled out of court.
When Andrew's association with Epstein became public, he was stripped of his military titles and "HRH" designation, BBC News reported. He also stepped down as a working royal. However, some royal watchers are wondering if the prince could be on the path to forgiveness. To discover what the royals really think about Andrew, The List spoke with Jess Ponce III, a body language expert, communication coach, and the author of "A.W.E.S.O.M.E: 7 Keys to Unlock the Speaker Within."
Prince Harry's reception of his uncle points to 'severed ties or dislike'
In some ways, Prince Andrew and Prince Harry have a lot in common. Both men were considered the "spares" of their generation. They both got married in tremendously public royal weddings. And, like Andrew, Harry enjoyed a successful military career. Despite all of these similarities, though, Harry and Andrew hardly looked comfortable when they crossed paths at King Charles III's May 2023 coronation ceremony. If anything, things between them looked downright frosty.
Tensions between Andrew and Harry seemed to emerge almost as soon as the two royal outsiders walked into Charles' ceremony. As revealed in a video released by The Guardian, Harry exited his car first. The redheaded rebel then began marching toward Westminster Abbey — only to stop suddenly when he noticed Andrew leaving the car in front of him. According to body language expert Jess Ponce III, this abrupt change in Harry's body language was likely a direct response to his uncle's presence. "Harry is deliberately waiting for Andrew to go ahead of him," Ponce told us. "While this may be out of respect, it [is] most likely due to severed ties or dislike of his uncle."
Although Harry and Andrew came within inches of each other, they barely interacted. As the body language expert noted, "As Harry approaches the crowd, he slows down and does not acknowledge Andrew's presence."
Prince William's true feelings about Prince Andrew are difficult to decipher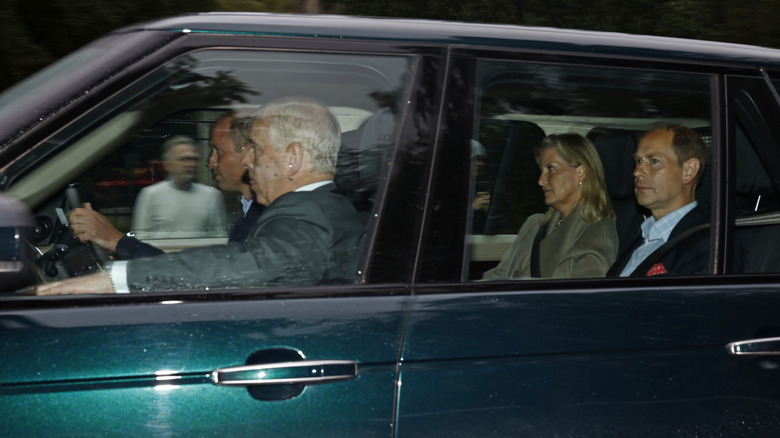 Jeff J Mitchell/Getty Images
While Prince Harry's relationship with Prince Andrew seems riddled with tension, the same cannot be said for some other members of the royal family. Prince William, in particular, appears to have taken a much more nebulous approach to the Andrew issue, refusing to bring his opinions into the public eye. While William has, on one hand, refrained from appearing at his disgraced uncle's side at most public outings, the heir has also done an excellent job side-stepping the occasional question about the Jeffrey Epstein scandal. In that sense, William's thoughts on all things Andrew are a bit more difficult to discern.
According to Ponce, we can see this lack of transparency in the pictures of William driving his Aunt Sophie and Uncle Edward and Andrew to Balmoral in the hours leading up to Queen Elizabeth's death. Photographs of this intense moment reveal William sitting beside Andrew in his Range Rover while Prince Edward and Sophie, Duchess of Edinburgh, were in the backseat. 
However, if the heir to the throne was concerned about being photographed at Andrew's side, his expression did not show it. As Ponce told The List, "Prince William is focused on the road ahead of him." That being said, the communication expert also opined, "His hands are tightly gripping the steering wheel, which leads to question if he's tense due to the circumstances, driving conditions, or being next to his uncle."
King Charles' lack of eye contact with his brother is telling
On April 9, 2023, King Charles III and Queen Camilla attended an Easter service at St George's Chapel at Windsor Castle. This commemoration was particularly significant, as it marked not only Charles' first Easter as the king of England but also the two-year anniversary of Prince Philip's death. Perhaps as a result of the emotional implications of this day, Prince Andrew was invited to attend the service with the rest of the royal family. Naturally, some royal commentators took this to mean that the prince had been welcomed back into the royal fold. However, body language expert Jess Ponce III is not so sure.
Pointing to footage of the royals entering the church, Ponce told The List that Charles did not seem particularly laid-back as his younger brother trailed him. As the communication coach shared, "King Charles seems a little anxious going into the church. He's fussing with his left hand, reaching in and out of his suit pocket and then touching the bottom of his sleeve." Although some fans might not think twice about Charles' restless hands, Ponce explained that it's a sign of something "deeper." As the expert put it, "One of the clearest signs of this is when he looks past Andrew toward the crowd. His lack of acknowledgment is telling." Indeed, the king did not seem to interact with Andrew in this moment. "He didn't even get close to making eye contact," Ponce said.
Princess Anne does 'not seem comfortable' with her brother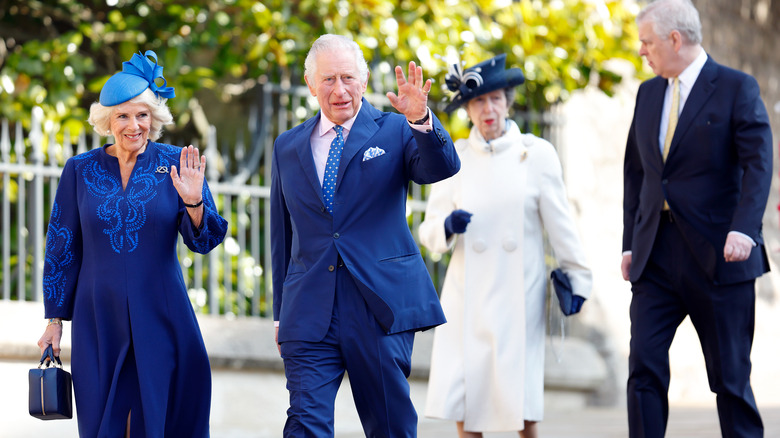 Max Mumby/indigo/Getty Images
King Charles III might not be the only one who felt uncomfortable at the royal family's 2023 Easter service. Princess Anne, who entered the church alongside Prince Andrew, may have also felt a bit awkward as she walked alongside her younger brother. Footage of the event reveals that Anne and Andrew were engaged in conversation as they made their way toward St George's chapel. The siblings appeared to look towards each other from time to time and even gesticulate as they spoke. But while some royal fans could take this as a sign that the brother-sister team is back in action, Ponce says that this is unlikely.
In a conversation with The List, the body language expert hinted that Anne and Andrew's conversation looked more like a formality than a sign of actual intimacy. After observing the pair's somewhat tense interactions, Ponce said, "The two of them do not seem comfortable with [each other]." He went on to note that the princess even seemed somewhat insecure as she walked by her brother's side, opining, "Princess Anne, in particular, is looking around and very self-conscious of her surroundings." In fact, she might have even looked for other family members to connect with. "She pauses outside the church, waiting for others to arrive. It seems as if she is looking for her sense of place," the expert said.
Princess Catherine tried to keep her distance
Even after the royal family's 2023 Easter service ended, there were plenty of family dynamics to be observed. This was particularly true when Princess Catherine left St George's Chapel at Windsor Castle. Footage of her exit shows the princess, in pure royal fashion, thanking the minister on her way out of the service. She also accepted a bouquet of white flowers from a young boy. 
However, there was something about Catherine's exit that was slightly unusual for a woman of her stature. It seemed that the graceful brunette was in a rush to get as far away from the chapel as quickly as she could. And, interstingly, Catherine appeared to speed things up right as Prince Andrew exited the building behind her.
"The loving partner, Princess Catherine was keeping pace with her husband," Ponce confirmed. "In the royal order it would seem appropriate that the two of them would be among the first to exit the church." However, Ponce went on to explain, "One cannot deny the vigor with which Princess Catherine exited [the chapel], leaving those close behind her at a distance. This includes Prince Andrew." While it's possible Catherine could've just been attempting to stay in step with her spouse, who had already walked off, Ponce revealed there could be more to it. "Did she want to be photographed with [Andrew]? Probably not," he said, "but who can blame her?"
Prince Edward could have mixed feelings about his brother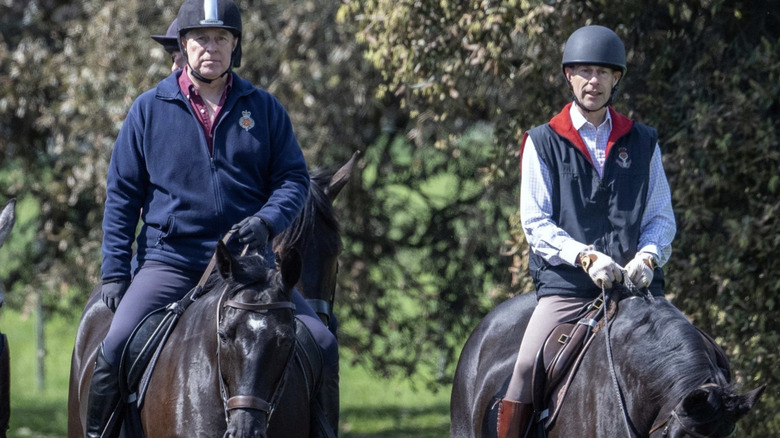 BACKGRID
While Princess Catherine may be averse to appearing beside Prince Andrew in photographs, another member of the royal family seems to have mixed feelings on the matter. Prince Edward has been known to display conflicting emotions when photographed beside his older brother — and it is easy to imagine why.
This dynamic was made particularly evident during the summer of 2023 when Andrew and Edward went horseback riding together near Windsor. As they rode on along the local river, the brothers were photographed side by side. Edward appears to maintain a more typical relationship with Andrew. And although photographs of the siblings made a splash, Ponce exclusively told The List, "There is nothing exceptional about this photo, except that Prince Edward, a seemingly good brother, is photographed next to Andrew." 
Still, Edward appeared somewhat downtrodden. According to the body language expert, it is hard to know whether the prince was upset by his brother or the circumstances. "Does he look particularly happy in this situation? No. But, it may have been one of those unavoidable situations when press was nearby, ready to capture the moment," Ponce explained. Conversely, Andrew seemed "jovial" most of the time. As Ponce put it, the younger prince "might find [Andrew's lightheartedness] annoying."
Princess Eugenie may not be as close with her father as originally thought
Navigating relationships among siblings is one thing, but understanding the dynamics between a father and his child is something else entirely. And when it comes to Princess Eugenie's feelings about Prince Andrew, things could be way more complicated than what first meets the eye.
The uniqueness of Eugenie's relationship with her father came to light while the royal family was mourning the 2022 death of Queen Elizabeth II. Shortly following the monarch's passing, the father-daughter pair joined other close relatives to admire the floral tributes left at Balmoral. Footage of this occurrence shows that, at one point, Andrew wrapped an arm around Eugenie's shoulders to comfort her in her grief. However, body language expert Jess Ponce III says this hug is not exactly the warm gesture that it seems to be.
In a conversation with The List, Ponce explained, "Princess Eugenie's embrace with her father is superficial on her part." The princess failed to lean into Andrew's arms, which would've been typical of a genuine hug. "The clearest sign of this is her patting him lightly on the back," Ponce told us. "Instead of a strong embrace, she is loose with her hand, giving him almost a 'bro' hug." This awkward interaction then failed to transition into any sort of conversation. As the body language expert told us, Eugenie and Andrew "continue to walk separately."
Princess Beatrice wasn't seen seeking consolation from her dad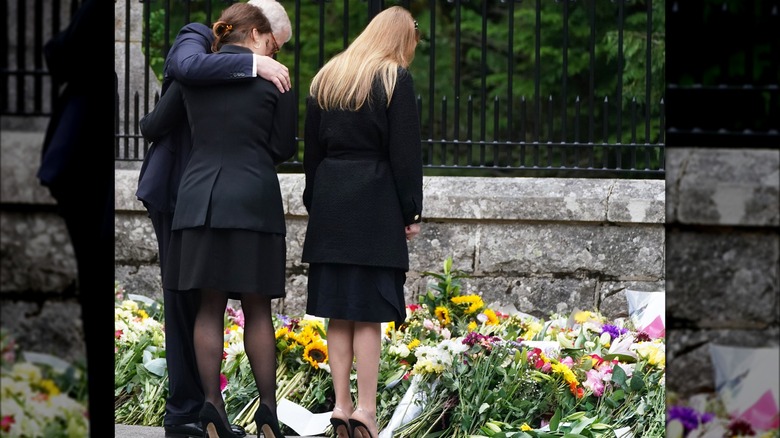 Wpa Pool/Getty Images
When Prince Andrew wrapped his arm around Princess Eugenie's shoulders on that tragic day in Balmoral, someone else remained firmly outside of the embrace. Princess Beatrice, the oldest of Prince Andrew and Sarah Ferguson's children, was standing just inches from Andrew and Eugenie as they hugged. Because this trio all come from the same nuclear family, it would have been natural if Beatrice had joined the embrace as well. However, the princess chose not to engage in this father-daughter moment. And, according to Ponce, this could be a sign that Beatrice does not look to Andrew for consolation.
Chatting with The List about the unique dynamics of this moment, Ponce revealed that Beatrice likely wanted to mourn Queen Elizabeth II's death on her own. "Beatrice is having her own experience [at Balmoral]," he explained. "She is not near her father. This appears to be on purpose since she is ahead of him. If she wanted to be consoled by him, she would slow down."
Interestingly, footage of the event shows that Andrew may have tried to greet his daughter. However, according to Ponce, Beatrice did everything in her power to dodge this attempt. The body language expert relayed, "And when [Andrew] does approach her direction, she is kneeling, looking at the flowers – a clear sign not to bother her." This reaction appears to indicates that Beatrice "does not want to be near him in public."
Sophie, Duchess of Edinburgh, keeps it cordial
Sophie, Duchess of Edinburgh, has long been touted as the royal family's "secret weapon." Due to her positive attitude — not to mention her background in public relations — the duchess knows how to represent the British royal family in just about every occasion. And from what Ponce told us, Sophie's attitude towards Prince Andrew is consistent with the rest of her track record. 
Sophie's overall sense of professionalism was particularly evident on the day that the royal family examined the memorial flowers left at the gates of Balmoral. In fact, when examining the footage of Sophie's interactions with Andrew, the body language expert noted that the duchess seemed absolutely proper. "An emotional Sophie walks toward Andrew to be part of a group picture," Ponce explained. Sophie "does stand close to him" and even "lingers as the others walk away," Ponce pointed out.
Although this sense of proximity could be interpreted as a sign of forgiveness, Ponce says that that was likely not the message that Sophie wanted to convey. If anything, the expert claimed, Sophie's gesture was motivated by the rules of propriety. "I don't think this shows support of Andrew, but rather appropriateness given the situation," Ponce revealed. "If she was offering support of him then she would have turned at the same time and walked with him side by side. She did not."
Sarah Ferguson has not lost 'familiarity' with her ex-husband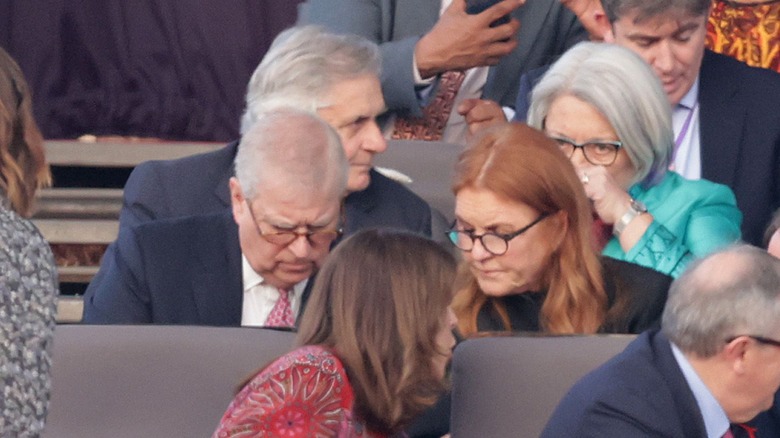 Chris Jackson/Getty Images
Even after Prince Andrew's name was publicly associated with Jeffrey Epstein, one person has stood by his side: Sarah Ferguson. Even after divorcing Andrew in 1996, Ferguson has remained one of Andrew's biggest supporters. Alluding to the scandal in a 2019 conversation with Vogue Arabia, the prince's ex-wife said, "When I talk about Prince Andrew, I talk about family because the last six months have been hard on the girls and me. To see such a wonderful man go through such enormous pain. He is the best man I know. It's just incredible what he has done for Britain, and it's all nonsense."
Because of this history, it is perhaps unsurprising that Andrew and Ferguson still appeared to be close some four years later at King Charles III's 2023 coronation concert. The two were photographed sitting next to each other at the event. According to body language expert Jess Ponce III, this shows just how in sync the former spouses continue to be. As the communication coach told The List, "The two of them are looking down, reviewing the same document. This symbolic gesture speaks volumes as the two them seem to be together for a common cause." All in all, Ponce says this points to Andrew and Sarah's continued "familiarity" as opposed to "warmth."