DAYS & GH Vet Brandon Barash Is 'Smitten' After Baby Boy Joaquin's Arrival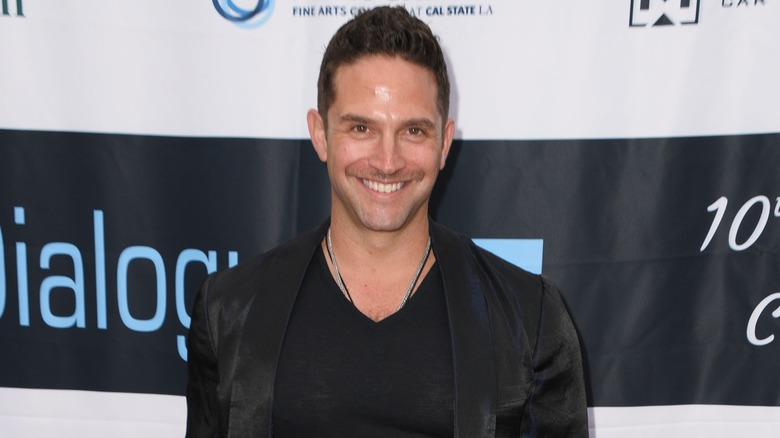 Michael Mattes/Shutterstock
Although Brandon Barash's "General Hospital" character Johnny Zacchara has been in prison since 2016, the fan favorite actor has continued to thrill viewers on "Days of Our Lives," first as Jake DiMera and currently as his twin brother, Stefan DiMera. While his characters are always causing trouble, Barash's life is the polar opposite, as he's shared many family moments with his followers on social media. From co-parenting his daughter Harper with ex-wife Kirsten Storms (Maxie, "GH") to honoring his late father on Instagram in June 2021 and announcing the heartbreaking news of his stepmother's death in January 2023, the actor has never held back the details of his personal life.
On September 28, the overjoyed Barash once again took to the social media platform to announce that he and his wife, Isabella Devoto, had their first child together, writing, "Joaquin Lee Barash arrived on the planet on 9.15.23. A mighty name for a mighty boy...to honor my (departed but never gone) father, Jerry Lee Barash, as well as my wife's Hispanic heritage." The Instagram post was accompanied by photos of Barash and Devoto with their newborn, his daughter Harper cradling the baby in her arms, and the sweet, swaddled child wearing a tag bearing details of his birth.
Barash and Devoto were showered with love by costars
Brandon Barash couldn't contain his joy on Instagram as he gushed, "We. Are. Smitten...and forever changed. Through your birth, lil man, we are reborn. Our family is mightier, our ocean of love runs deeper and more fierce. School's back in session." Isabella Devoto also joined in, lovingly remarking, "The loves of my life. What a magical journey." Barash's "Days of Our LIves" costars came out in full force to congratulate him, including Jen Lilley (Theresa Donovan) who jovially wrote, "He is soooooo cute! And we all know most babies aren't right out of the gate." Other cast members who sent their love and congrats were Aketra Sevillian (Talia Winters), Greg Vaughan (Eric Brady), Galen Gering (Rafe Hernandez), among many others.
Lamon Archey (Eli Grant) wrote, "Big Congrats my guy!!! Wishing yall plenty of sleep in 2024 cuz BRUH...This year is a wrap!! Take it from one who's going through it now." On September 19, Archey had also announced the joyous birth of his child with wife Kristen Terry on Instagram. Other surprising stars who gave accolades to Barash were 80's pop music sensation Richard Marx and his wife, ex-MTV host Daisy Fuentes. Marx expressed his happiness for the couple, stating that he's looking forward to seeing the child in person, while Fuentes responded, "Such a beautiful family. So happy for you, Isa and Harper. Can't wait to meet Joaquin and celebrate with all of you."
Congratulations to the Barash family!