Why Suits' Patrick J. Adams Regrets His Meghan Markle Throwback On Instagram
Kathy Hutchins/Shutterstock
"Suits" has been experiencing a resurgence in popularity since it became available on Netflix in June 2023. The legal dramedy, whose cast included Meghan Markle, Duchess of Sussex, was crowned number one in the U.S. during the week of June 26, and the show has maintained that number one spot for 11 consecutive weeks. 
This renewed interest created some nostalgia for "Suits" cast member Patrick J. Adams, and he used Instagram to share some of his behind-the-scenes photo collection from the TV show's production. In his role as Mike Ross, Adams was on the show from its beginning, and his character eventually got involved in a relationship with Meghan's character Rachel Zane. Some of Adams' snapshots included Meghan and other actors on the show hanging out and relaxing between takes. 
However, the four posts' worth of photos were quickly removed and replaced by an apology from Adams. The actor had been alerted that his actions were in violation of the ongoing SAG-AFTRA strike since they were construed as a form of marketing the show. While Adams had originally shown the photos to salute his fellow castmates and their friendships, he expressed his sincere regrets for his error. In addition, in his statement, Adams took the opportunity to show support for the strike and "its effort to win our membership realistic 21st-century compensation and protections" (via Hello!).
Meghan Markle and Patrick J. Adams left Suits at the same time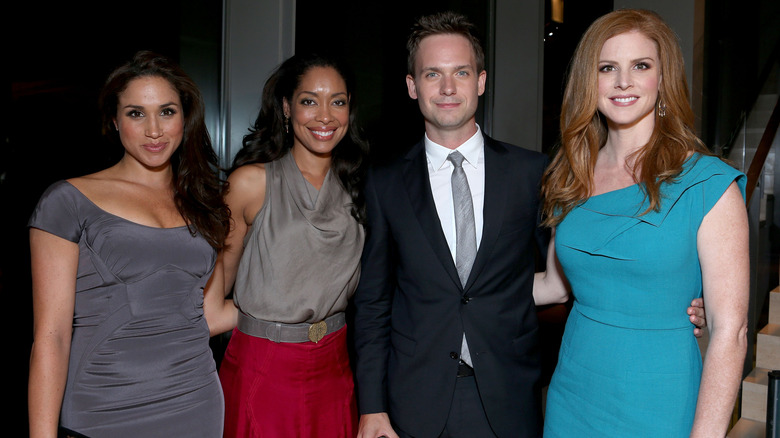 Alexandra Wyman/Getty Images
While Patrick J. Adams' Instagram profile is playfully taglined as "the guy from that show you're watching on that app because that girl married that prince," he and Meghan Markle, Duchess of Sussex, have a tight bond from their "Suits" experience. When Meghan prepared to leave the show for royal life with Prince Harry, Duke of Sussex, Adams saw an opportunity for his character to exit, too. Like Meghan, who felt fulfilled with her time on "Suits" and ready to focus on her life with Harry, Adams thought his role on the show had reached its potential, and he wanted to prioritize family time.
When Meghan and Harry announced their engagement in November 2017, Adams congratulated the couple on Instagram, predicting, "your long life together will be joyful, productive and hilarious." In May 2018, the actor, along with his wife Troian Bellisario, joined some of the "Suits" cast as guests at the royal wedding.
In the years since, Adams has admitted that while they have connected via text, he's unsure how to bridge the distance in their friendship as he's a little intimidated by Meghan's life now. However, as Adams demonstrated with the recent "Suits" photos on Instagram, the bonds he developed during "Suits" are a big part of his life. In 2021 he used social media to support Meghan in the wake of bullying allegations. A year later, Adams posted another blunt message to dissuade people from online drama involving the duchess.