Suits Star Shares A Blunt Message About All The Meghan Markle Drama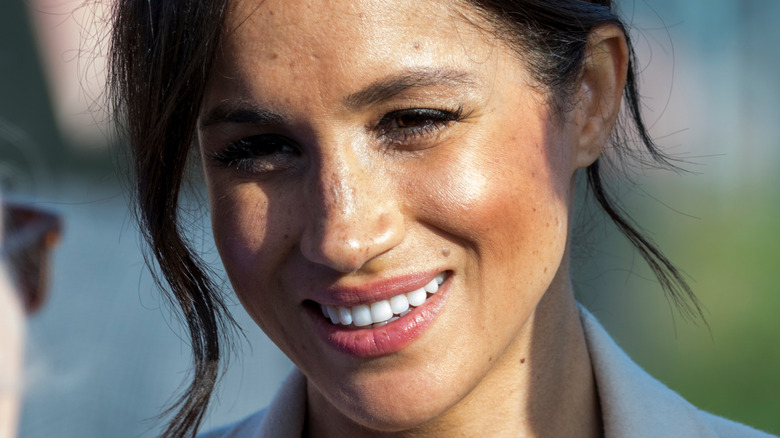 Alan Fraser Images/Shutterstock
Before her days as the Duchess of Sussex and a member of the British royal family, Meghan Markle had been working as an actress. Per Insider, Markle's acting career began in Hollywood in the early 2000s, long before becoming a royal was on her radar. 
Though the actress had several roles in film and television, her biggest role was on the show "Suits." A video was unearthed last year that showed Markle lying about her union status to break into the acting world, but in the end, it worked out (via Marie Claire). Though she referred to herself as a fraud and said those specific casting directors would never work with her again, she was able to get roles that led to her casting on "Suits."
"Suits" was a popular show that eventually wrapped up in 2020, per The Express. Of course, Markle remained in the public eye due to her new status as a member of the royal family. Following Markle and Prince Harry's decision to step away from royal life, public opinion of Markle has been split, and one of her former Hollywood colleagues recently weighed in on the constant drama surrounding the Duchess of Sussex. 
Meghan Markle's co-star has had enough of the drama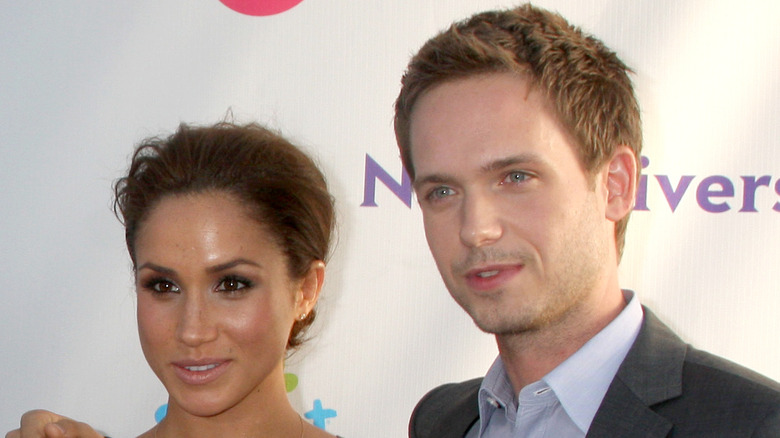 Kathy Hutchins/Shutterstock
Meghan Markle's co-star on "Suits," Patrick J. Adams, recently gave his two cents about the drama surrounding his former onscreen love interest. It's no surprise that Adams came to bat for Markle, as the pair had a close relationship while working together on the show, per Showbiz Cheat Sheet.
Recently, Adams took to Twitter to put an end to the online trolling he saw Markle experiencing, and often found himself roped into (via Us Weekly). "Hello to the people and many bots debating all things Markle and including me in the conversation. I just want you to know a couple of things. 1. I don't read any of it. 2. Life is short. 3. There has to got to be better things for you to be doing. Even you, bots," the actor wrote on Twitter. 
This isn't the first time Adams has spoken up for Markle. He made a statement in March of 2021 that spoke highly of the actress during the flack she was getting after her interview with Oprah. Per Us Weekly, the "Suits" actor also said it was "obscene" that the British royal family didn't protect Markle from the ""racist, slanderous, clickbaiting vitriol" directed at her online and in the media.