Body Language Expert Tells Us Angelina Jolie & Daughter Zahara Are Closer Than Ever In New Video
We may receive a commission on purchases made from links.
Despite her success as an actor, director, and producer, life hasn't been smooth sailing for Angelina Jolie, especially in the last few years. After splitting from her husband Brad Pitt in 2016, she entered into a years-long custody battle with her ex-husband over their six children: Maddox, Zahara, Pax, Shiloh, Knox, and Vivienne. These days, Brad Pitt's relationship with his kids is reportedly rocky, and the oldest of the Jolie-Pitt children took their mom's side in the split, according to Us Weekly.
From posing with them at the "Eternals" premiere in 2021, to involving them in her various side hustles, Angelina Jolie is clearly close with her children. Zahara, specifically, has become Angelina Jolie's style protégé. When the Spelman College student isn't busy attending classes, she can be found helping out her A-list mother with Atelier Jolie, a custom upcycling service based out of New York City. The environmentally-conscious clothing brand has even given Zahara the creative freedom to design her own pieces. In a recent promotional video published by Vogue, the mother-daughter duo can be seen happily trying on a few Atelier Jolie looks.
The List spoke with Jess Ponce III, body language expert and author of "A.W.E.S.O.M.E.: Seven Keys to Unlocking the Speaker Within," to get his opinion on their mother-daughter bond. According to Ponce, the pair were clearly "having a blast" on the Vogue set. "They are like two besties enjoying the day together," he told us.
Angelina Jolie and Zahara are a dynamic duo
In a recent promotional video for Atelier Jolie, Angelina Jolie's newest business venture, the actor can be seen having fun with her oldest daughter, Zahara, on set. The pair hold up fabric swatches to their faces and pose in custom looks. "It is quite obvious the two can ham it up to the camera and one another," said Jess Ponce III, adding that the "Girl, Interrupted" actor was clearly trying to make her daughter feel at ease. "In a scenario where the daughter may feel second fiddle, Angie made her feel comfortable and special," he shared.
Angelina's son, Pax, has also contributed to the grand opening, spray painting Atelier Jolie's logo on the outside of the iconic Manhattan building (it was rented by renowned artist Jean-Michel Basquiat in the '70s). As Jolie told Vogue, having children changed her life for the better. "I think, recently, I would've gone under in a much darker way had I not wanted to live for them. They're better than me because you want your children to be," she said, adding that she wants to represent "stability." For Jolie, having fun is also an important part of motherhood ... "I'm also the one that they laugh at," she shared. Given Zahara's smiles behind the scenes at Vogue, this is certainly true.
Angelina Jolie is protective of Zahara in public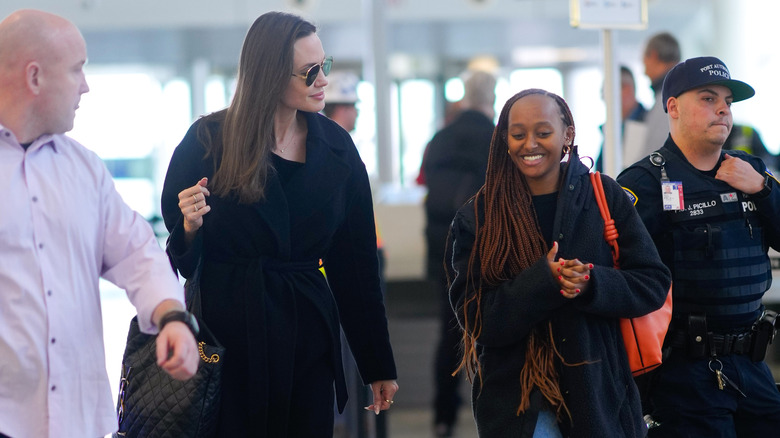 Gotham/Getty Images
According to our body language expert, Jess Ponce III, Angelina Jolie's relaxed attitude shifts when she steps out in public with her daughter. Specifically, she transforms from a "girlfriend" into a "mama bear." "Angelina Jolie is far more protective of Zahara out in the public," said Ponce, referencing footage from their New York shopping day in January 2023, per YouTube. "Angelina [is seen] holding Zahara's hand tightly as she leads the way past paparazzi. It's not that they don't like being photographed — as seen in the Vogue photo shoot — it's just that context and editorial input are important," he added.
Zahara is also a regular presence on her mother's Instagram page, accompanying the A-list actor on errands and adventures. Sometimes that means a trip to the Brooklyn Museum, and sometimes meeting with policymakers in Washington D.C. is on the agenda. "I'm in DC this week supporting and working with the many people affected by [abuse]," the humanitarian wrote on Instagram in December 2022, positing a picture of Zahara meeting Democratic politician Patrick Leahy. Earlier that year, she shared a picture of her oldest daughter on Spelman's move-in day. "Zahara with her Spelman sisters!" she posted. According to Page Six, she also danced the "Electric Slide" along with her daughter's classmates and their parents, proving that the two love having fun together.