Yolanda Hadid Took Her Divorce From David Foster Especially Hard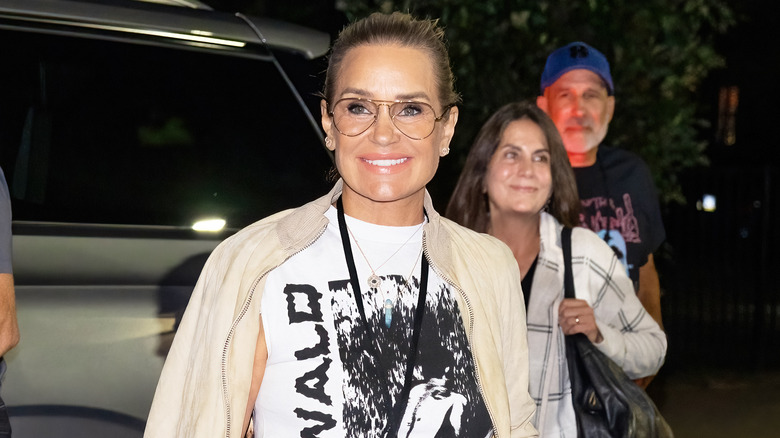 Gilbert Carrasquillo/Getty Images
Yolanda Hadid's dating history is full of drama and failed romances. Over the years, the former model has been married to real estate developer Mohamed Hadid and later to musician David Foster, but things didn't work out with either partner long-term. Still, it was her second marriage to Foster that has made the most headlines, with fans wanting to know why the relationship ended. After all, the pair dated for five years before marrying in 2011, so they were together for quite a while. Sadly, Foster and Hadid announced their divorce in 2015, saying they decided to split paths.
"We've shared nine beautiful and joyous years together. During that time, we experienced love, friendship, and the inevitable challenges that come with managing a marriage, careers, blended families, and health issues," the couple told People. However, it's still unclear why they broke up. Hadid suspected their marriage ended because of her chronic Lyme disease diagnosis and the limitations it placed on her life,but Foster denied it.
Whatever the reason, their separation took a toll on the former "Real Housewives of Beverly Hills" star, and she went as far as saying that "divorce is almost like a death" in a 2016 episode of the show. While Hadid did eventually find the strength to move on from the relationship and feel happy again, it was anything but a straightforward journey.
Yolanda Hadid went through a mourning period following her divorce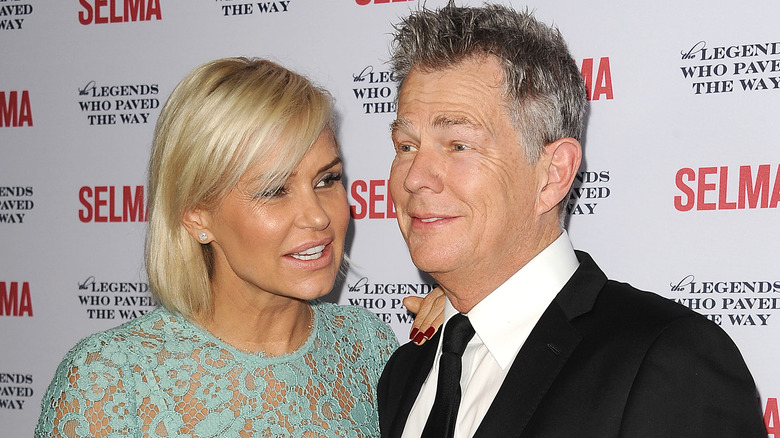 Jason Laveris/Getty Images
Grieving after a divorce is perfectly normal and may cause both psychological and physical symptoms. After all, this period marks the end of one stage in life, even as it offers the hope and possibilities of a fresh start. Therefore, it's common to feel lost and experience negative emotions like guilt, shame, anger, and loneliness.
Yolanda Hadid clearly went through a significant mourning period following her separation from David Foster. In fact, the experience was so intensely overwhelming that she felt the need to leave the house they shared and find a new place to call home where she could begin the healing process. "It was very important to me to find a healing space that is mine and a place for my children to call home," Hadid confessed in a 2016 episode of "The Real Housewives of Beverly Hills." She added that her new home felt safe and gave her a sense of belonging.
The mother-of-three admitted she didn't see the divorce coming, which added to her distress. In January 2015, Hadid wrote on her blog that Lyme disease took away her ability to do basic things such as reading and writing. At the time she published the post, she was still relying on her husband and feeling grateful for his support. Sadly, the couple announced their separation by the end of that same year. 
The former supermodel has made a new life for herself
Yolanda Hadid may have gone through a particularly painful divorce, but she has always remained optimistic about the future. "I'm just trying to get through it one day at a time," she told Us Weekly in 2015. Two years later, she moved to a 32-acre farm in Pennsylvania, which she turned into a personal retreat. This allowed her to spend more time with her daughters and enjoy the little things, such as taking care of animals and riding horses.
In 2019, the former "Project Runway" judge started a relationship with Joseph Jingoli, whom she met on her farm. Her new boyfriend runs a nonprofit organization and a family business in the construction and development industry. "It's such a blessing to find someone so perfect for me at this time of my life," Hadid said in an interview with People. She also confessed that Jingoli shares her love of nature, animals, and farm life.
Her health has improved, too. In 2019, Hadid told People that her symptoms went into remission thanks to a frequency healing device called FREmedica's WAVE 1. She also turned to meditation, crystal therapy, and other alternative practices and took a break from social media. Her new lifestyle changed her perspective on things and helped her find inner peace. "Life isn't over after we raise our kids and divorce," Hadid confessed. "It continues. And it's beautiful."