Why HGTV's Alison Victoria Took $400k From Her Friends (And Hasn't Paid Them Back)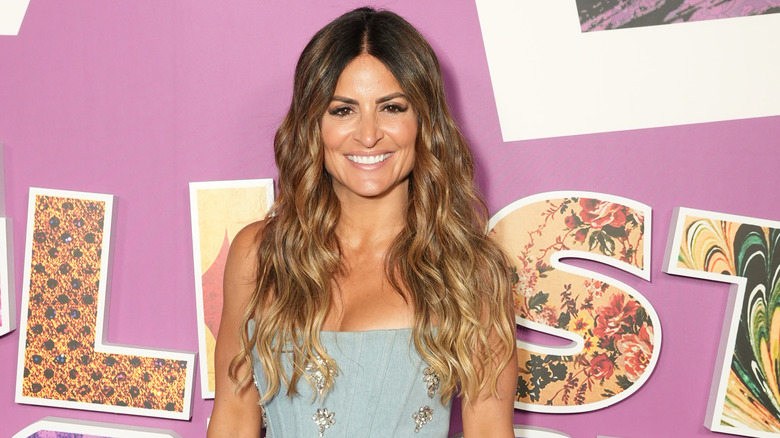 Gonzalo Marroquin/Getty Images
You probably know Alison Victoria as the interior designer behind "Windy City Rehab." The HGTV star has also put her touch on homes as part of the network's "Rock the Block" and "Battle on the Beach." But she truly shines in her hometown of Chicago, Illinois, from which her show derived its name. Victoria describes her style as "comforting but contemporary" via Homes and Gardens. She has a real eye for making rooms multifunctional, a skill she might have mastered while on the DIY Network's "Kitchen Crashers."
But her talents would truly be put to the test when she undertook a very personal project. This was one that pushed her budget to the limit, too. Talking to Entertainment Tonight, the interior designer admitted that she took a loan of $400,000 from her best friends to help her with the home makeover. In all, she would pour $1.2 million into the renovation. You might be scratching your head, wondering why an HGTV celeb like Victoria would need to take a loan, especially when the network often foots the bill.
As it turns out, her latest dream home wasn't for clients or even for the television program. It was entirely for herself and came in the form of an almost 7,000-square-foot building that formerly housed offices in the 1930s. Since she purchased it over half a decade ago, Victoria had been dreaming of what she could do with it. That is until her realtor told her she could technically make it her home.
Alison was ready to leave town
Prior to deciding to tackle the office space, Alison Victoria was ready to leave Chicago and get a fresh start away from the Windy City. The host said that she'd had a lot going on according to People, and felt like it was time to move on. But that all changed when she learned that she could make the once commercial space a home.
But it wouldn't come cheap. She had big ideas for the space, mentioning she thought the sale of her Vegas home would cover costs. "That will be enough. Then it kept adding up," she confessed to Entertainment Tonight. Victoria further revealed that no bank would give her a conventional loan after she broke ties with Donovan Eckhardt, her once business partner who is now amid legal troubles concerning claims from previous clients who accused him of fraud. Plus, traditional banks weren't quite able to envision the dream she had, only foreseeing her losing millions. So she had to turn to her besties.
Fortunately, Victoria completed her dream home. Unfortunately, she can't pay back the loan — yet. Noting that her miniseries on HGTV (yes, the network did get in on the project after all), "Windy City Rehab: Alison's Dream Home," "is not some rich girl story." Nevertheless, she said she is willing to put in the hard work and earn every penny necessary to make good on her loan because she is immensely grateful to her friends for supporting her.
What does this million-dollar space look like?
When Alison Victoria revealed her industrial warehouse turned living and working space to her siblings, they were shocked, even going so far as to use the word "Versailles." The HGTV host took the massive space, boasting 30-foot ceilings, and converted it to something impossibly sexy. It even has an Italian-inspired courtyard that's climate-controlled and an indoor spa pool. Victoria opted for lux finishes, dark tones, and custom touches. We're talking French fireplaces and stained glass windows.
She described it as industrial meets classic Parisian. And, most importantly, a "fairytale." Fans witnessed her putting in many long hours throughout the show's three episodes. Now, she explained to People, "All the stuff I've been through, this is my time, it's my turn." She indeed took that to heart during the planning process, saying, "I want big, huge fireplaces all over the house. I want a movie theater. I want a full gym. I want a sauna. I want a three-car garage. I want the dreamiest bathroom that feels like you're in Mykonos," via Realtor.
Still, while the new dream home may keep her in Chicago for a little longer, the home designer is hesitant to use the word "forever." In fact, she doesn't think a forever home will ever be in her future. Victoria noted that she wants to live in the moment because this home is her current dream. However, that could easily change tomorrow.