One Life To Live And General Hospital Star Kristen Alderson Announces Her First Pregnancy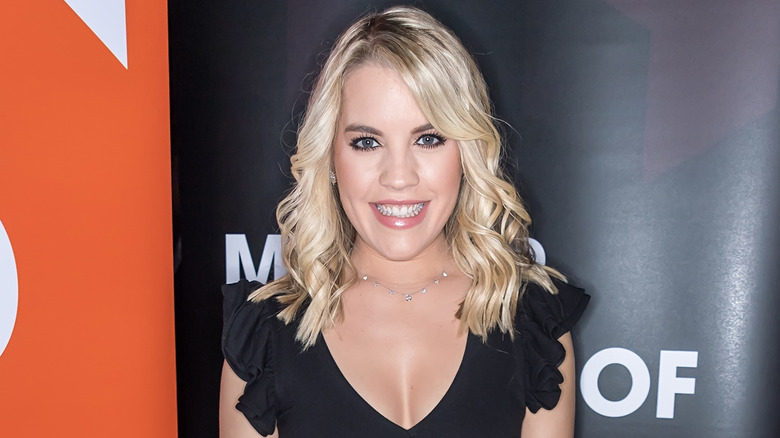 Gilbert Carrasquillo/Getty Images
Kristen Alderson is one of the most beloved stars of the daytime television industry. For fans, she's best known for her role as Starr Manning on "One Life to Live," and Kiki Jerome on "General Hospital." However, she left the soap world behind in 2015. 
Alderson's decision to leave was definitely a surprising one, but she pointed out that it had nothing to do with the "General Hospital" cast and crew at the time. According to Soap Opera Digest, Alderson shared a video of herself explaining her decision to leave Port Charles. "I've been in this amazing little soap bubble since I was 6 years old and now I'm 23. I've never done anything else. I've never pushed myself," she said. "I never challenged myself to do other things, and not necessarily in the industry, but just things in life."
Well, Alderson's life certainly has changed a lot since she stopped acting in soap operas. While she did return to the "General Hospital" set for a quick visit back in 2020, per Soaps in Depth, Alderson has certainly moved on, both personally and professionally. She's now engaged to get married and is about to start a new important role in her life: that of a mother.
Kristen Alderson is expecting a baby girl
Daytime television alum Kristen Alderson is so excited to be a mama and she's not afraid to hide it. Not only did she announce that she was pregnant on social media, but also revealed that she is expecting a baby girl. The actor shared several photos of her sonogram and growing baby bump on her Instagram for her fans. In one photo, Alderson's partner Taylor Crousore can be seen kissing her baby bump on the beach. Alderson captioned her photo, "Words can't describe the happiness ... Having a baby with my soulmate/best friend is the biggest blessing I could have ever been given." 
But that's not the only exciting part about Alderson's motherhood journey. In a separate post, she revealed that Crousore had proposed to her during the same time that they had their gender reveal. Alderson found out that she was pregnant back in May while Cruosure already had his proposal all planned out for July. Crousore shared the same sonogram photo on his account and captioned it: "How lucky and grateful am I that I get to call you my future wife AND my Baby Mama. And the best part, I know our lil girl will have all those same qualities as her Mama. He also said, "Now lets [sic] be bad ass parents okay?!"