Malia Obama Has Been The Victim Of Multiple Fake Pregnancy Rumors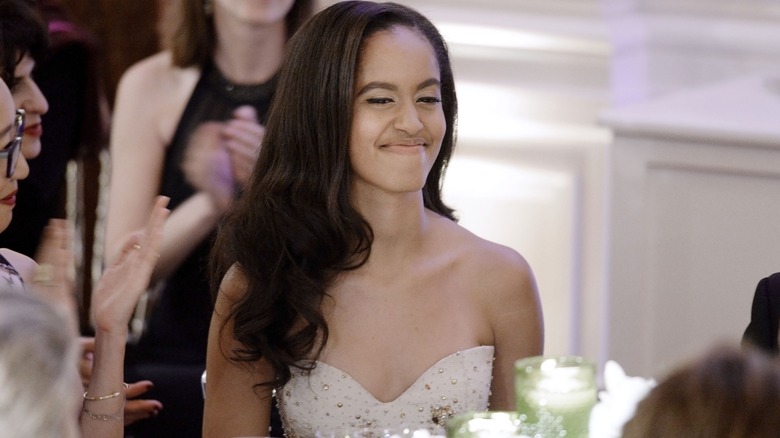 Pool/Getty Images
As a child of a United States president, it can be difficult to dodge the media. Sasha and Malia Obama can certainly attest to this, having experienced their fair share of headlines, both true and fabricated. Photographers can't seem to get enough of capturing Sasha leaving West Hollywood parties or Malia strolling through the streets with her California crew. While these are harmless paparazzi moments, the eldest of the Obama sisters has been the subject of vicious pregnancy rumors.
While former President Barack Obama and First Lady Michelle Obama were still leading the country in 2014, online rumors swirled that Malia was expecting her first child. Years after Obama's second term ended in 2017, another piece of baby gossip hit the internet, sending even more people speculating about Malia becoming a new mother. While such sensationalized stories are likely annoying for the young screenwriter, this territory, unfortunately, comes with Sasha and Malia having their childhood in the White House. 
Malia was rumored to be having a baby at 16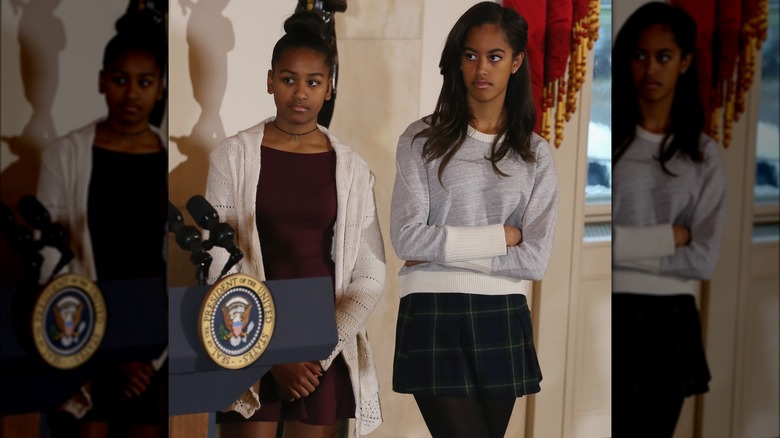 Mark Wilson/Getty Images
In 2014, when Malia Obama was just 16 years old, talks began to buzz online about her being pregnant. The report, which originated on Empire News, alleged that the White House was keeping quiet regarding the impending child and who their father might be. It also said that Michelle Obama was reportedly excited about having an infant in the presidential quarters, and that even with her pregnancy, Malia was still considering a college career. The detailed story was picked up by Facebook page pretending to be Fox News, according to BuzzFeed News, which helped to circulate the rumors even further. 
Empire News, though, includes a disclaimer to inform visitors that the pieces are "intended for entertainment purposes only." The site states, "Our website and social media content uses only fictional names, except in cases of public figure and celebrity parody or satirization." Still, this didn't deter many from taking the story at face value. In 2017, a similar hoax ran on the now-defunct Daily Info Box, claiming the young woman was pregnant with a list of potential fathers, one of which being a White House staffer named Dennis. Again, this was proven untrue.
Malia Obama was rumored to have a child with rapper Future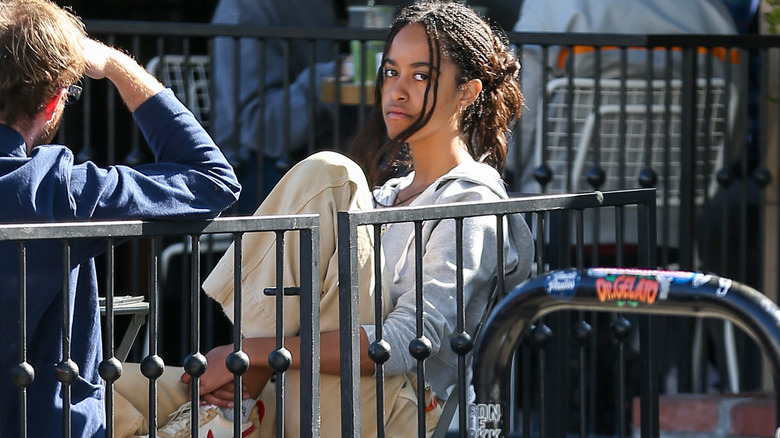 Bellocqimages/bauer-griffin/Getty Images
Rumors of Malia Obama entering parenthood did not stop there. In 2022, an Instagram account called RapStreet TV shared a side-by-side image of Obama and Future with the headline, "BREAKING: Future and Malia Obama expecting first child together." The post attracted over 8,000 likes before it was deleted. Future has fathered eight children before and during the launch of his illustrious rap career, though Obama is not a mother to any of these children. In fact, it does not appear the two know one another at all.
These internet hoaxes have not slowed her down in the least bit, though. After graduating from Harvard in 2021, Malia Obama dove head first into a Hollywood career, working on Amazon Prime's "Swarm." She is now gearing up to direct her own short film. Obama hasn't revealed her plans for starting a family. Still, if that time comes, she has every right to hold that information near to her heart.