The Crime Kerry Washington Once Committed To Get Into Character For A Role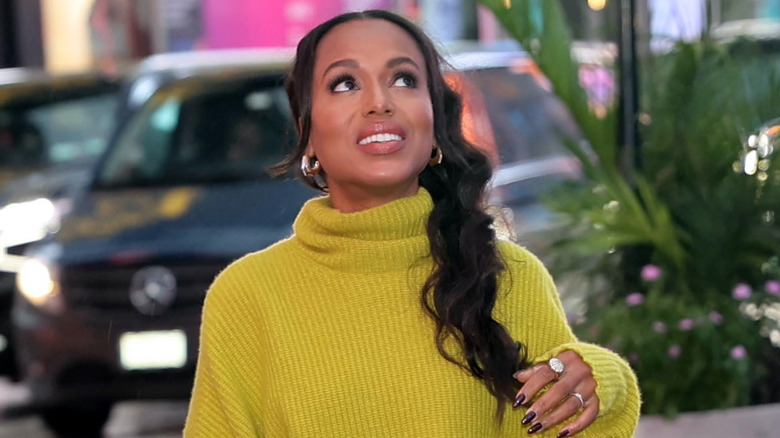 Jose Perez/bauer-griffin/Getty Images
We may receive a commission on purchases made from links.
In "Scandal," Kerry Washington's beautiful and fashion-forward character, Olivia Pope, is highly involved with the law. As a lawyer, renowned fixer, and former White House aide, she knows the ins and outs of legalese. But in real life, Washington once nearly found herself on the wrong side of the law. Her new memoir, "Thicker Than Water," detailed how she engaged in some risky behavior as a young, up-and-coming actor.
It was back in 2001, over two decades ago, when Kerry Washington was preparing for "Lift." The film follows Washington as Niecy, a small-time criminal who decides to break into the big leagues with a diamond heist. At the time, the now Golden Globe-nominated actor only had two feature-length productions and one short film under her belt. So, like many new actors, she fully devoted herself to the role through method acting, or losing herself in the character to better understand how they would think, feel, and act (via Entertainment Tonight).
Having never stolen anything, those in charge of "Lift," Khari Streeter and DeMane Davis, suggested that she might engage in petty theft. Washington explained that she found a deli amongst the uber-populated streets of Manhattan, complete with security cameras and other anti-shoplifting features. The Hollywood starlet "cased the joint two days in a row, studying the position of the security cameras, noting shift changes or various employees. I bought small items each day so that they would remember me as a customer in good standing," she pens in her book. Then, she stole something.
Did Kerry Washington get caught?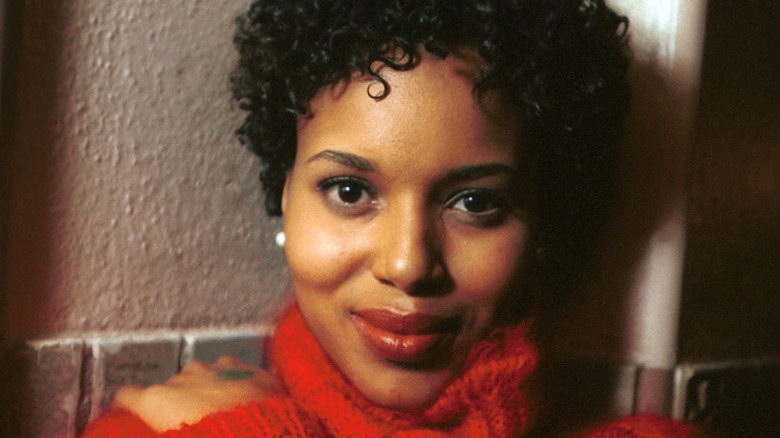 Fred Hayes/Getty Images
Fortunately, the "something" was only a Granny Smith apple, Kerry Washington explained in her memoir, "Thicker Than Water." She successfully made off with her stolen produce via her carefully planned escape route, happily calling the film's writer-directors to let them know she did it! They didn't require proof of her crime and instead told her to eat her snack, which she did.
While Washington never got caught, she must have felt the weight of her conscience bearing down on her. The actor said that post-filming, she returned to the scene of the crime and bought more snacks, paying more than necessary and letting the store keep the surplus as a sort of penance for stealing the apple. Unfortunately, while many praised her depiction of Niecy in the film, "Lift" didn't do as well as many hoped. It premiered at the Sundance Film Festival and received some acclaim. Still, the movie couldn't secure a distributor, meaning that with virtually zero marketing, it flew under the radar.
Still, Washington has since come a long way. She has taken on a totally different view of her characters and acting. Telling Krista Tippett on her "On Being" podcast, "As I progressed through my career, I realized that acting was actually a safe place to reveal myself because I could reveal some of my emotional truths, and my beliefs, and my struggles. I could speak my truth," which may explain why her performances are so powerful.
Therapy helped Washington realize this
In speaking to Backstage, Kerry Washington divulged another time she tried to get into character. When auditioning for "Ray," she embodied the homemaker qualities of her character so much that she baked items at home and brought them to the audition. But on another occasion, those she auditioned for gave her poor feedback about what she wore and looked like, sparking this realization for Washington, "I just wanted to tell stories. I didn't want it to be about the commodification of me or my body or how I looked."
It was then that she turned to therapy, ultimately discovering that she didn't need to fully become her characters, hiding herself away. "I thought that acting was about hiding in the people I got to become as opposed to being willing to reveal more of myself," she divulged. After lots of therapy and a long time, Washington decided not to shy away from herself in the role, but to use it to express herself and tell her personal stories. 
We're guessing that Washington won't go to such great lengths to get herself in character as she did for "Lift" anytime soon. And judging by her numerous accolades and big Hollywood success since then, she probably doesn't need to.