Details About Kristin Chenoweth And Josh Bryant's 'Pretty In Pink' Wedding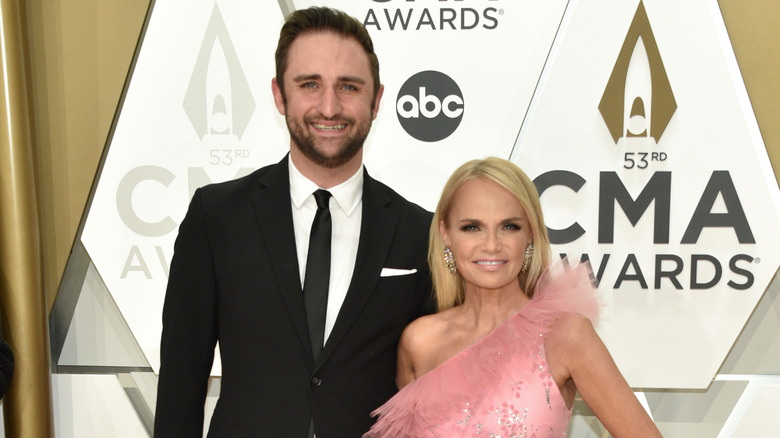 John Shearer/Getty Images
Kristin Chenoweth is nothing if not a girly girl. The "Descendants" actor is known for her Barbie-blonde locks and love of all things pink. Shade doesn't matter to Chenoweth, as we've seen her sport everything from blush to hot pink at various appearances and award shows. It's no surprise, then, that the Broadway star used her favorite shade throughout her wedding when she said "I do" to her longtime boyfriend Josh Bryant.
A former runaway bride, Chenoweth gushed that she knew it was time to commit when Bryant popped the question with a stunning engagement ring, because he was the one. "I have been a self-proclaimed bachelorette my whole life," Chenoweth told People. "Until I met Josh. Then I was like, 'Why would I ever let this guy go?' I'm so blessed." Bryant explained that he knew without asking, from the day she said "yes," their wedding would include a pink theme.
And, boy, did it. They say everything is bigger in Texas, but the couple decided to keep their Dallas nuptials tastefully intimate. They tied the knot in September 2023 at a private residence. Chenoweth previously divulged to Entertainment Tonight that she has a large family, who likely composed much of the 140 invitees on the guest list. Josh noted that the wedding planning was a team effort, begging the question, who picked the Baskin-Robbins custom cake enjoyed after the rehearsal dinner? If you think an ice cream cake served at an upscale steakhouse is certainly not the status quo, it was only the beginning of Chenoweth and Bryant's traditional-with-a-twist wedding celebration.
Kristin Chenoweth and Josh Bryant opted for a tastefully pink theme
For the big day, Kristin Chenoweth looked positively radiant in pink. A non-traditional Pamella Roland gown with a nude underlay and a sheer baby-pink overlay suited her anti-white dress dreams. Strapless and structured, it wouldn't be complete without a massive bow, visible in her Instagram pictures. A comment from the official Barbie Instagram on the bride's post noting how beautiful she looked was likely a dream come true for the pink-obsessed Chenoweth.  
Of course, pink was the theme of the floral arrangements, too. A myriad of flowers in warm hues from peach to blush and champagne to medium pink adorned the space, along with pops of lush greenery. The bride ensured her man had a touch of pink, too. Bryant's gray suit wasn't complete without his baby pink boutonniere. Reportedly, the couple's vows were emotional and traditional — minus a few standard clauses here and there, like the obedience part.
Close by throughout their big day was the couple's pooch — Thunder. The poodle and Maltese mix even got her own grand entrance as the couple's ring bearer, prancing down the aisle to AC/DC's "Thunderstruck" played by a string quartet. As you would expect, Thunder had her own pink silk harness and flower necklace. The string quartet was later followed by performances by major musicians and Broadway alums, such as Crystal Hall and Ty Herndon. As the couple explained to ET, many of their friends are musical, making the entertainment a no-brainer.  
The couple kept things sweetly southern
Staying true to her roots, the Oklahoma native and her husband, Josh Bryant, chose a "southern comfort-inspired dinner," according to People. The main course included beef tenderloin and fried pickles, along with too-cute signature drinks — a "Wicked Margarita" for Broadway star Chenoweth and a "Bryant Old Fashioned" for Josh. Afterward, a more traditional vanilla cake was served. Though notably less-than-traditional was the confection's décor, which The Dallas Observer reported was covered in flowers, topped with a pink camo tier, and finished off with a set of antlers.
If guests couldn't get enough sweets at Chenoweth's cotton-candy pink wedding, the couple sent everyone off with a box of indulgent treats, including churros. A true mix of posh and playful, the "Bewitched " actor also offered Dunkin Donuts (pink and white, of course) and 7-Eleven Slurpees, the lovebirds' go-to snacks late into the night. During the reception, Chenoweth reappeared after a gown change, sporting a shorter peach and pale pink dress (with a bow in the front this time) along with Nike sneakers instead of Jimmy Choo's, according to the Independent. Before everyone departed, they received a wedding favor bag full of must-haves, like Doritos and Fiji Water.
As her husband playfully noted to People, Chenoweth said she wanted to keep things normal and not over the top, but "Don't let her fool you. Normal to Kristin is like 110%." It's safe to say guests probably left the wedding on cloud nine, if not from cuteness overload, then likely from a sugar high.