The Truth About Kristin Chenoweth's Stunning Engagement Ring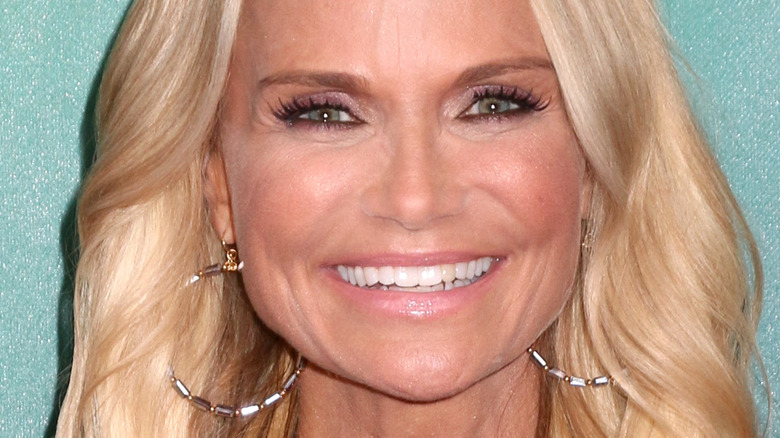 Kathy Hutchins/Shutterstock
Fans were excited to learn that singer and actress Kristin Chenoweth got engaged to her longtime boyfriend Josh Bryant in October of 2021 (via Us Weekly). The soon-to-be wed couple first met at her niece's nuptials, where Bryant's band, Backroad Anthem, performed (via Taste of Country). But the Broadway star didn't officially start dating the musician until 2018.
Now, the duo is headed to the altar, with the "Holidate" star announcing their engagement on Instagram. "Guess you're stuck with me now, @joshbguitar," she captioned images of the two snuggling together, and also of the moment Bryant proposed. "I love you and I'm never letting you go. A million times yes!!" (via Today).
While fans likely lit up upon seeing the sweet-natured star looking so happy in the photos, they also probably zoomed in on the exquisite engagement ring adorning Chenoweth's finger. "Congratulations! Gorgeous ring," one follower complimented the star.
Kristin Chenoweth's ring features three stones for a reason
As People reports, the three-stone halo ring is not only jaw-droppingly beautiful, but holds a special meaning for the lovebirds. First, it's worth noting that all three diamonds are around the same size — Us Weekly notes the center stone is slightly larger — which sets the bauble, designed by De Beers Forevermark by Rahaminov, apart from a traditional engagement ring with one large center stone.
It was important to Bryant to choose a three-stone ring to propose to Chenoweth, according to People. That's because the stones signify the holy trinity, in recognition of the couple's Christian beliefs. Meanwhile, the ring also features 58 smaller stones that surround the larger three. It seems Bryant and Chenoweth designed the ring together but he also left one element as a surprise for his future bride — four pink sapphire stones set into the band.
Us Weekly reports that the sparkly and special ring is likely worth around $75,000. At time of writing, no details were yet available as to when the couple — who are 14 years apart in age — are planning to say "I do" (via Hollywood Life).