What We Know About B&B Star Thorsten Kaye's Real-Life Romance With Soap Vet Susan Haskell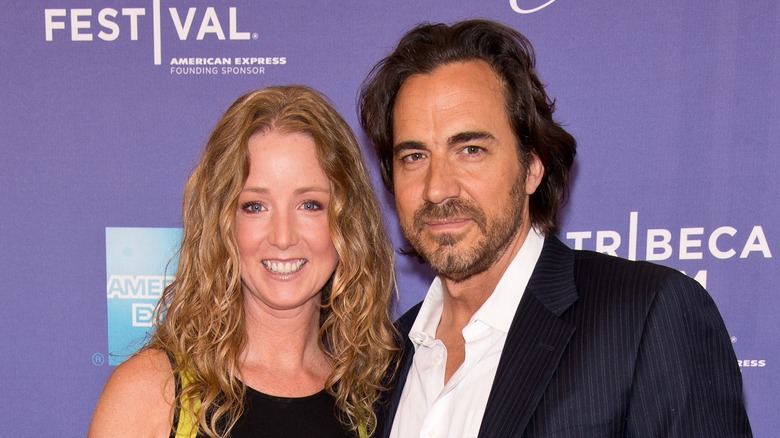 Gilbert Carrasquillo/Getty Images
Anyone who has been paying attention to Ridge Forrester (Thorsten Kaye) on "The Bold and the Beautiful" knows that he's had a lot of wives on the show. Most recently, Taylor Hayes (Krista Allen) and Brooke Logan (Katherine Kelly Lang) had an unrealistic pact that didn't last too long on the show. Both women vowed to stay away from Ridge — until they couldn't anymore. The pact barely lasted a few weeks on the show.
And while Ridge Forrester is certainly someone who is very much in demand, personally and professionally, his portrayer, Thorsten Kaye, is nothing like him in real life. Even though fans already know all about the star's beginnings in the daytime television world, little is known about his real-life marriage to another soap star, Susan Haskell. The actor's marriage to the "One Life to Live" alum has been kept under wraps so much that some fans sometimes forget that Kaye is even married.
Thorsten and Susan's very private wedding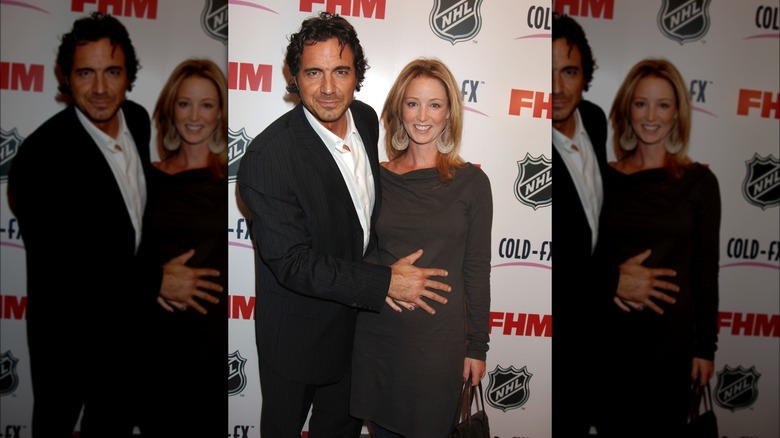 Robin Platzer/Getty Images
Thorsten Kaye and Susan Haskell's relationship sounds like a soap opera storyline with a much better ending than some of the ones we've seen in front of the cameras. The couple actually met while they were both on "One Life to Live." According to Soap Hub, the couple met back in 1995 and have been living a very non-soapy existence with their two daughters, McKenna and Marlowe. While their characters Patrick and Marty did get married on "OLTL," fans won't see any photos of Kaye and Haskell's real-life wedding. One of the reasons fans don't get to see much of Kaye and Haskell together is because the actor doesn't let it happen. In 2018, Kaye explained to Soap Opera Digest, "People always call [Susan] my life partner, but Susan is my wife. We were actually married. I'm not a church guy, but we did a thing on the beach a while back. I don't talk about it because I'm just a private guy."
When Kaye says he's a private guy, he really means it. You rarely see the couple on the red carpet together, and there's a good reason for that, too.
Thorsten and Susan love living under the radar
Thorsten Kaye rarely shares photos of his family or personal life on his Instagram, while his wife, Susan Haskell, doesn't have a social media presence at all. But Kaye did tell Soap Opera Digest in 2023 that when he's not on the Los Angeles set of "The Young and the Restless," he's back at home in Connecticut, where he gets to spend a more peaceful life away from all the red carpets and cameras. When asked what he did during his short break away from "The Bold and the Beautiful" in late 2022, Kaye told the publication, "We spent time in Europe. I got some things done around the house. I got to spend time with my daughters and my wife and my dogs and our hedgehog and just be here. It was very important, and it reminded me I've got to be home more."
While Kaye's on-screen character Ridge Forrester is still trying to figure out if he wants to spend the rest of his life with Brooke Logan or Taylor Hayes on "B&B," it doesn't look like Haskell is eager to return to the soap world anytime soon. The last time she was on the canvas was in 2011 on "One Life to Live." Clearly, Haskell would rather live her one life with her real husband than portray any soapy drama that might include Ridge Forrester and a love triangle.