How Barack Obama Once Seriously Angered Tonya Harding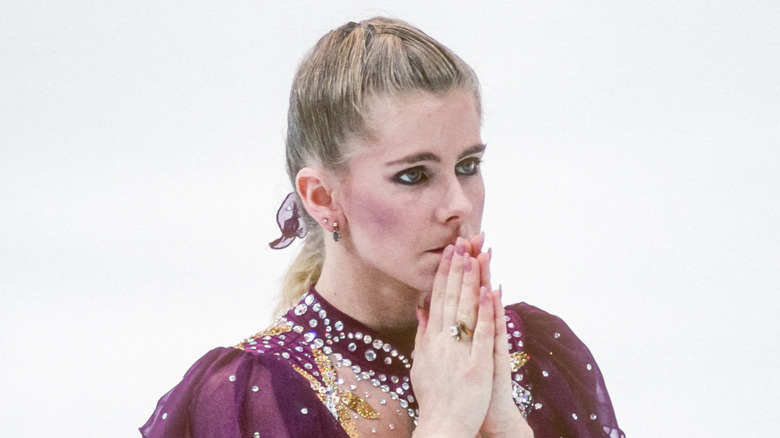 David Madison/Getty Images
Making enemies comes with the territory when you work in politics, and former President Barack Obama made plenty throughout his career. There's of course former President Donald Trump, who infamously called the Democrat's country of birth into question way back in 2011. Then there's 2024 presidential hopeful Nikki Haley, who once claimed on X, the platform formerly known as Twitter, that Obama "set minorities back" during his time in office. 
The 44th president doesn't take insults personally. "When people criticize or respond negatively to me, usually they're responding to this character that they're seeing on TV called Barack Obama, or the office of the presidency, or the White House and what that represents," he told The Atlantic in a 2017 interview.
Surprisingly, Olympic skater Tonya Harding also belongs on the list of Obama's critics. It all started in 2007 when he referenced her on the campaign trail. Suffice it to say, she didn't appreciate the shout-out. "Folks said there's no way Obama has a chance unless he goes and kneecaps the person ahead of us, does a Tonya Harding," joked the Democratic candidate in front of a crowd in Iowa, per The Guardian. The politician, who was considered "inexperienced" by many voters, saw himself as the underdog, much like Harding at the 1994 Winter Olympics, but Harding wasn't happy that he brought up the biggest scandal of her career.
Tonya Harding decided 'all publicity is good publicity'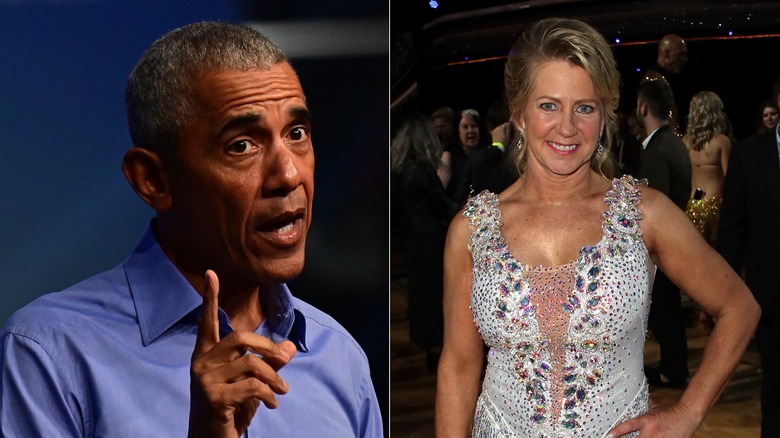 David Livingston/Getty & undefined & Mark Makela/Getty Images
Tonya Harding (Tonya Price since her 2010 marriage) rose to infamy in the '90s due to an infamous incident involving Nancy Kerrigan's knees. Her ex-husband, Jeff Gillooly, and bodyguard, Shawn Eckardt, hired a man to attack the competing skater with the goal of breaking her leg. It didn't quite work — Kerrigan left bruised, and she went on to win the silver medal at the 1994 Olympics. Harding came in eighth. While the defamed skater pleaded guilty to ​​conspiracy to hinder prosecution and was removed from the U.S. Figure Skating Association, she maintained that her ex planned the attack without her knowledge. The scandal has followed the talented skater (who was the second woman ever to land a triple axel in competition) for decades. She became a popular pop culture punchline — even Barack Obama couldn't resist.
At first, Tonya Harding was less than enthused about getting a presidential shout-out. "He has this country to think about ... and he has to bring me up?" she said on HBO's "Real Sports," per The Oregonian. "Guess what?" she added. "I get jobs because he used my name on national television." In her own words, "all publicity is good publicity." 
Since the 1994 incident, Harding has appeared on "Dancing with the Stars." She also had a short-lived boxing career and even became the subject of an award-winning biographical film. "Obviously [Barack Obama] didn't have enough people looking at him," she quipped on "Real Sports" (via The Guardian).
Tonya Harding has become a pop culture icon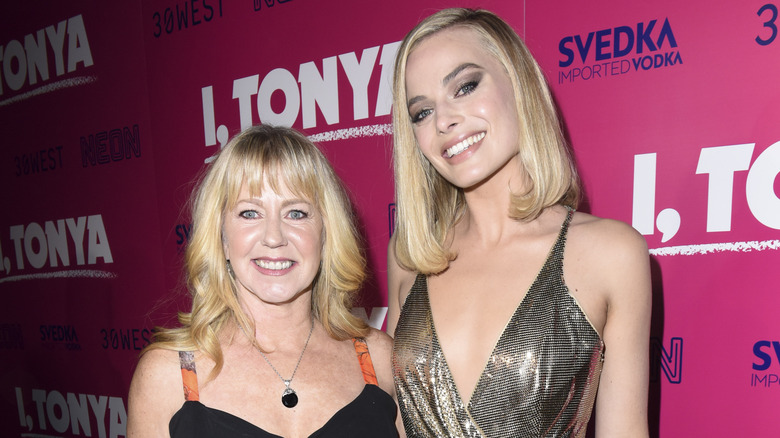 Vivien Killilea/Getty Images
Tonya Harding has become somewhat of an icon. In 2017, acclaimed actor Margot Robbie portrayed the figure skater in a well-received biopic — the Oscar-nominee used a unique method to get into character. Even decades later, Tonya Harding knows she'll never be able to escape the Nancy Kerrigan incident. "I knew that this would be with me for the rest of my life," she told The New York Times in a 2018 conversation. The world hasn't been kind to the talented skater. "I've had rats thrown into my mailboxes, [expletive] left on my door, left in my mailbox, all over my trucks. You name it, it's been done to me," she added.
Although she enjoyed the 2017 film "I, Tonya" (and even developed a friendship with Margot Robbie), the Olympian doesn't like it when people use her name without her consent — yes, that includes President Barack Obama. "Who gives these people permission to use my name?" she asked. "I'm a human being and it hurt my heart," she said.
These days, the figure skater is focused on spending time with her son, Gordon, and her husband, Joe Price.