Blue Ivy Carter Is Proving To Be Just As Talented As Her Famous Parents, Beyoncé And Jay-Z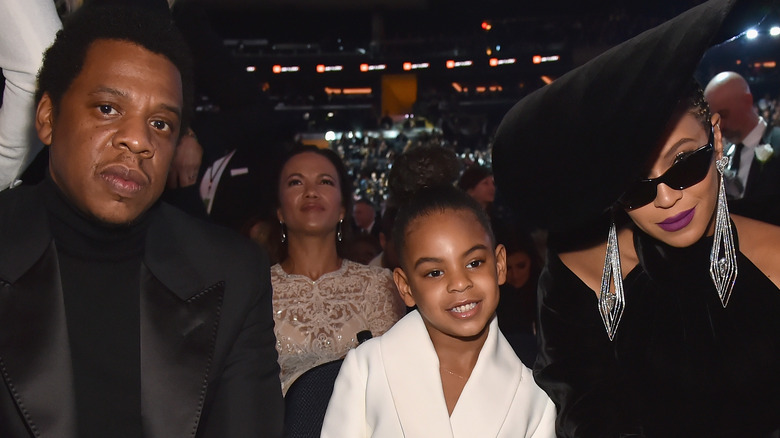 Kevin Mazur/Getty Images
Blue Ivy Carter needs no introduction — as the firstborn child of Beyoncé and Jay-Z, it's almost as if she was destined to be a superstar. Even though Blue Ivy has been carefully guarded from the limelight by her parents since birth, it appears she is now carving out a path of her own. The 11-year-old first joined her mother on stage at the Renaissance World Tour in June 2023. Blue Ivy led the dance team during Beyoncé's performance of "My Power" into "Black Parade" on various show dates throughout the summer.
In addition to taking the stage, Beyoncé and Jay-Z have encouraged their oldest daughter to use her singing voice. Blue Ivy was first featured on Jay-Z's song "Glory" in 2012, and since then has made several appearances on her parents' songs. Singing the chorus in "Brown Skin Girl" earned Blue Ivy a Grammy award in 2021 at just 9 years old — making her the youngest individual winner in history (per Guinness).
In addition to these accomplishments, Blue Ivy has also been introduced to many sectors of the entertainment world by her A-list parents. From making a cameo in Tiffany & Co. ads to starring in fashion campaigns, the world is Blue Ivy's oyster.
Blue Ivy Carter's parents include her in their projects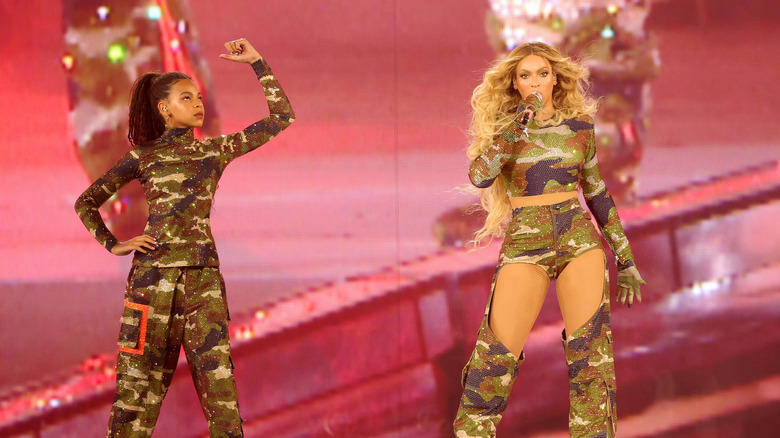 Kevin Mazur/Getty Images
Performing in front of thousands as a tween is no easy feat, but Blue Ivy has two of the world's best artists as her parents. As entertainers and entrepreneurs, Jay-Z and Beyoncé are dedicated to creating opportunities for their children that they never had. The proud parents welcomed Blue Ivy in 2012 and twins Rumi and Sir in 2017 — who have been in the public eye noticeably less than their firstborn.
Blue Ivy has taken to showcasing her talents on- and off-stage, often alongside her mother. Beyoncé and Blue Ivy's relationship is nothing short of adorable — from rocking matching outfits to attending basketball games together, the two are inseparable. Beyoncé dedicated a song to her, "Blue," in which she made her music video debut in 2014. And in addition to singing on tracks, Blue Ivy rapped alongside her dad on his album "4:44."
Aside from music, Blue Ivy also has an iconic sportswear line as her namesake — "Ivy Park." She has appeared in several Ivy Park x Adidas campaigns alongside her mom, and even Rumi and Sir made a rare appearance for the brand. Outside of their family business, Jay-Z and Beyoncé allow Blue Ivy to tag along on their other A-list projects. In 2021, she made a sweet cameo in her parents' "About Love" campaign for Tiffany & Co.
Aside from show business, Blue Ivy Carter is also a budding makeup artist
In addition to being a young performer, it also turns out that Blue Ivy Carter has a knack for makeup. The world learned about her surprising skills in 2021, after her grandmother Tina Knowles gave her a shoutout. Knowles posted an Instagram selfie donning a red lip and winged eyeliner, crediting her first grandaughter for the glam. Her caption read: "My talented granddaughter Blue made up my face today. She is only 9 years old. Can you imagine her at 15 doing my makeup?"
Blue Ivy and her grandmother have a close relationship, and Knowles has been singing her praises for years. During the Renaissance World Tour, she was especially outspoken about how proud she was of her multitalented granddaughter. Not just for taking the stage — which she was especially touched by — but also her knack for cosmetics.
Knowles posted a video of her makeup look backstage, filmed by Blue Ivy herself, who she called a "makeup guru." While Blue Ivy didn't show her face behind the camera, she was quick to interject when her grandma claimed that she was too old for glittery eye shadow. "Blue IV Carter never ceases to amaze me," Knowles wrote in her caption. "She can draw, she can paint, she can do makeup ... the list goes on!"