DWTS Star Derek Hough Was An Extra In Harry Potter (& He Stole From Set)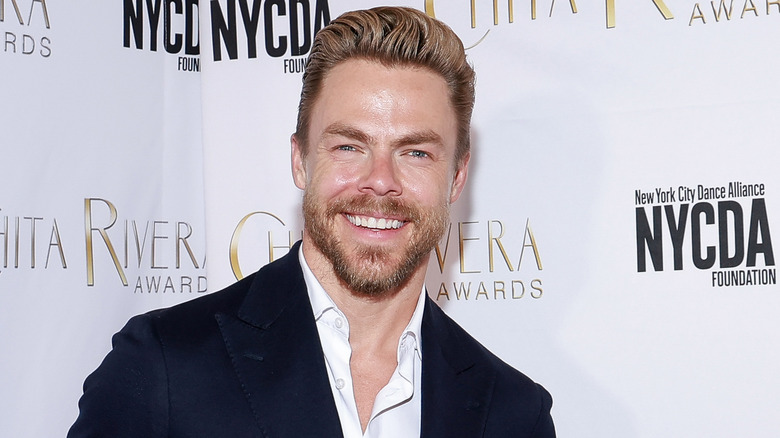 Jason Mendez/Getty Images
Derek Hough wasn't dancing through the halls of Hogwarts, though that would have been an amazing sight to see, but he did make a super sly appearance in a "Harry Potter" film. The "Dancing with the Stars" judge confessed in 2017 that despite never picking up a "Harry Potter" book as a kid, he knew that the franchise was a big deal. In 2000, the first movie, "Harry Potter and the Sorcerer's Stone," was being filmed when Hough was just a teenager, living in the UK. 
The American-born Hough lucked out by being in London at the time training to be dancer, and was equally as fortunate to get a spot as an extra. Reportedly, Hough was among hundreds of students sourced from local theater schools to make up Hogwarts student body. With four houses to fill — Hufflepuff, Ravenclaw, Slytherin, and Gryffindor — the casting team needed all the teenagers they could get.
Hough shared with Entertainment Weekly in 2018 his experience, saying, "We were at Pinewood Studios for three months. We attended school in these trailers, and then we just messed around and got into trouble. We'd have dance-offs during breaks in our full robes." So, maybe he did dance through the halls after all.
Where can you spot Hough in Hogwarts?
The fair-haired Derek Hough was cast as a Ravenclaw, and can boast that he was also a stand-in for Tom Felton's character Draco Malfoy. The scene in which you can spot the choreographer is when the students are preparing to leave for the Christmas holiday. Hermione Granger, played by Emma Watson, walks through the Great Hall with her suitcase. For a split moment, the camera angles down the hallway, focusing directly on Hermione. Right behind her is Hough, holding his pet owl.
He gushed to Entertainment Weekly, "That's my big moment. I'm right in the camera's viewpoint, so every time you look at Hermione, you can see me, clear as day." Hough then went on to explain that he attempted to do a dramatic motion so that he was sure to get noticed, which looks like a bit of an excited leap in the released version of the "Harry Potter and the Sorcerer's Stone" movie.
That's the only appearance the future "Dancing with the Stars" dancer would make in the "Harry Potter" franchise. However, fans can spot Hough's sister, Julianne Hough, during a Quidditch match. He joked, "She had a crush on Daniel Radcliffe. She wrote him a love letter and sent him a teddy bear. They were like 12 years old." After the first film, the Hough siblings were too busy to sign up for being extras in future "Harry Potter" movies.
Derek Hough stole a piece of the set (and a bite to eat)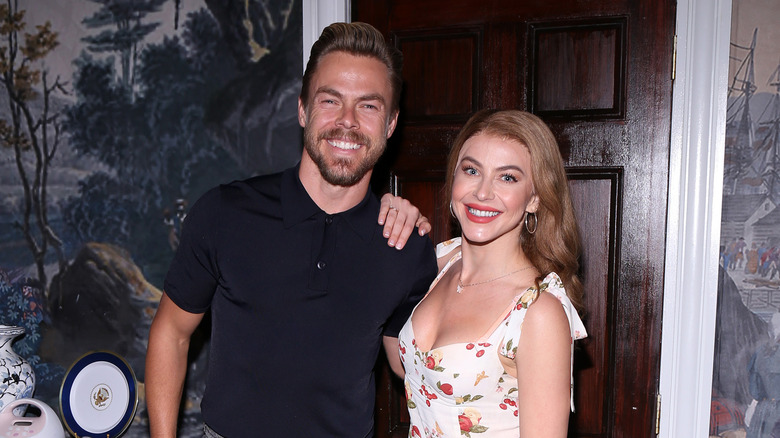 Bruce Glikas/Getty Images
Derek Hough may not claim to be a full-blown Potterhead, but he was still so enthused with his time on set that he decided to take something with him. He coyly admitted to HuffPost in 2017, "I had the tie, I had the scarf, I had the robe, my patch. And, I stole it all. I was like, 'This is going to be worth something one day,'" That wasn't all. He also admitted, "And I took the silverware from the Great Hall, as well. I was a little thief." With his silverware, Hough attempted to steal a bite to eat as well.
Everyone who has watched the "Harry Potter" films can recall the Great Hall filled with immense amounts of drool-worthy food. Apparently, it was enough to tempt the actors and extras who would get hungry on set. Hough joked that once they tried to eat it, only to be deflated when they found out it was just plastic. 
Derek Hough is proud of being in the first 'Harry Potter' film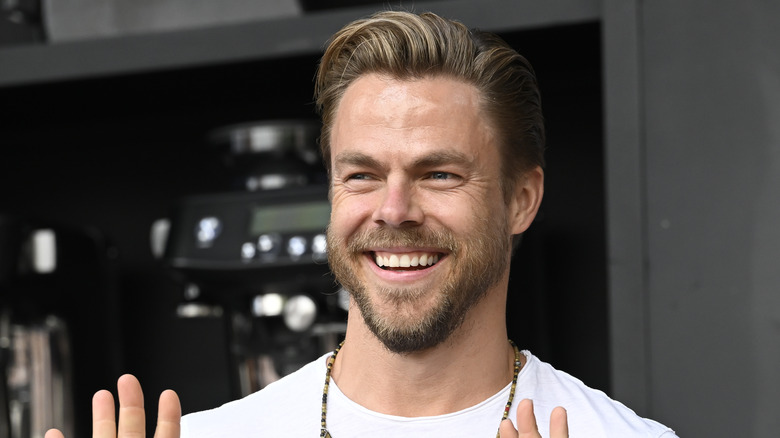 Steve Jennings/Getty Images
Sadly, the plastic food from the Great Hall wouldn't be the only "Harry Potter"-related disappointment the dancer would face. Derek Hough later lost his stolen contraband, too, stating, "I don't know where any of it is. We moved and then it just got lost and I think God was like, 'Hey, you know what? You're a thief. You can't have this stuff.'"
Fortunately, no one can take away his fond memories of spending time in the Wizarding World. "It's funny to see how much those movies became such an iconic thing in the world, and I was in that first movie not knowing what I was doing," he admits. Hough might consider himself lucky to have been a part of the magic, but we think Hogwarts was also lucky to have had a future dance legend grace its halls.