The Cringey Meghan Markle Snub That Gave Fans Secondhand Embarrassment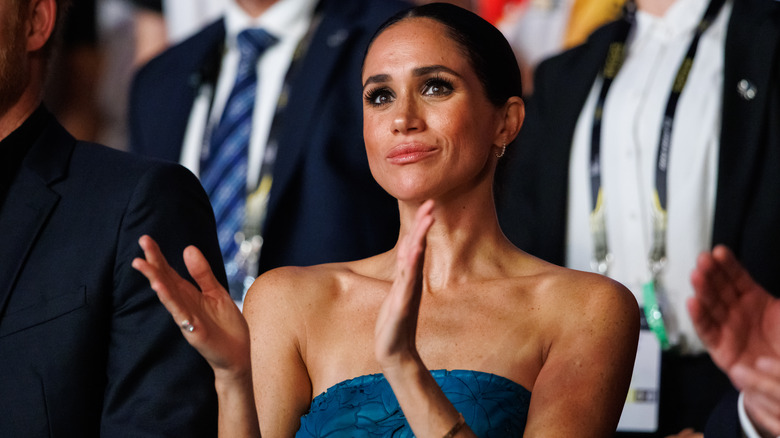 Joshua Sammer/Getty Images
Meghan Markle, Duchess of Sussex and Prince Harry, Duke of Sussex had a quick romantic rendezvous in Portugal after the 2023 Invictus Games in Germany came to a close. But they were back to California in time to attend the One805 charity fundraiser in Santa Barbara, hosted by Kevin Costner. Costner just recently finalized his divorce with Christine Baumgartner, and though Baumgartner was listed as a co-host of the event at Costner's beachfront estate, she wasn't in attendance at what looked like quite the star-studded affair.
Costner shared pictures from the event on Instagram, and along with the Duke and Duchess of Sussex, Oprah, Ellen DeGeneres, and Portia de Rossi were there too. They were treated to a Maroon 5 performance, and items up for auction included a Costner-signed guitar that went for $12,500. While the event seems to have been a success in raising money for the community's first responders, there was a cringey moment with a microphone and Meghan that was caught on camera.
Meghan Markle and Prince Harry seemed to be left in the dark over what to do
Prince Harry and Meghan joined host Kevin Costner on stage to present him with an honorary award. Oprah Winfrey was also among the VIP guests who honored the first responders. pic.twitter.com/Wa0EAs4PeX

— R.S. Locke / Royal Suitor (@royal_suitor) September 23, 2023
The footage of Meghan Markle's embarrassing moment was reposted on X, formerly known as Twitter, from what looks like an Instagram story from Santa Barbara Magazine. It starts innocently enough with Meghan and Prince Harry being welcomed with applause as the Duke and Duchess of Sussex. As they walk on stage, the woman who announced them walks towards them with the microphone still in her hand. That's when the awkwardness ensues. Meghan reaches her hand out to take the microphone as if she might be saying a few words, but the woman who introduced them kept a firm hand on it. They shared a brief exchange, the woman walked off, and Harry and Meghan continued to the center of the stage.
There's nothing quite so cringey as being at an event with all eyes on you and not knowing what you're supposed to be doing. That's what seemed to happen to Harry and Meghan at that point. They stood looking a bit uncertain when someone else came on stage to hand off another mic. But it's not for either of them. Instead, it went from the man to Harry, who then handed it to someone else while Meghan held on to the award she was set to give out.
Meghan Markle's moment of embarassment got plenty of comments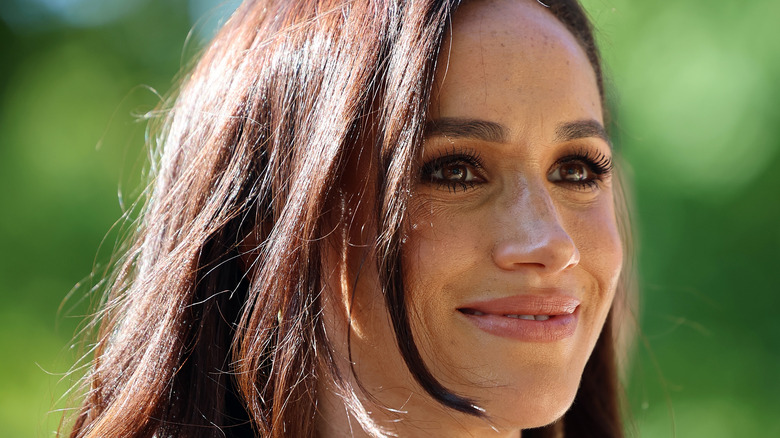 Chris Jackson/Getty Images
Meghan Markle and Prince Harry attended the One805 event in Santa Barbara to help hand out the awards onstage, including a Heart of the Community award to Kevin Costner. And footage of the awkward moment has made the rounds on social media, with one person summing up the whole thing up in a YouTube comment — "It looked like a bit of a fiasco up there on the stage." Others commented on it being a bad look for Meghan. One person wrote on X, "She's all manic over the attention she thinks the lady is giving her the microphone," and another posted, "Ugh she cannot help herself, cringe." There was also some definite schadenfreude for some, like a YouTube commenter saying, "I'm watching her grab that microphone all day long, it's gold star embarrassment for her and I LOVE IT!"
Meghan at least looked stylish in her awkward moment. She was wearing Manolo Blahnik heels, a black and white herringbone cape coat by Carolina Herrera, and Cartier tank watch.