The Stunning Transformation Of Maggie Smith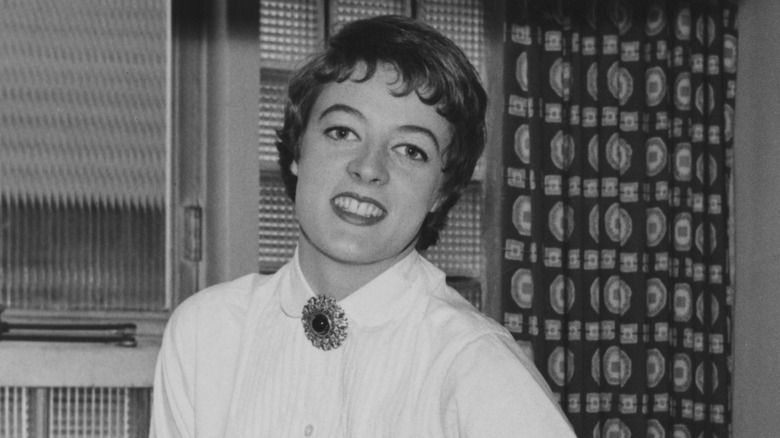 John Drysdale/Getty Images
It's hard to think of many actors who are more beloved than Maggie Smith. After growing up in London in the '40s, the British icon rose to fame for her critically acclaimed performances on stage on Broadway and the West End in the '50s and '60s, appearing in classics like "Othello" and "The Recruiting Officer." 
She then burst onto the scene with her performance in "The Prime of Miss Jean Brodie," which won her an Oscar. She continued acting on stage and screen for many decades and has now racked up a hugely impressive CV, having appeared in "A Room with a View," "Gosford Park," "The Best Exotic Marigold Hotel," and "The Lady in the Van." And, of course, she has also gone down in history as Professor McGonagall in the "Harry Potter" franchise and as the Dowager Countess in "Downton Abbey." 
After such a long, successful career, it's no wonder Smith has been made a dame and is now regarded as one of Britain's finest actors. Interested in learning more about her journey from 1930s Essex to acting acclaim? Here is the stunning transformation of Maggie Smith.
Maggie Smith was born in 1934 in Essex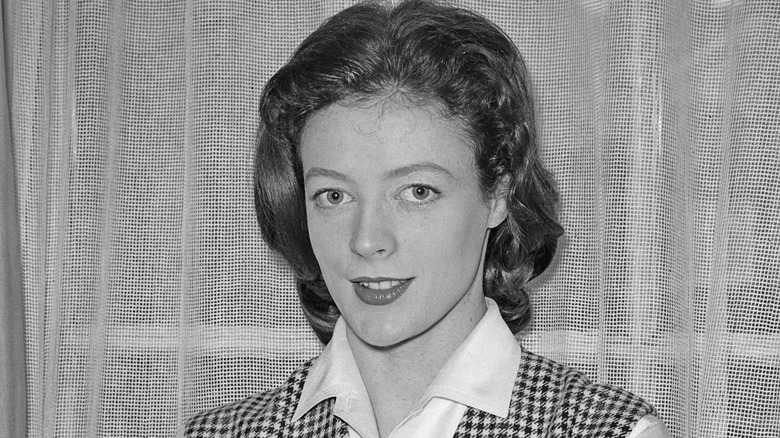 Evening Standard/Getty Images
Maggie Smith was born on December 28, 1934, in Essex, a suburb of London, and from the age of 4 was raised in Oxford — her father Nathaniel was a pathologist who worked at the university. Her mother, Margaret, was a Scottish secretary. 
"They were Nat and Meg," she said to The Guardian of her parents. Apparently, the pair regaled her with stories of their meeting on a train from Glasgow, where her mother was from, to London, which stopped in Newcastle. "Though I don't think that can be right because the Glasgow train didn't stop at Newcastle. Still, that's what they said." 
As she told The Telegraph, her parents were very religious and raised her and her twin brothers going to church each Sunday. Book critic Dan Callahan described Smith's mother as a "cold and penny-pinching stickler for propriety" in one 2015 review of her authorized biography.
Maggie Smith was inspired to act as a child, even though it didn't run in the family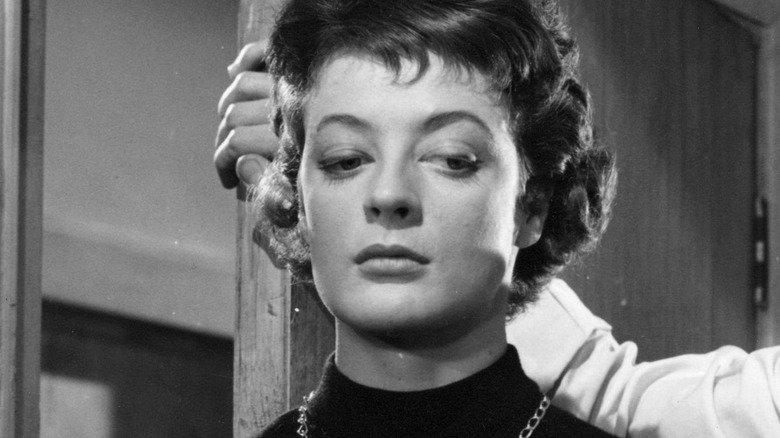 Hulton Archive/Getty Images
As a child, Maggie Smith wasn't exactly encouraged to act. No one in her family had ever acted — as she told NPR,  there was "nobody in the family who had ever done anything like that before." To make matters worse, her mother was actively against the idea, allegedly telling her she'd never find success "with a face like that" (via USA Today).
Nevertheless, Smith was drawn to acting from a young age, probably because of her few trips to the cinema and a kind teacher. 
"Honest to God, I have no idea where the urge came from. It was such a ghastly time and we didn't go to the theater," Smith said to the Evening Standard of her childhood. "I got into terrible trouble once because the neighbors took me to the cinema on a Sunday. But I had a wonderful teacher, Dorothy Bartholomew, who also taught Miriam Margolyes, and who encouraged me."
Maggie Smith got her start on stage in the '50s after training in Oxford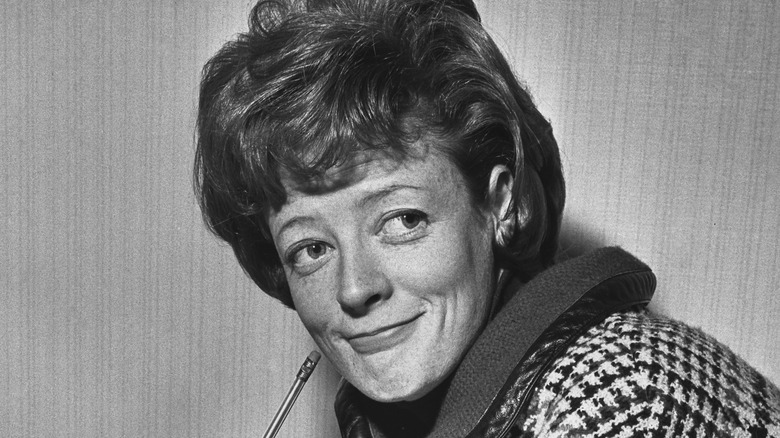 Evening Standard/Getty Images
After falling in love with acting, Maggie Smith pursued a career on stage, joining the Oxford Playhouse School of Theatre at 17. She told NPR of the school: "It didn't last very long. If you applied to get in you got in, if you know what I mean." She went on to perform in musicals and comedies in the repertory theater. "I worked there for quite a long time actually on stage management understudying and being a dog's body, really," she said. 
By 1956, at the age of 22, she had been selected to appear in "New Faces," a revue, on Broadway. "It was a wake-up call to have one's first professional job on Broadway, I must say," she said.
Even though Smith was finding plenty of success on stage, she was beginning to get a reputation as a comedic and musical actor. This meant that many of the more "serious" theaters weren't interested. As she put it to the Evening Standard, they "wouldn't touch you with a bargepole, if you'd been 'on the avenue.'" However, all of that changed in 1963 when she was chosen by Laurence Olivier to join the company at the Old Vic Theater in London.
Throughout the '60s, Maggie Smith became known for her theater work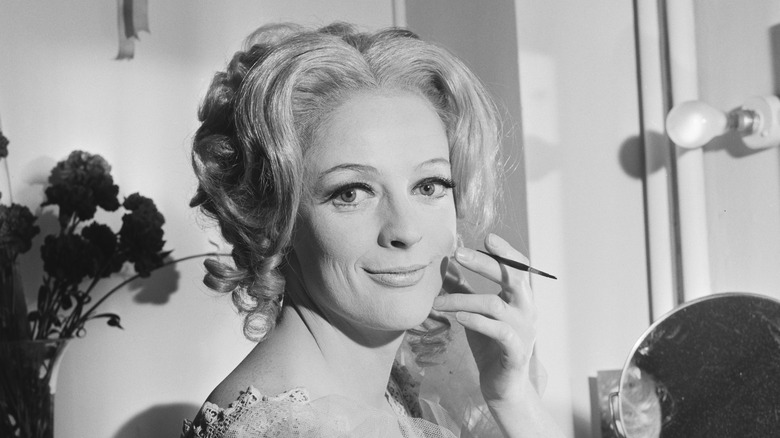 Pierre Manevy/Getty Images
After joining Laurence Olivier's company, Maggie Smith's theatrical career quickly took off. She famously played Desdemona opposite Olivier in "Othello," before taking on roles in "The Country-Wife," "The Beaux' Stratagem," and "Hedda Gabler," to name a few.
For Smith, acting on stage proved to be where she felt most comfortable, as she told The New York Times in the '70s. "The time on stage is easier than the rest of one's existence. At least for those two and a half hours you can be quite sure who you are," she said. "The rest of the time I find very confusing. I'm always very relieved to be somebody else, because I'm not sure at all who I am or what indeed my personality is. I feel like a person who doesn't exist until I'm somebody else."
In fact, as Smith told The Telegraph years later, she loved every moment of her life as a theater actor and hoped her entire life would be spent on the stage. "When I started out I didn't have any of this [film and television roles] in mind," she said. "Not a scrap of it. I just thought it was going to be all theater and wonderful."
Maggie Smith married Robert Stephens and had two sons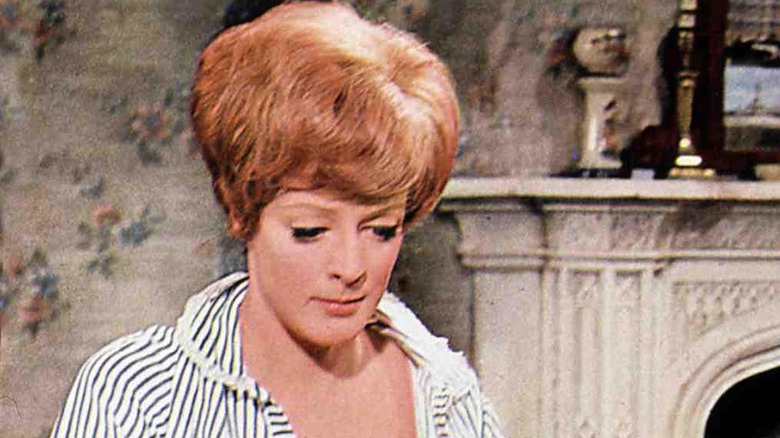 United Archives/Getty Images
Maggie Smith's love life wasn't exactly straightforward. She met Beverley Cross, the man who would later become her second husband, at the age of 18. He proposed, but Smith married Robert Stephens instead, a fellow actor, in 1967. Her friends didn't exactly approve. 
"God knows, Larry tried hard to persuade him not to go anywhere near me," she told The Guardian in 2004. The pair acted together in "The Prime of Miss Jean Brodie" and had two sons, Toby and Chris, both of whom went on to become actors, too. She spoke to The Guardian in 1969 about her children: "I felt a tremendously strong desire to have them but I was amazed at it, I thought, 'This isn't your theme at all, what's come over it?' but now I've done it twice, I feel a far greater sense of achievement than with anything I've ever done before." She continued working while juggling her family.
Stephens struggled with his mental health in the '70s and was eventually diagnosed as "hypermanic." "It got worse and then it went on getting worse and worse," Smith recalled to The Guardian in 2004. "In the end, it was destroying everybody. And he was having so many affairs." In 1973, Stephens and Smith divorced.
Maggie Smith won an Oscar for The Prime of Miss Jean Brodie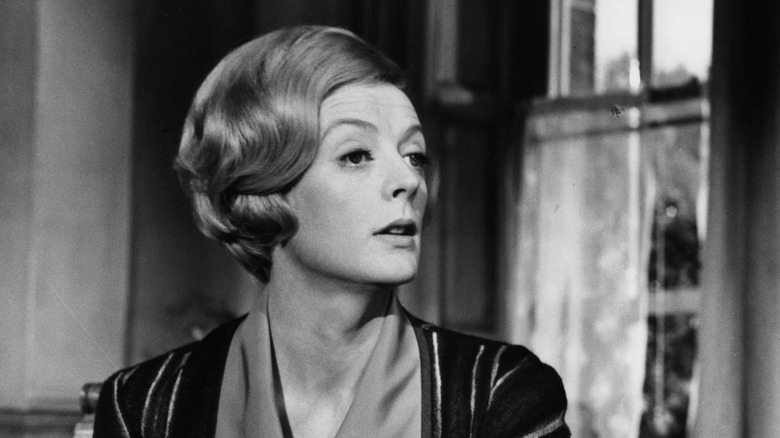 Archive Photos/Getty Images
Maggie Smith's "big break" on screen came in 1969, when she starred in "The Prime of Miss Jean Brodie," an adaptation of the novel by Muriel Spark. The role saw Smith playing a prim and proper teacher at a girls' school in Edinburgh with a passion for art. 
At the time, The New York Times raved about her "big, extraordinary performance." She shone in the role. The review continued, "There hasn't been such a display of controlled, funny, elegant theatricality since Lawrence Olivier soft-shoed his way through 'The Entertainer' nine years ago." Smith was nominated for and won the Best Actress Academy Award that year — although she didn't attend the ceremony, as the very same Olivier told her she couldn't abandon the play she was acting in at the time.
Getting the Oscar nod was a surprise. "You know, back then, it hadn't entered my mind things like Oscars," she recalled to NPR. "And they weren't anywhere near so huge things as they are now. I mean, now they've become, I mean, just extraordinary ... "
Maggie Smith was married to Beverley Cross from 1975 to 1998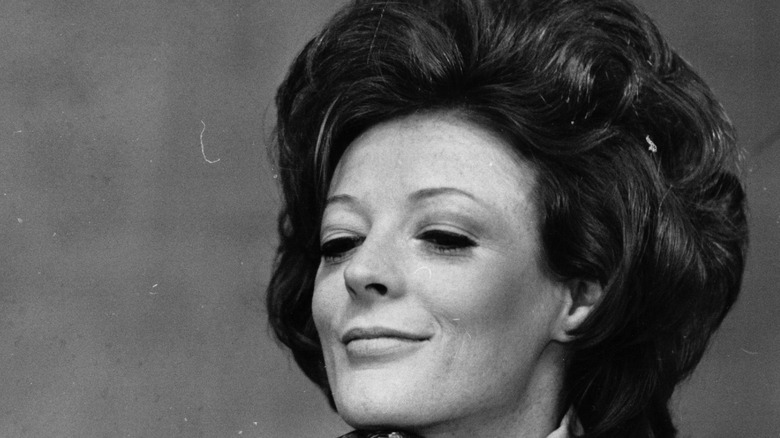 Express Newspapers/Getty Images
After her difficult marriage to Robert Stephens, Maggie Smith reunited with Beverley Cross, the man who had proposed to her at 18. They married in 1975. They spent the first few years in Canada, where Smith continued acting on stage. Her second marriage was much happier, and the pair remained married until Cross' death in 1998. Smith also credits Cross with raising her sons. He was, as Smith told The Guardian in 2004, a "lovely man."
After his death, Smith settled into a life alone in London. There would be no replacing him. "I don't think I would find anybody who could come anywhere near Bev," she said to the Evening Standard. 
Even though it's been over 20 years since his death, Smith still feels his absence. "They say it goes away but it doesn't," she told The Telegraph in 2014. "It just gets different. It's awful, but what do you do? After the busyness you are more alone, much more."
Maggie Smith was diagnosed with Graves' disease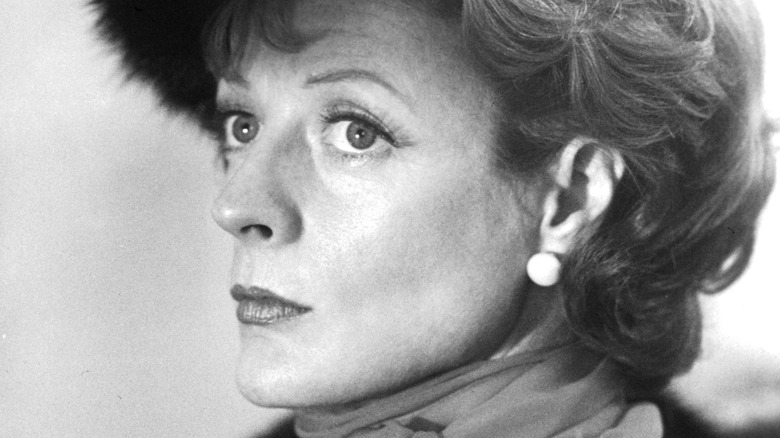 Michael Ochs Archives/Getty Images
In 1988, Maggie Smith was diagnosed with Graves' disease, a rare condition that results in an overactive thyroid and can lead to problems like osteoporosis, menstrual cycle irregularity, and eye problems. For Smith, it led to a puffiness of the eyes. To make matters worse, Smith broke her arm and had to drop out of a play just before the disease turned worse. 
Smith underwent surgery to stop the protrusion of her eyes and spent the next year alone recovering from both the surgery and the broken bone.
It was, understandably, not an easy time. "It's been kind of like a fog of despair, really," she confessed to The New York Times in 1990, adding, "It was ghastly having a broken arm; ghastly with the play, letting everybody down; and on top of that, I looked absolutely frightening, and didn't know which way to turn." 
Maggie Smith was made a dame in 1990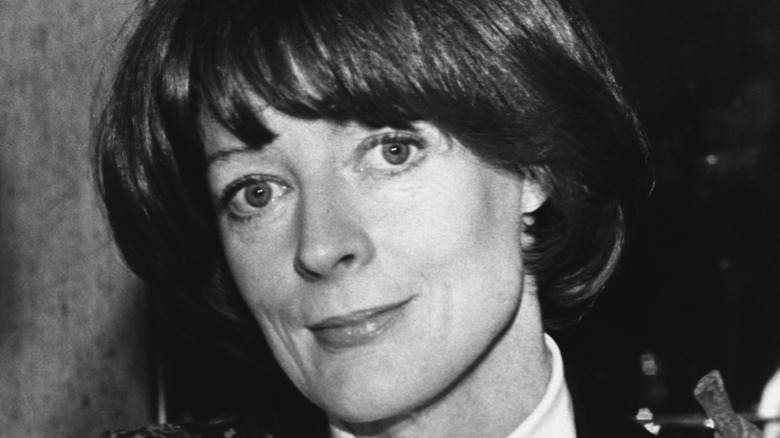 Hulton Deutsch/Getty Images
These days, we all know her as Dame Maggie Smith. In 1990, the actor was given a damehood by Queen Elizabeth II, a mark of enormous prestige that few others receive.
Although she was, of course, honored to receive the title, she joked to The New York Times, "It's very aging, of course." After all, she was only 56 years old when the honor was given. Smith added that the title probably wouldn't make a huge difference in her life. "It doesn't change anything at all, except people end up calling me Dame Maggie — and I don't suppose that'll happen much," she said.
In 2014, Smith received yet another honor from the queen — this time, it was the Order of the Companions of Honor. She was only the 47th person to receive the honor — other actors included Ian McKellen and Judi Dench.
Maggie Smith was introduced to a new generation in Harry Potter
Despite her decades-long career filled with Shakespearean roles on stage and literary roles on screen, one of Maggie Smith's biggest claims to fame has been her role as Professor Minerva McGonagall in the "Harry Potter" films. From 2001 to 2011, she played the stern Transfiguration professor. The series ended up being one of the most successful franchises in movie history and it introduced Smith to a new generation of young fans. 
However, while the films may have been popular, Smith didn't exactly consider them to be high art. "It wasn't what you'd call satisfying. I didn't really feel I was acting in those things," she once told IndieWire of both "Harry Potter" and her later success "Downton Abbey."
Nevertheless, she had a wonderful time making them thanks to her co-stars. "I'll tell you I just did adore Daniel — Daniel Radcliffe, who I had worked with before 'Harry Potter' and spent a long time telling all the producers they had to see him because I thought he was so terrific," she told NPR. She also mentioned Alan Rickman, who played Professor Snape. "He was a joy," she said.
Maggie Smith had another hit with Downton Abbey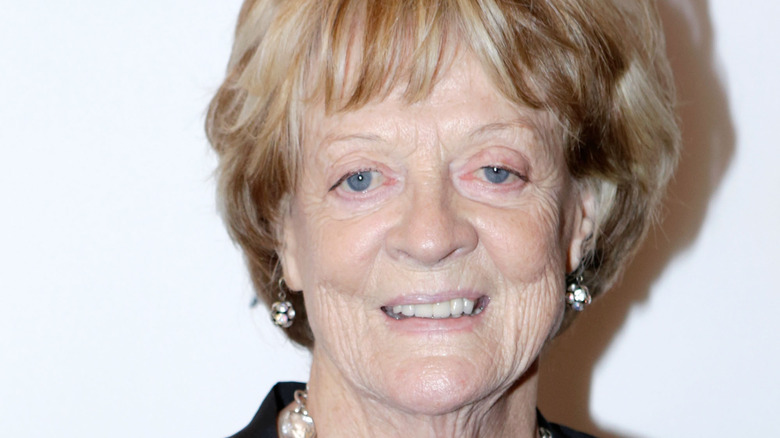 Jeff Vespa/Getty Images
In 2010, Maggie Smith signed on for another long-running epic: this time, a soapy period drama by the name of "Downton Abbey." It was a huge hit, and off the back of "Harry Potter," it shot her to new heights of fame. "'Downton' was the big surprise," she said during a talk at BFI, adding that no one knew it would take off in the way that it did. 
"It's only since 'Downton' that people seem to know [who I am], you know, who stop me and ask me, but it's only since 'Downton,' and that's television for you," she told "The Graham Norton Show." Smith enjoyed taking on the role, as it gave her a chance to play a comedic older matriarch. "I thought it was great fun because she was so — well, obviously the oldest in the group," she told NPR. "And it was wonderful because she would just sort — she was in the position where she could say what she wanted to say because she was the elder and they deferred to her." But while she liked making it, she later admitted that she had never seen a single episode.
Smith's scathing line deliveries as the countess have since gone down in history as memes that will probably never go out of fashion.
Maggie Smith starred in The Lady in the Van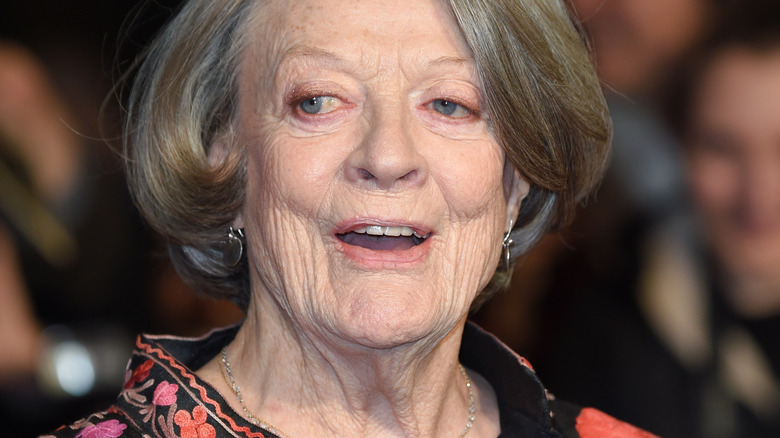 Karwai Tang/Getty Images
Another career-defining role came late in life with the 2015 film "The Lady in the Van." It was based on a play by Alan Bennett that Maggie Smith had previously starred in during 2000 about the real-life story of an unhoused woman who lived in a van in Bennett's driveway for 15 years. 
"I really didn't ... dare [go method with the role], I just kept thinking about her," Smith said during a press conference. But although the part was certainly demanding and a huge stretch for her, she actually felt "closer to her" than to the Dowager Countess. "It was much easier to be Miss Shepherd, because she didn't mind how she looked and it was such a relief," she said. 
Smith went on to explain that she was happy to have had the part because it was a rare leading role for a woman "over a certain age." "It is tough and I can't say it's easy at the age I am," she said.
Maggie Smith is still acting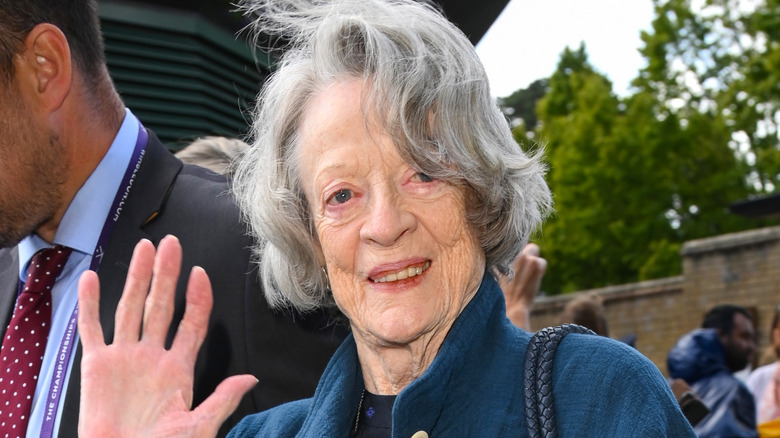 Karwai Tang/Getty Images
As of 2023, Maggie Smith is just a few years shy of 90 — but she's still going strong. In 2022, she appeared in the second "Downton Abbey" film. In 2023, she starred in "The Miracle Club," an Irish family film that also starred the likes of Kathy Bates and Laura Linney. According to The Guardian, Smith had been attached to the project for two decades before it was finally made. 
"She's so un-Downton," said director Thaddeus O'Sullivan of her performance. "Although [her] character does have a somewhat prickly and demanding nature ... eventually we see a deeply vulnerable, humble and compassionate woman." And apparently, she's just as wonderful to work with as ever. "Every day on the set with her was a revelation," he said. We're hardly surprised.
Smith also has an upcoming film in the works. In "A German Life," she'll play Brunhilde Pomsel, a woman who worked for Joseph Goebbels during the Second World War — she previously played the role on stage. Clearly, there's still much more to come from this British icon.