Kelly Clarkson's Daughter River Rose Is Growing Up To Be Her Mom's Twin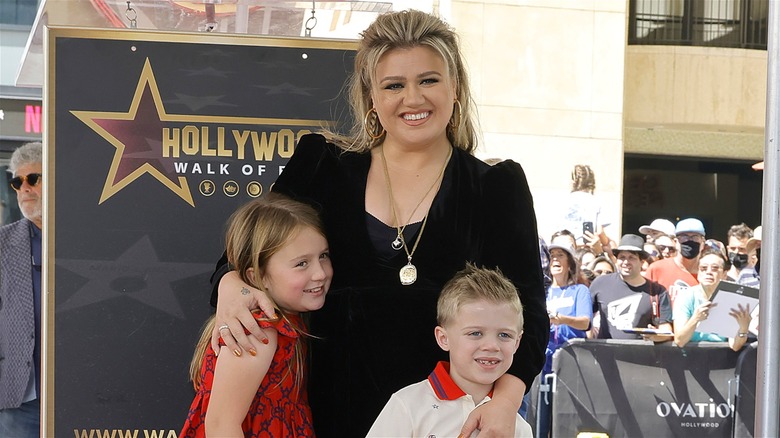 Kevin Winter/Getty
Kelly Clarkson is everywhere these days, and we're all the happier for it. The joyful Texas-born singer got her start in the music industry when she became the very first winner of "American Idol." Since then, Clarkson has released hit after hit, including "Since U Been Gone" and "Stronger," and has won multiple awards for her music. When she's not singing for millions onstage, Clarkson is making millions laugh as the personable host of her very own talk show, aptly named "The Kelly Clarkson Show."
Along with being a talented performer and TV personality, Clarkson somehow makes time to be an incredible mom to her two children as well. She shares daughter River Rose and son Remington "Remy" Alexander with her ex-husband, Brandon Blackstock. As she grows older, we're starting to see more and more striking similarities between River and her superstar mom. From her hairstyle down to her mannerisms, it seems like River is destined to become her mom's twin.
River Rose was mom's lookalike in this cute pic
In July and August 2023, Kelly Clarkson held a series of exclusive concerts in Las Vegas to celebrate her newest album, "Chemistry" (via NBC News). During a special concert, Clarkson brought in a little backup. Before going out onstage, Clarkson took a moment to snap a picture of her two favorite "little humans" in the world – her children, River Rose and Remington Alexander.
"Both of my kiddos backstage getting ready to join me on stage in Vegas," Clarkson wrote alongside the picture of her kids. "[N]othing will ever be as cool and amazing as these two little humans that will always have my whole heart."
The wholesome pic of the hugging siblings drew over 260,000 likes and thousands of comments. Like the rest of us, Clarkson's social media followers couldn't believe how much River Rose resembles her mom in the picture with her signature wavy brown locks and friendly smile. Her poufy-sleeved dress, with its frilly cuffs and fun stripes, had us thinking it would definitely be something Clarkson might wear. It was fabulously chic, perfect for a little star-in-the-making.
Kelly and River Rose's duet had the audience seeing double
As Kelly Clarkson and her kids' show in Vegas kicked off, the similarities between mom and daughter only grew more apparent. River Rose looked even more like her mom when she appeared onstage to perform for the excited audience.
Clarkson was already onstage, mic in hand, giving an introduction to her daughter. "She's been jamming to this song since she was a baby," a TikTok video captured Clarkson saying before she welcomed River onto the stage. After sharing a big hug and high-fiving, mom and daughter began singing Clarkson's hit "Heartbeat Song" as the crowd went wild. Clarkson and River looked very much like twins as they belted out the popular 2015 tune together. At first, River Rose was a little shy, but it didn't take long for Clarkson's oldest child to start jumping along and dancing with the rest of the performers.
This isn't the first time the mommy-daughter team collaborated on one of Clarkson's songs together. Per Entertainment Weekly, River Rose also made an appearance on "You Don't Make Me Cry," one of the bonus tracks on the expanded edition of Clarkson's "Chemistry" album. Her daughter begins the song with a few harmonic vocals and ends the track by cheerfully announcing, "The end."