Seraphina Affleck Is Father Ben's Twin In Candid New Photo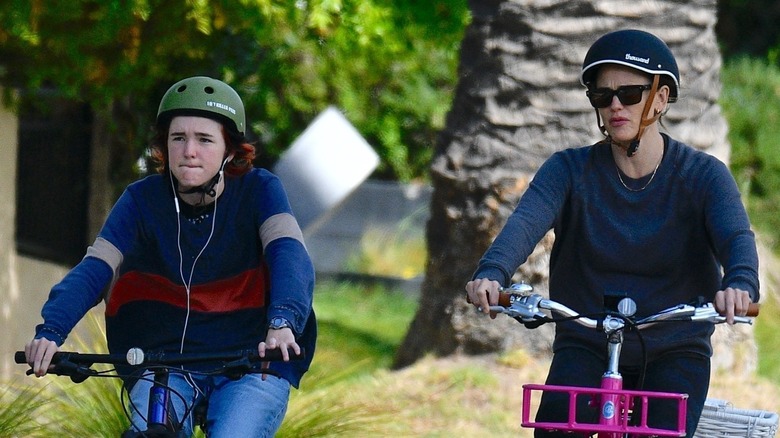 Backgrid
Their marriage may not have gone the distance, but thankfully Ben Affleck and Jennifer Garner's divorce is considered one of the more amicable in Hollywood circles. The former couple's demonstrable love for their three children has united Affleck and Garner in a determination to make their lives as normal and happy as possible. Violet, Seraphina, and Samuel divide their time between their parents. They've been spotted on outings both far and near, such as the one in late summer 2023, when Affleck took his crew to Istanbul. 
The Affleck siblings are also developing a relationship with Emme and Max, the twin children of their dad's current wife, Jennifer Lopez. Like most couples, Affleck and Garner don't always agree on certain aspects of parenting; for instance, Garner is more opposed than her ex to the children having their own cell phones while Affleck can see the upside of them being easier to get a hold of no matter where they are. But their love for them always wins out. 
"If you recognize that you both have the best interest of the kids at heart, it's quite a special connection," Affleck confirmed to NBC's "Today." "We're the only two people in the world who care this much about these three kids." Though all of the children have inherited the best qualities of both parents, middle child Seraphina seems to take after her famous father most noticeably. A recent photo of her and her mom on a bike ride (seen here) proves just that. 
Seraphina matches her dad's pensive expression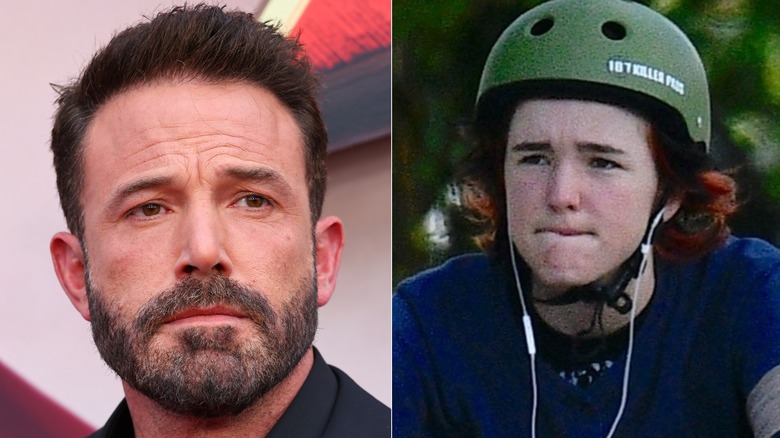 Leon Bennett/Getty/Backgrid
Ben Affleck and Jennifer Garner's middle child stands out from her siblings in a few ways. She has the longest name of any of the Affleck-Garner offspring — Seraphina Rose Elizabeth Affleck — and the most unusual. While both Violet's and Samuel's names are relatively common in the U.S., Seraphina is considerably less so. In the Social Security Administration's records, Seraphina has been barely a blip in the last 20 years, with the highest ranking of 998 in 2019. She also has the most "mischievous" streak of the Affleck offspring, according to In Touch Weekly, while Seraphina has reportedly bonded more closely with stepsibling Emme Muñiz than Violet and Samuel have, per Life & Style magazine. 
But unique as she is in other ways, Seraphina is still every inch her father's daughter. On a recent outing with Garner, Seraphina donned a graphic tee reading "Fenway," a nod to Affleck's proud Boston roots. She also proved her physical resemblance as well during a bike ride. Wearing jeans, a sweater, and earbuds, her new hair makeover hidden by a bike helmet, Seraphina rode alongside her mother with a serious expression on her face that looked just like her dad's: Furrowed brow, tight lips, narrowed eyes. 
Seraphina may also have inherited her parents' performing skills: Earlier this year, the entire blended clan — Affleck, Garner, Lopez, and their children — gathered to watch Seraphina in a "musical event," as reported by the Daily Mail. Is it possible the five kids will one day be featured onscreen just like their famous parents?