Erin Andrews Predicted Taylor Swift & Travis Kelce's Romance Would Be A Winner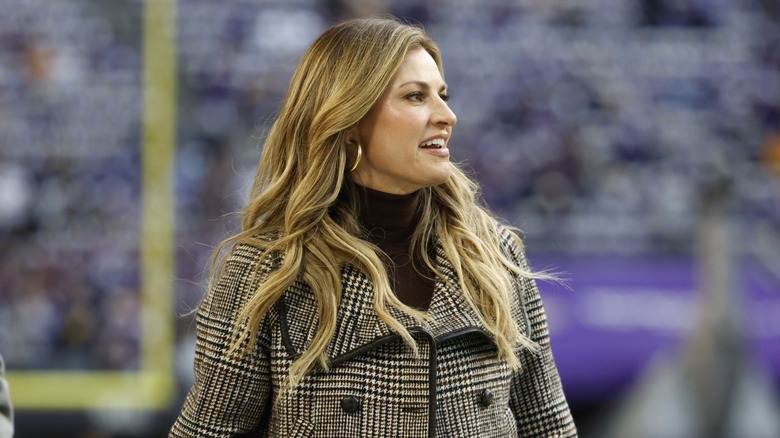 David Berding/Getty
While some people are less than excited by Taylor Swift's rumored NFL romance, others are thrilled about her and Travis Kelce's potential relationship. Some people even predicted it and perhaps gave Swift the nudge she needed to give Kelce a try. NFL sports commentators Erin Andrews and Charissa Thompson host a podcast together called "Calm Down with Erin and Charissa," and in an episode they recorded on August 3, 2023, Andrews played wingwoman.
In a clip of that episode that Thompson posted to Instagram, Andrews spoke directly to Swift and spoke highly of Kelce. "Please try our friend, Travis," Andrews said. "He is fantastic." Andrews joked about how she sees Swift as a friend, although they technically aren't, and implored the singer to listen. "Go on a date with this guy!" she added. "Do it for America."
Thompson said, "Do it for yourself, do it for us, and do it for the people," continuing to say that Kelce would absolutely make for a fun date. Kelce commented on the clip with a few emojis and said, "You two are something else!! I owe you big time!!"
A podcast guest said Swift saved the day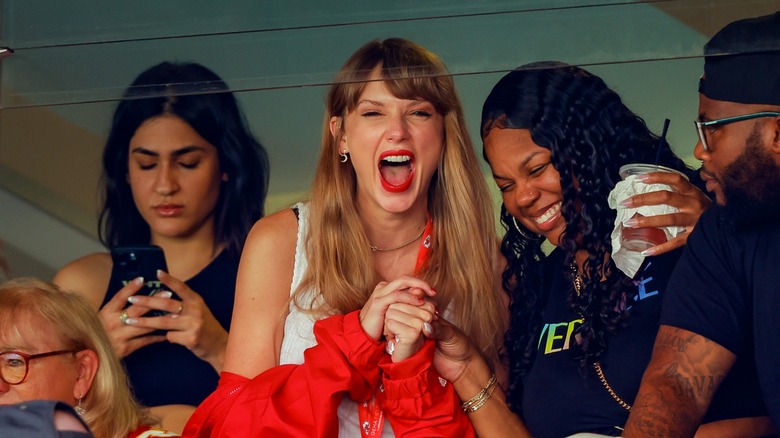 David Eulitt/Getty
In another episode of "Calm Down," Erin Andrews and Charissa Thompson were joined by Greg Olsen — a former NFL player and current NFL analyst. Andrews and Olsen recounted getting the news from confirmed Swiftie Travis Kelce that Taylor Swift would be at the Chiefs vs. Bears game. Andrews discussed finding out and feeling incredibly excited, and then she remembered how Olsen tried to figure out how to cover the news of Swift being there.
The podcast hosts brought up how irritating it is when people express disinterest in the Kelce/Swift news. Olsen jumped in to mention that he's gotten multiple social media comments from people who only want to hear about football and added, "I'm like, 'Really? The score's 41 to nothing! ... The game sucks. We're — thank God she's here. It's saving the day! If you don't like it, tune into another broadcast because we're going to have a blast.'"
The hosts also spent a portion of the episode discussing why they thought Swift was so famous, and Olsen brought up that Swift's music seems to resonate with people in all demographics.
Is the NFL taking it too far?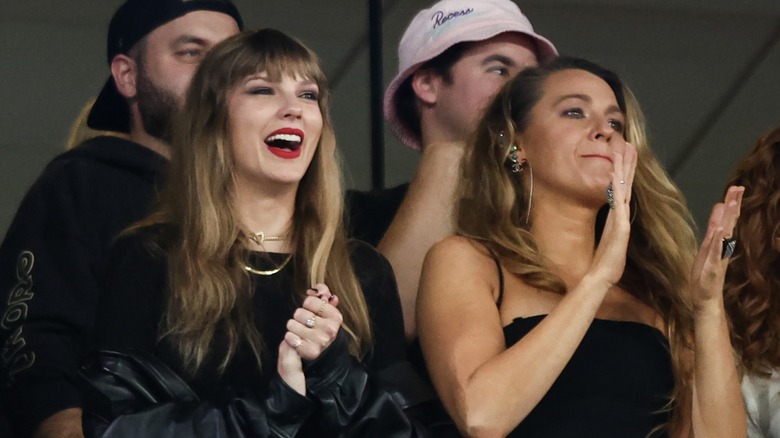 Kevin Sabitus/Getty
One of Travis Kelce's teammates, Chiefs quarterback Patrick Mahomes, was asked about Swift in a Chiefs vs. Bears post-game interview. Erin Andrews asked Mahomes if he realized how much Taylor Swift's fans — the Swifties — were hoping he'd get the ball to Travis for a touchdown. Mahomes smiled and said, "Yeah, I heard that she was in the house. ... I felt a little bit of pressure, and so I knew I had to get it to Trav. ... I think he wanted to get in the endzone just as much as all the Swifties wanted him to" (via X).
Many Swifties are enjoying watching Swift at the NFL games. According to a TikTok from CNN, when Swift was at October's Chiefs vs. Jets game, she was shown on the broadcast 17 times. If only it was Taylor Swift's lucky number 13.
However, some have complained about the coverage. The NFL released a statement to People defending their choice to devote time to Travis and Swift since it's a hot-button topic. When Travis and his brother Jason Kelce spoke about the situation on their "New Heights" podcast, they admitted that the NFL was perhaps showing Swift a little too much. Travis added that people attend football games to merely watch them, not to be shown on the broadcast: "There are certain things — you just don't want to be on TV at all times."