Jonathan Scott Admits He Botched Zooey Deschanel's Engagement Ring Pretty Badly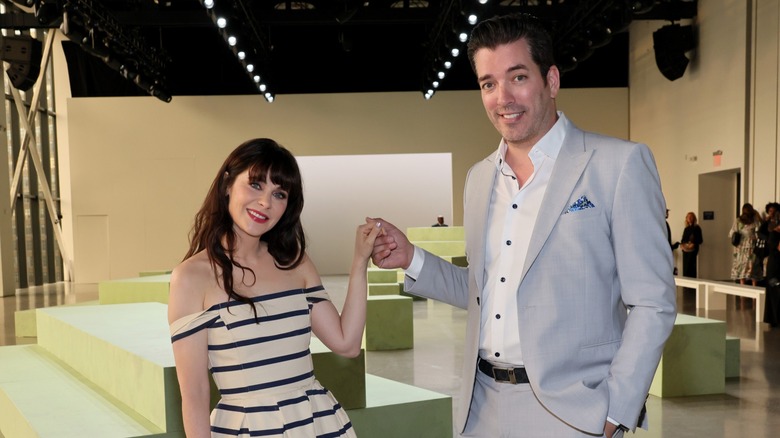 Dia Dipasupil/Getty
Jonathan Scott and Zooey Deschanel got engaged in 2023, making the official announcement on August 14. A diamond pro told The List that Scott's design skills shone through in Deschanel's engagement ring, but Scott didn't actually design it, and he accidentally botched an important part of it: the size.
For their October 2023 People cover story, Scott said he knew exactly the style ring Deschanel wanted because she'd mentioned liking that specific ring in a previous conversation. Scott kept the photo of it for "probably over a year." Deschanel loved the ring, however: "It was big for me. I didn't wear it. People kept going, 'Why aren't you wearing a ring?!' I'm like, 'It was too big for me.' It still needs to be adjusted a little bit. ... I have small fingers."
Scott went on to say that he did not do a good job picking Deschanel's ring size. He asked the jeweler what they thought, and they said to go with size 6. Deschanel corrected Scott and said the first ring was 5.5, and then 5, and now 4.75. When she joked that someone could gift her a ring now that they have the specific size, Scott quipped, "Better not! She's off the market," and Deschanel laughed.
Deschanel and Scott immediately liked each other
The over-the-moon sweet engagement of Jonathan Scott and Zooey Deschanel is a culmination of their sweet relationship. In their People interview, they shared first impressions of each other from when they met filming "Carpool Karaoke." Deschanel liked his kindness and willingness to have fun and be goofy. Scott felt the same way, and they both thought the other one was cute.
Their first date was at an escape room, and Deschanel loved that Scott was organized and sent details on everything. "I was like, 'Oh my God! He sent me an itinerary. This is like my dream!'" Deschanel said. The duo have communicated (either over texting or otherwise) almost every day since the first time they met.
Although Deschanel's children didn't know the engagement was coming ahead of time (since they would've spoiled the secret), they were involved in the exciting event. The kids held a "Zooey, will you marry me?" banner. Deschanel's daughter Elsie was excited when she realized what was happening — especially because it meant she could be a flower girl at the happy couple's upcoming wedding.