The Sad Reason Grey's Anatomy Star Chyler Leigh Hated Modeling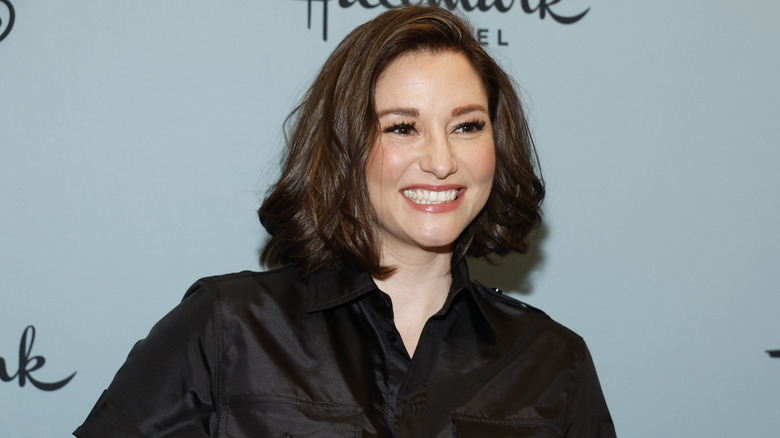 Mike Coppola/Getty Images
Actor Chyler Leigh is the definition of multitalented. Leigh proved she could handle comedy when she landed her breakout role in the cult classic film "Not Another Teen Movie." Since then, she's become a familiar face in television dramas, playing major roles in "Grey's Anatomy" and more recently CW's "Supergirl." 
With her downright stunning good looks, it should be no surprise that Leigh has led a successful modeling career on top of acting. One search for "Chyler Leigh Modeling" on TikTok will bring up dozens of clips of the actor in various modeling jobs over the years. The Hallmark star explained to Women's Health Magazine that she got her start in modeling at just 12 years old. It wasn't until later that she gained an interest in acting and began starring in our favorite movies and TV series. "I've been likened to a chameleon through my entire career," she told the magazine. "I can change my appearance by doing simple things."
Although many of Leigh's glamorous model shots show her smiling and seemingly happy, she's admitted that modeling didn't always feel like a fulfilling career to her. At one point in her life, she despised being a model. The reason for her hatred of the job will break your heart.
Chyler Leigh didn't feel 'worthy'
Instagram is usually the place to go when you want to show off the best and "prettied-up" parts of your life. Chyler Leigh took a different approach when she shared an emotional post on Instagram back in April 2020. The picture and accompanying caption unveiled why the actor hated modeling early in her career.
In the photo, we see a younger Leigh, age 12 or 13, grinning heartily at the camera as she poses amidst a tree's limbs. "It's little me!" Leigh's caption began. "This picture was part of a modeling composite that I had to hand over whenever I went on a casting call for a print ad." Leigh's post then took a sad turn as she shed light on the story behind the photo. She wrote: "I'll be honest, I hated modeling. I hated anything that brought attention to myself because I didn't feel worthy of the attention. I didn't like people seeing me. I didn't feel worthy of anything."
Leigh's reason for sharing this specific photo from her past had us emotional. According to her post, this was one of the few "rare moments" when she felt happy with who she was and where she was.
Leigh's mental health diagnosis led to an inspiring breakthrough
Chyler Leigh has spoken candidly about her mental health in the past. In an interview with Prevention, the "Grey's Anatomy" alum revealed that she began experiencing extreme irritability and other symptoms when she was still a child. It would take years for her to receive a diagnosis of bipolar disorder. Since then, Leigh has not shied away from the subject. She uses her platform and partnership with Be Vocal to bring awareness to mental health conditions.
The childhood photo that Leigh shared tells two stories. It's hard to look at a post of a child and know that she felt unhappy behind the scenes, but Leigh lifted our moods when she described how she views the vintage shot of herself today. "I look at this picture and realize I can see it one of two ways," the "Supergirl" actor wrote. "I was either climbing that tree to escape or conquering that tree to feel alive."
She closed out her post with an inspiring call to action for anyone facing a similar battle, reminding them that, no matter what, life is "worth the bumps and bruises and scrapes." "Live it up today regardless of your circumstances," Leigh instructed. "Conquer whatever tree you find, even if you can't get outside. Your journey is worth the climb."
If you or someone you know needs help with mental health, please contact the Crisis Text Line by texting HOME to 741741, call the National Alliance on Mental Illness helpline at 1-800-950-NAMI (6264), or visit the National Institute of Mental Health website.