The Stunning Transformation Of Jessie James Decker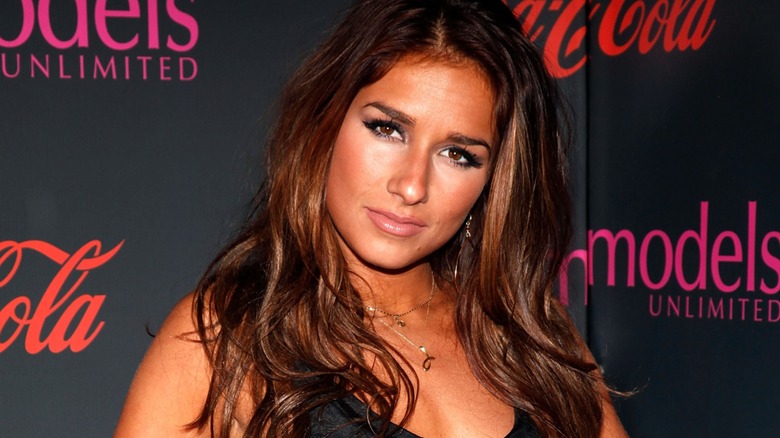 Brian To/Getty Images
Country music star, book author, and fashion mogul Jessie James Decker has been on the up and up these days as an entrepreneurial business woman. From releasing a new book, putting out new music, managing her clothing brand Kittenish, and announcing baby number four on the way, 2023, in particular, seems to be Decker's year and proves she is an absolute boss babe.
Decker was first introduced into the public eye as a country singer under her maiden name, Jessie James (yes, like the famous outlaw, albeit spelled differently). In 2013, she captured the hearts of many after starring in her own reality TV show alongside her now-husband and retired athlete, Eric Decker. The show "Eric & Jessie" followed the couple's journey to their wedding in 2013 and later their journey to becoming new parents. Since the show ended in 2017, Jessie has maintained a loyal following and fan base but has kept more of a lower profile over the years. Although she still releases new singles, she has since ventured out to other business opportunities, which have been very successful. "I work really hard, and have had many opportunities to give up and throw the towel in. But I never did," she told Billboard of her singing career, before elaborating on her other ventures. "I think that people can have their hand in as many different things as they want. You've just got to put your mind to it, and just do it."
To learn more about this A-lister and how she got her start, read on.
She knew she wanted to sing from a young age
Becoming a singer had always been Jessie James Decker's dream, and she started pursuing it from a young age, all the way through high school. As she detailed in her autobiography, "Just Jessie: My Guide to Love, Life, Family, and Food," she didn't waste any time showing off her talent. Her very first performance happened when she was just nine years old, in her hometown's talent show in Louisiana. What's even more impressive? She won that show and turned to her mom, saying, "I want to do this forever."
Those singing competitions were like validation for her. She saw them as a way to prove to herself and the world that she had a real gift for singing. Looking back on those early days, Decker believed that winning these contests meant she was not only good but that she had a shot at making her passion her actual job. It was like the first step on the journey to turning her love for singing into a lifelong profession.
Billy Currington helped her get her big break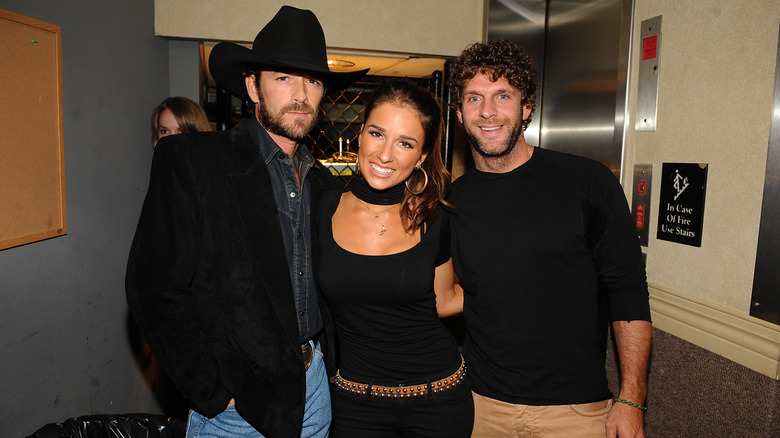 Rick Diamond/Getty Images
In her autobiography "Just Jessie," Jessie James Decker detailed the time she went to a meet-and-greet at Billy Currington's concert at the age of 17. Once she got up to meet him, she told him, "One day, we're going to be on the same label, and I'm going on tour with you." He quipped, "Oh really" — and then she sang for him. Currington was so impressed, he told Decker, "I'm going to set you up with a publisher who can help you because I think you got it, girl."
Since their first encounter, the two musicians have maintained a long-term friendship and seem to stay in consistent communication on social media. Around the year 2021, the two were often seen spending time together with Decker's family on vacations and at dinners on Instagram, which possibly hinted at a possible music collaboration that was confirmed in 2022 when their duet titled "I Still Love You" was released.
Her friend set her up with ex-NFL player Eric Decker
Jessie James Decker had just gone through a breakup when a friend had texted her about an NFL player named Eric Decker who she wanted to set Jessie up with. According to her autobiography "Just Jessie," the singer was hesitant at first, stating, "I'm swearing off men right now." The friend then sent Jessie a picture of Eric — and that's when things changed. Jessie responded, "He's stunning, but y'all are in Arizona." Nevertheless, Eric went for it anyway and got Jessie's number. From there, the two began texting, video chatting, and calling each other for weeks until Eric flew to Nashville for the weekend to visit his new flame. After the weekend trip, the two agreed to become exclusive and wound up dating.
After three months of dating and maintaining a long-distance relationship, Jessie told Eric that she planned to move to California for her career. Eric suggested she move in with him in Denver, instead. In her book, Jessie divulges how crazy it was to move in together after only dating for three months. That said, she felt it was right in her heart.
The singer married Eric Decker in 2013
In 2013, Jessie James Decker and Eric Decker finally said "I do" in a wedding that felt like a dream come true. Surrounded by close friends and family, their fairytale-like ceremony took place in a stunning castle.
Jessie couldn't help but gush about the day in her autobiography, "Just Jessie," musing, "The dress, the castle — it felt right with Eric. He was truly my prince, because he had given me my fairytale." Their wedding was a perfect blend of elegance and their unique personalities. Instead of a traditional fancy dinner, they went all in with a crawfish boil, and to keep things fun, they even had a game of beer pong.
Jessie looked absolutely stunning in her strapless Vera Wang cupcake gown and wore her hair down in beautiful loose waves. To make the day even more special, it was all filmed and became the finale of the first season of their joint reality TV series, "Eric & Jessie: Game On." 
Jessie James Decker got her own reality TV show in 2013
Back in 2012, Eric Decker finally popped the question to Jessie. And it didn't take long for the magic of their engagement to catch the eye of an E! producer who reached out to them via Facebook. The pitch was simple: why not turn their journey to the altar into a reality TV show? That's how "Eric & Jessie: Game On" came to fruition — a show that would go on to entertain viewers across three seasons.
In her book, "Just Jessie," Jessie opened up about the jitters she felt as she and her beau jumped into the world of reality TV. Moreover, because her team mainly nabbed her publicity opportunities in male-dominated outlets, such as Maxim, the singer believed she lacked a female fanbase. A quick scroll through Twitter, however, brought some much-needed relief. To her surprise, she discovered that she had gained a whopping 20,000 followers, and the best part was that every single tweet was filled with love and positivity. "I couldn't believe that women were saying nice things about me," she recalled, adding, "It was always my dream to have girls in my corner — and to be a role model to them."
Ultimately, what made their reality TV show so special was that it allowed fans to experience their major life moments in real-time. From their beautiful wedding to the birth of their daughter, the show made everyone feel like they were part of the family.
Jessie James Decker gave birth to her first child in 2014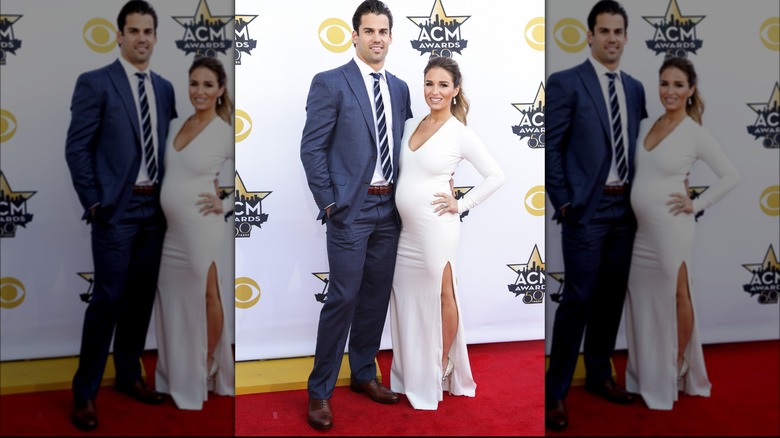 Sara Kauss/Getty Images
Just a month after their wedding, Eric and Jessie James Decker were already pregnant with their first child, Vivianne Rose Decker. Jessie's labor and pregnancy were filmed for Season 2 of "Eric and Jessie," up until their daughter's birth. During the labor, the singer had complications and needed an emergency C-section. As Jessie detailed in her autobiography, "Just Jessie," she recalled coming home from the hospital, sitting in the backseat with Vivianne while Eric drove. "I couldn't believe we had made this little baby together, and now she was coming home with us to start our new lives together." Their nest expanded in September 2015, when the couple welcomed Eric "Bubby" Thomas Decker II. Baby number three, Forrest, was later welcomed into the world in March 2018.
The singer had previously told outlets that she and Eric were done having kids, so it came as quite a shock when she surprised fans with a pregnancy announcement. In August 2023, Decker posted a subtle, yet cute Instagram video of her drinking her morning coffee with her cute pregnancy tummy exposed. To top it all off, she added the song "Always Be My Baby," by Mariah Carey over the video. 
She launched her own fashion brand in 2014
In 2014, Jessie James Decker took a significant leap from singing/songwriting by launching her own brand, Kittenish. For the next five years, Kittenish thrived as an e-commerce store, establishing a strong online presence and a loyal customer base. However, Decker had a dream of expanding her brand into the physical realm, and that dream became a reality in 2019 when she found the perfect location to open a brick-and-mortar store: Nashville, Tennessee.
Reflecting on this decision, Decker shared her excitement on her brand's website, writing, "I was waiting for the perfect moment and opportunity, as far as location goes, and a spot opened up in The Gulch, and spots never open up in The Gulch. I was like, 'That is it. That is the spot.' That was a sign that it was time." It was a serendipitous moment that signaled the right time to bring her brand into a physical space.
Since then, Kittenish has continued to expand. The success of the Nashville store led to the opening of additional shops in Dallas, Texas, and Tampa, Florida. Each of these locations carries the essence of Jessie James Decker, offering fashion-forward clothing and accessories that reflect her own personal style and vision.
In 2014, she started dipping her toes in the cookbook game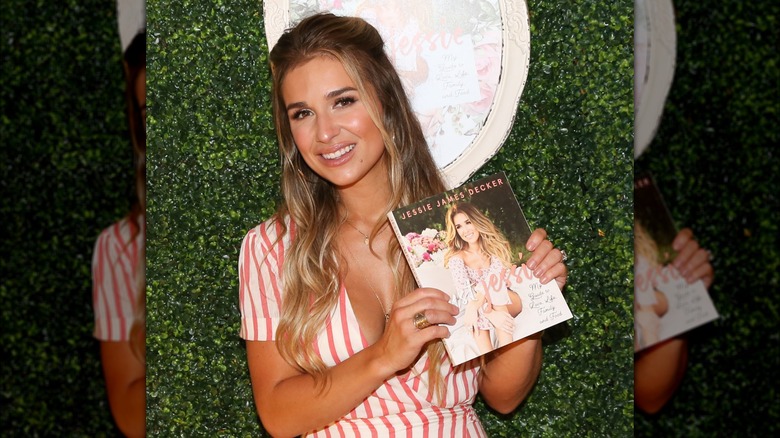 Terry Wyatt/Getty Images
Jessie James Decker also embarked on her journey as a book author in 2014 with the release of her debut autobiography/recipe book, "Just Jessie." This book is a unique blend of personal storytelling and Southern-style recipes, giving fans an intimate look into her life while offering a taste of her favorite comfort foods. One of her most highly-anticipated recipes included her famous chocolate chip cookie recipe, a treat she has openly discussed and shared on multiple occasions.
Her second book is a cookbook titled, "Just Feed Me," published in 2020. In this book, she incorporated more Italian, Southern, and Cajun dishes. What made these recipes even more special was that they were handed down to her from her mother, adding a layer of nostalgia and home comfort to the recipes she was sharing with her readers.
Decker's new cookbook, "Just Eat" is set to release in October 2023, as of this writing. It features easy-to-follow recipes inspired from her garden and her travels to the Mediterranean coast, including Italy and Greece. With this new cookbook, Decker aims to offer easy-to-follow recipes that capture the essence of Mediterranean cuisine, inviting her fans to join her on a culinary adventure.
Jessie James Decker became an aunt in 2017
In 2017, Jessie James Decker hosted an adorably girly baby shower for her sister, Sydney Rae Bass, alongside their mother Karen Parker. This heartwarming event became a highlight on the third season of "Eric & Jessie: Game On," where Sydney was showcased during her pregnancy, adorned with gorgeous flower crowns and surrounded by her loved ones. However, things took an unexpected turn when, in September 2017, Sydney gave birth to her daughter, Brooklyn Bass, a staggering 28 weeks prematurely. Brooklyn became a premature baby and spent a challenging 65 weeks in the NICU before she was finally strong enough to go home.
Following this challenging journey, Sydney expressed her desire for a second child, but it seemed that pregnancy was not in the cards. In November 2020, Sydney and her husband, Toronto Blue Jays baseball pitcher Anthony Bass, chose to embrace adoption, welcoming a beautiful baby girl named Blaire into their family. By 2023, and quite unexpectedly, Sydney announced on Instagram that she and Anthony were expecting their third child, calling it "the best surprise and miracle we could ever ask for." Overwhelmed with gratitude, Sydney shared her excitement for their "miracle baby," due in August.
In September 2023, Sydney gave birth to her miracle baby boy named Sonny, just one week shy of August. With this new addition, Jessie became an aunt to three nieces and nephews.
She prioritizes her fitness and health
With just one glance at Jessie James Decker's Instagram, you are bound to notice her ripped abs and incredibly muscular physique. Although Decker has become synonymous for being a major foodie and known for her famous recipes, she still manages to stay in incredible shape. After COVID-19, Decker shared that although a healthy diet helped her shed the COVID weight, she wanted to become more toned. Decker really buckled down on getting into better shape by using a personal trainer and living a healthier lifestyle, and it really showed when she shared her progress photos on Instagram in February 2021 (pictured above).
Despite using a personal trainer, Decker emphasized that fitness results are still attainable in an interview with CMT. She encouraged others to dedicate just 30 to 45 minutes of their day, highlighting that this time investment is manageable for anyone. She dismissed common excuses such as lack of time, stating firmly, "I don't love the excuses people provide, 'I don't have time to work out,' or 'I don't need it.' You have time to get a good workout in. Just do it."
As far as her diet goes, Decker maintains a straightforward and clean approach. "For the most part, I'm always enjoying food and I always say 'everything in moderation' on a day-to-day basis," she explained to Women's Health.
She treated herself to implants in 2021 and opened up about it in an Instagram post
Many fans speculated whether Jessie James Decker had any aesthetic procedures done, but Decker never really addressed the rumors until 2021. In an Instagram post shared in May 2021, she decided to shed light on her breast augmentation journey, expressing her satisfaction with the results after her body went through the transformations of three pregnancies. She joyfully declared, "I treated myself... to new boobies!" Elaborating on that, she shared, "After deciding we were done having babies, I was finally ready to go big or go home, ha!"
But her transparency didn't stop there. During a fan Q&A session on Instagram in April 2023 (via Yahoo! Entertainment), Jessie went on to reveal additional cosmetic enhancements she had undergone. She disclosed that she had received lip filler "a couple times over the years," noting that it had been nearly two years since her last treatment. She explained, "I had pretty good lips before, but I like that it made [them] a little fuller, especially my top lip. I think they did a natural job."
On the topic of botox, Decker revealed that she regularly received treatments a few times a year, not only on her face but also in her armpits. She humorously mentioned that botox helped with the wrinkle between her brows, making her look a bit "refreshed." She also praised botox in her underarms, emphasizing how it prevented any embarrassing perspiration moments.