The Queen Of Bhutan: 10 Facts About The Royal Known As 'The Kate Middleton Of The Himalayas'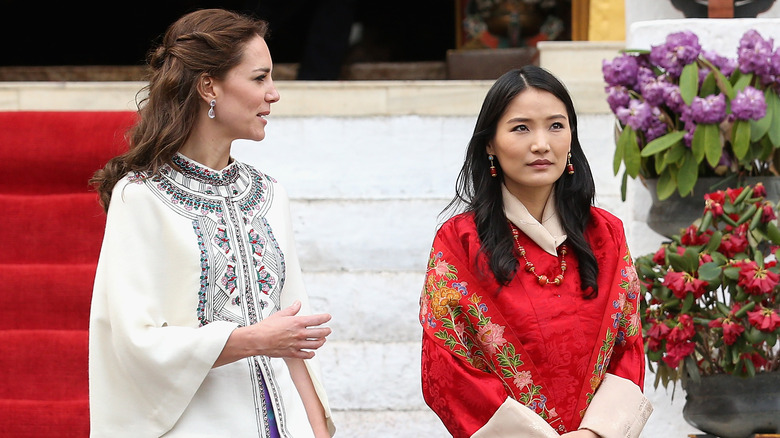 Chris Jackson/Getty Images
The Buddhist Kingdom of Bhutan has done an amazing job at keeping its culture and tradition intact all these years. It's the only remaining Buddhist Kingdom in the Himalayas and has been resistant to modernization — for example, television only became available to them in 1999, and it only started opening its doors to tourists in 1974. Ushering them further into the modern era is the new generation of the Bhutanese monarchy, led by King Jigme Khesar Namgyel Wangchuck and his wife, Queen Jetsun Pema. They are lovingly known by their subjects as the Dragon King and Dragon Queen, which is a direct translation of their titles in the Dzongkha language, "Druk Gyalpo" and "Druk Gyaltsuen". 
Though not as well known as the British royal family, the Bhutanese royal couple have certainly been likened to them. They were once dubbed the "Will and Kate of the Himalayas" because of their similarities. Interestingly, Queen Jetsun and Princess Catherine share the same undergraduate degree in art history, and they're both style icons in their own right. But there's much more to learn about the Queen of Bhutan aside from her similarities to the British royal.
She was born into a noble Bhutanese family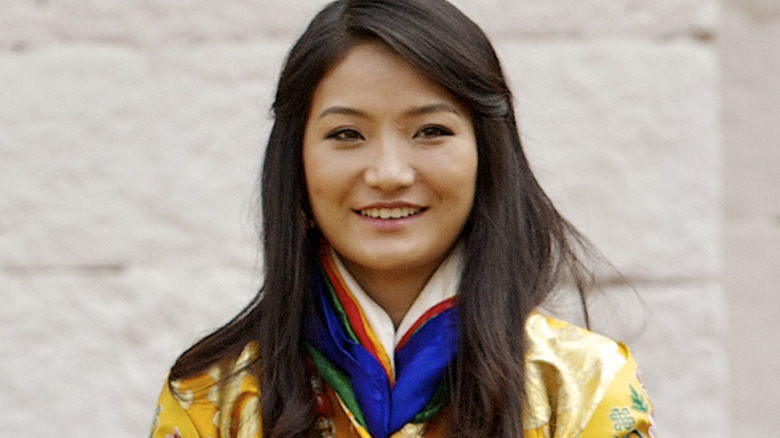 Triston Yeo/Getty Images
On June 4, 1990, Queen Jetsun Pema was born at Jigme Dorji Wangchuck National Referral Hospital in Bhutan's capital, Thimphu. She is the daughter of Dhondup Gyaltshen, who was a pilot for Drukair Royal Bhutan Airlines, the national flag carrier of Bhutan; and Aum Sonam Choki, a descendant of the Bumthang Pangtey, an old Bhutanese noble family.
When Queen Jetsun's relationship with King Jigme Khesar Namgyel Wangchuck was made public, she was framed as a commoner marrying a royal in the press since she was not born into royalty. Though that is the case, she actually has many connections to the royal family, as well as some connections in the government through her father. Her paternal grandparents, Thinley Topgay and Ugyen Tshering, were governors of Trashigang (also known as Trashigang Dzongpens). Her maternal grandfather is the half-brother of two former queen consorts: Ashi Phuntsho Choden and her sister, Ashi Pema Dechen. They were both married to the second King of Bhutan, King Jigme Wangchuck. While discussing these familial ties, it's important to note that, for the most part, Bhutan has practiced polygamy, making these familial ties even closer. Moreover, Queen Jetsun and King Jigme are actually distant cousins.
Queen Jetsun has two brothers and two sisters. Her eldest sister, Princess Yeatso Lhamo, also married into the royal family. In 2013, Yeatso Lhamo married King Jigme's half-brother, Prince Gyaltshab Jigme Dorji Wangchuck.
She is well-educated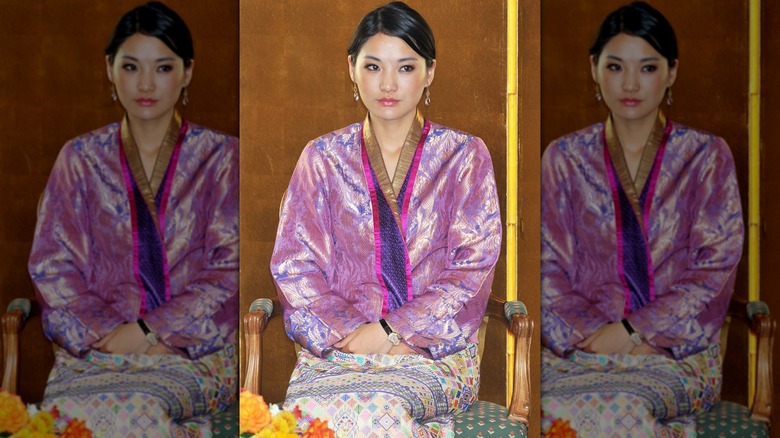 Jun Sato/Getty Images
Queen Jetsun Pema received a well-rounded education in various parts of the world. She studied in Bhutan, India, and England. For the most part, her primary education was in Bhutan, but she also completed further studies in India. She attended the Lawrence School in Solan, Himachal Pradesh, a prestigious historical private boarding school in India. It was during her time at Lawrence School that Queen Jetsun developed her love for art. In university, she earned her undergraduate degree from Regent's College in London, where she took up International Relations with a minor in Psychology and Art History. With the privilege to study in three different countries, Queen Jetsun is fluent in Dzongkha (the official language of Bhutan), Hindi, and English.
Queen Jetsun didn't focus solely on her studies either; she also participated in extracurricular activities that ranged from dance, art, and even basketball. She was even the captain of her high school basketball team. Once she acquired her undergraduate degree from Regent's College, she flew back home to Bhutan in 2011, and her engagement to the king was announced shortly thereafter.
Queen Jetsun Pema and King Jigme Khesar Namgyel Wangchuck met at a young age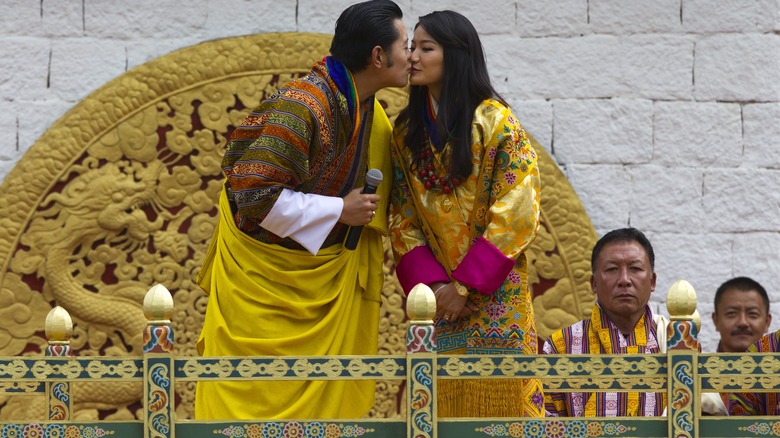 Paula Bronstein/Getty Images
Though their marriage wasn't arranged, as Bhutanese royal weddings usually are, the paths of the future king and queen crossed very early on in life. The couple met at a picnic when Queen Jetsun Pema was only 7 years old and King Jigme Khesar Namgyel Wangchuck was 17. At this picnic, the 7-year-old proposed to the young prince. Little did they know that years later that innocent proposal would come to fruition.
Fourteen years later, King Jigme announced his engagement to Queen Jetsun. "While she is young, she is warm and kind in heart and character. These qualities together with the wisdom that will come with age and experience will make her a great servant to the nation," the king announced to Bhutan's parliament in 2011 (via Bhutan Observer). "I have been waiting for quite some time to get married. But it doesn't matter when you get married as long as it is to the right person. I am certain I am married to the right person," King Jigme told reporters, per InStyle.
At the age of 21, she became the youngest queen consort in the world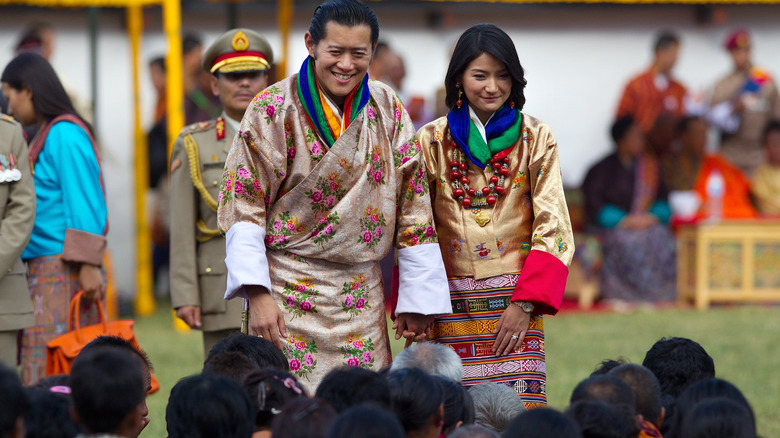 Paula Bronstein/Getty Images
The royal couple wed in October 2011 after Queen Jetsun Pema had completed her undergraduate degree from Regent's College in London. Upon marrying into the royal family, she was the youngest living queen consort in the world. Aside from King Jigme Khesar Namgyel Wangchuck assuming the throne in his late 20s, Queen Jetsun and King Jigme have a significant age gap of 10 years. During their nuptials in 2011, King Jigme was 31 and Queen Jetsun was 21. As of publication, she still remains to be the youngest queen consort in the world at 33 years old.
The days leading up to their wedding were declared a national holiday for the wedding festivities. The wedding and coronation were a huge event for the Bhutanese nation, and its attendance included around 160 foreign journalists, making it one of the largest media events in Bhutan. All in all, the festivities lasted five days, ending with a Hindi ceremony on October 17. Their wedding day was held on October 13, beginning bright and early with a prayer ritual at 4 a.m., followed by the actual Buddhist ceremony at precisely 8:20 a.m., as advised by the royal astrologers. This was followed by their nine-day honeymoon, which doubled as a state visit to India on a special luxury train arranged for them by the Indian government.
Queen Jetsun Pema and King Jigme Khesar Namgyel Wangchuck decided to have a monogamous marriage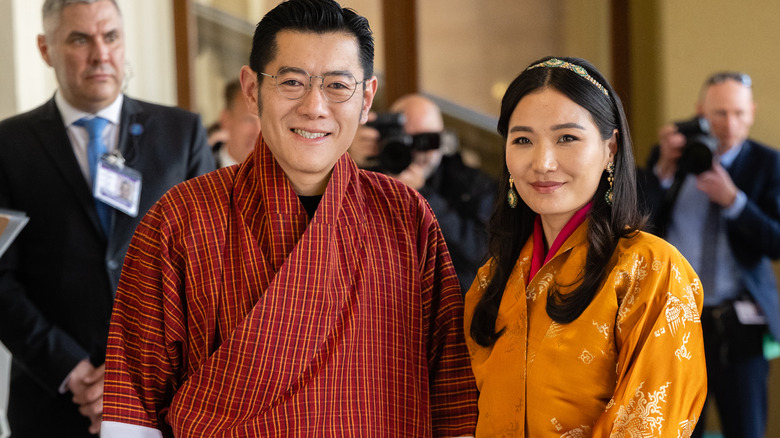 Samir Hussein/Getty Images
According to Bhutanese tradition, royal families typically have polygamous relationships, where the king marries multiple siblings from another family in order to keep wealth and property within the family. King Jigme Khesar Namgyel Wangchuck's father, the fourth king of the Wangchuck dynasty, Jigme Singye Wangchuck, had four wives — all of whom were sisters. "Marriage to sisters is a very common practice. The king's grandfather married two sisters. It also happens among common people. There is a lot of justification, even for economic reasons," Dawa Tsering, the foreign minister of Bhutan, explained to The Washington Post. The marriage of the fourth king signified the unification of the royal family and the family of Bhutan's founder.
Before the reign of King Jigme Khesar Namgyel Wangchuck, most marriages of Bhutanese royals were arranged. King Jigme's marriage to Queen Jetsun Pema not only signified the first love marriage of Bhutanese royals but also the first monogamous marriage. In fact, King Jigme and Queen Jetsun lived together for three years before tying the knot. All this was followed by a short engagement. King Jigme announced their engagement in May 2011, and they married in October of the same year. The young couple weren't afraid to show off their love either, whether by kissing or holding hands, which is typically uncommon in Bhutan. However, attitudes of the Bhutanese toward monogamy and public displays of affection are gradually progressing.
Queen Jestun Pema is active in various causes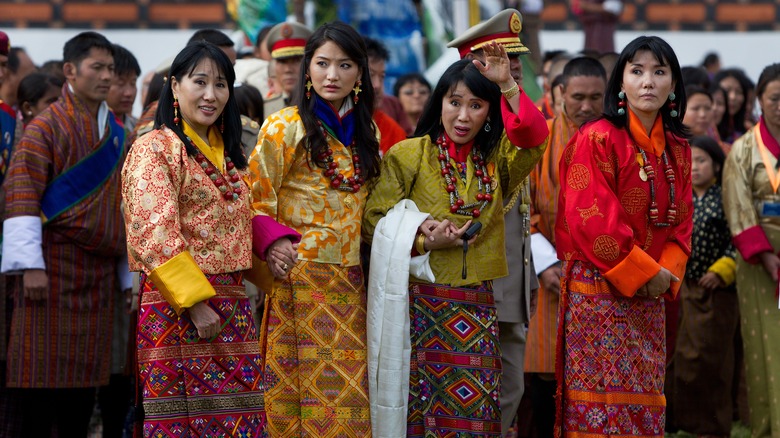 Paula Bronstein/Getty Images
Along with supporting King Jigme Khesar Namgyel Wangchuck in his royal duties, Queen Jetsun Pema continues to be involved in a number of causes of her own. In 2015, the Queen's Project Office was founded. Their objectives include rural livelihood enhancement, environment preservation and promotion, arts and culture perpetuation, disability inclusion, and youth engagement through entrepreneurship. Through the Queen's Project, she established the One Gewog One Product (OGOP), a program that aims to help Bhutanese farmers by creating more livelihood opportunities for them by encouraging and teaching them how to sell their goods on a wider scale. By doing so, the project also aims to create more jobs, especially in rural areas. OGOP promotes Bhutanese products by aiding in packaging, business planning, marketing, and export of farm produce.
Additionally, Queen Jetsun is the president of the Bhutan Red Cross Society and a United Nations Environment Program Ozone Ambassador. She is also the royal patron of the National Environment Commission, Ability Bhutan Society, and the Bhutan Kidney Foundation. One of the advocacies she feels strongly about is helping persons with disabilities. Through the Ability Bhutan Society, an organization she founded, Queen Jetsun aims to raise awareness about people with disabilities as well as help them through educational programs, medical care, and so on.
Queen Jetsun Pema shares three children with the king
In 2016, the royal couple welcomed their first child, the heir apparent, Prince Jigme Namgyel Wangchuck. "It will be his sacred responsibility to build a harmonious and just society, and thereby, fulfill all the aspirations of his people. He must live such a life as a good human being and serve his country in a manner that it will be exemplary and worthy of emulation," King Jigme Khesar Namgyel Wangchuck shared during a public ceremony (via People). Even at a young age, Jigme has gotten a headstart on his royal duties. He's getting the lay of the land as he often accompanies his parents during their official events. In 2022, he went solo for the first time at the age of 6, as he participated in the inauguration of the Super FabLab.
Their second son, Prince Jigme Ugyen Wangchuck, was born in 2020. He shares the name "Jigme" with his father and older brother, which is meant to stand for "fearless." In September 2023, the couple announced the birth of their third child on Instagram. This will be their first princess, whose name is yet to be announced. 
She has a strong social media presence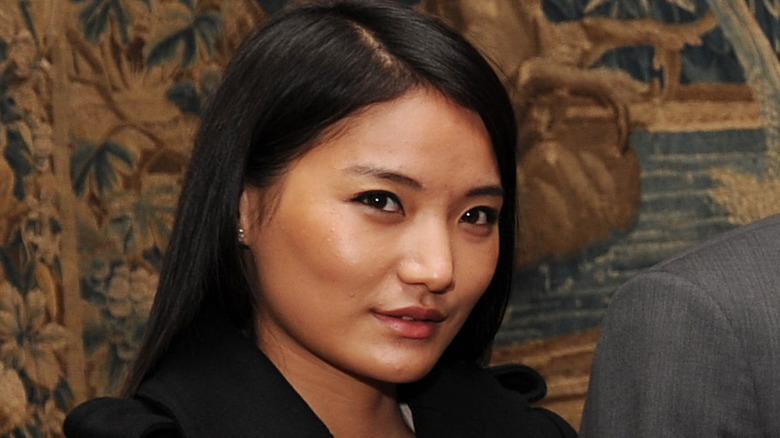 Wpa Pool/Getty Images
Both King Jigme Khesar Namgyel Wangchuck and Queen Jetsun Pema are quite active on social media. On Instagram, Queen Jetsun has 295,000 followers, while King Jigme has 205,000. However, the royal couple has a stronger following on Facebook, a platform that is more popular amongst the Bhutanese. Queen Jetsun has 597,000 Facebook followers and King Jigme has 731,000 followers. Both their Instagram and Facebook posts garner high engagement from local and international fans.
The royal couple have utilized their social media presence as another means of sharing news about the royal family, as well as the nation of Bhutan. Big announcements such as official state visits, charity efforts, and the birth of their children have been announced by the royal couple through their social media pages. As a proud mother, Queen Jetsun also often shares personal images of her royal family online.
Though Bhutan has modernized late in the game in comparison to other nations, it seems that the royal couple is keeping up with the times by maintaining a strong social media presence. It's another way in which they can curate their public image and connect with their subjects and the rest of the world.
She is known for her sense of style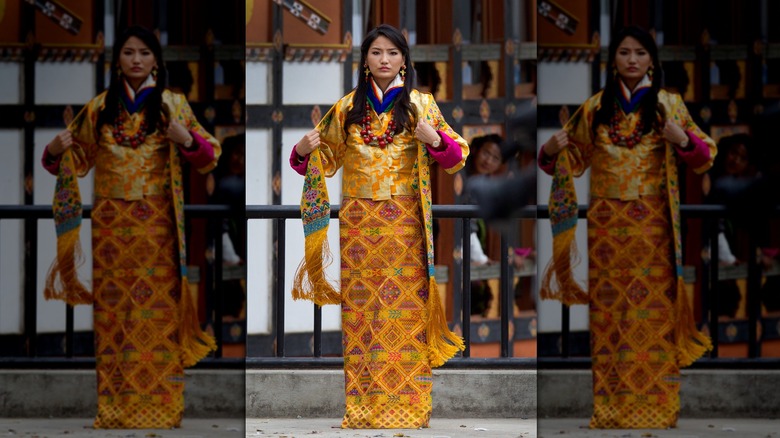 Paula Bronstein/Getty Images
The Queen of Bhutan is known for her lively, colorful outfits, often donning bright shades or muted pastels. An iconic outfit of hers was her bridal kira in 2011, which according to an article by fashion reporter Jess Cartner-Morley for The Guardian, could be compared to the trend of "contrast sleeves" by high-fashion houses such as Burberry and Yves Saint Laurent at the time.
Queen Jetsun is usually seen wearing a kira, which is the national dress of Bhutanese women. Legally, Bhutanese women are required to wear them in public, though the law is not enforced as strictly now. On rare occasions abroad, Queen Jetsun will change up the usual kira. For example, during their honeymoon, and first trip together as a couple, Queen Jetsun wore a patterned sundress paired with a dark cardigan.
Aside from being an inspiration for style in Bhutan, she is also close friends with none other than fashion designer Christian Louboutin, who released an exclusive line of Bhutanese-inspired heels in 2019. He named it the "Loubhoutan" collection, which was made in partnership with local craftspeople in Bhutan. "This collaboration has taken a long time, and there has been a lot of back and forth, but I did not give a deadline. I decided it was better to make fewer shoes," the shoe designer told The Telegraph. There were only 250 pieces made in total, and the French designer considers each pair to be a piece of art.