Which Grey's Anatomy Character Deserves A Spinoff? Here's What Fans Had To Say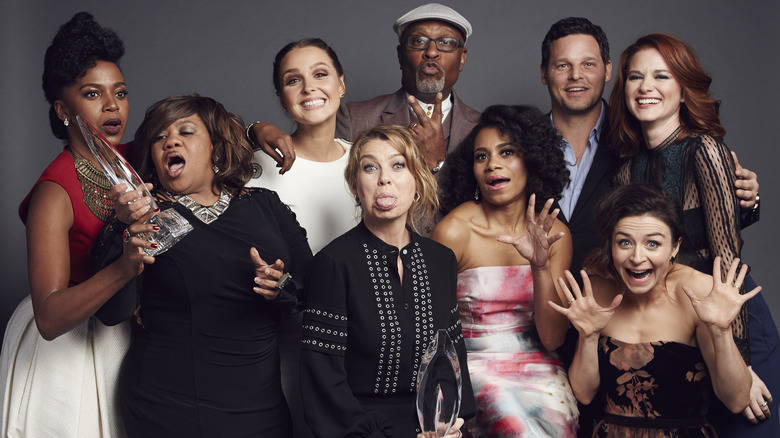 Smallz & Raskind/Getty Images
"Grey's Anatomy" premiered in March 2005, a mid-season show that snuck under the radar — until it flew well above it. Medical mysteries, hot actors, drama, comedy, hot actors, friendships, competition, and of course, hot actors all turned it into a big hit, with audiences tuning in to see what would happen next in the wild world of Seattle Grace Hospital, later renamed Grey Sloan Memorial Hospital.
Still going strong, Season 20 is expected to premiere sometime in 2024. Over the years, tons of those hot actors and their characters have come and gone  — some of their storylines were wrapped up with a neat little bow, while others felt like a jumbled mess of stethoscopes and surgical tape. The Grey's Anatomy Fans Facebook page knows you've got opinions, and they had one big question: "Which 'Grey's Anatomy' character deserves their own spinoff?"  
Some fans asserted their need to know the back story of Ellis Grey and Richard Webber and suggested a prequel series. Others mentioned they'd love to see a few characters come back to life, like George O'Malley, Mark Sloan, and Lexie Grey. But given that a huge part of the series is all about love, romance, and hooking up in the on-call room, it comes as no surprise the characters fans most want to see are two sets of couples: Alex Karev and Izzie Stevens as well as Jackson Avery and April Kepner.
Paging Dr. Stevens and Dr. Karev
From the moment Alex Karev met Izzie Stevens, sparks flew. Sure, they bickered, but that was all part of their chemistry and their charm. They kissed, and we swooned. They broke up, and we cried. After Denny died, and Alex came and swooped Izzy up into his arms — be still our fastly beating hearts. They got married, and we thought they were destined to be together forever. But then those pesky actors got in the way.
Katherine Heigl left "Grey's Anatomy" in Season 6, taking Izzie with her. Izzie was fired and left to pursue another job; she sent Alex divorce papers, and it looked like the relationship was totally dunzo. But, wait! When it was time for Alex's portrayer Justin Chambers to leave the show, our true-love wishes were fulfilled and over-filled, leaving us with pure joy. After leaving the hospital in Season 16, Alex wrote Meredith a letter, revealing he's now with Izzie and their twin kids. 
Is it any wonder fans of the show voted for Izzie and Alex to have their spinoff series? Who wouldn't want to see Alex chasing chickens on a farm in Kansas with his son and daughter, Izzie laughing in the background? "Karev & Izzy as [doctors] in a small town somewhere & how [they're] going forward as a family ('Virgin River' style)," one commenter suggested for the premise. 
Meanwhile, in a city that's much further west, another "Grey's" couple is pulling in votes for their own Shondaland show ...
Dr. Kepner and Dr. Avery, please report to the OR
The sweetest disposition and the most dazzling eyes — hello, April Kepner and Jackson Avery, or as fans know them, Japril. Introduced in Season 6 of "Grey's Anatomy" as newcomers/outsiders from the Mercy West merger, the two residents struck up a friendship and remained platonic until the end of Season 8, when Jackson took April's virginity. The following seasons would see the couple married, divorced, with child, and eventually separated when actor Sarah Drew departed, ending April's run, in Season 14. 
Jackson (and his portrayer Jesse Williams) stayed until Season 17. When the doctor left Seattle Grace for Boston, April and their daughter joined him, sparking hope in the hearts of all Japril fans. The couple confirmed they were in the middle of their happily ever after in a guest spot in Season 18. But just to be sure, Japril lovers turned up in droves to vote for April and Jackson to get their own spinoff series.
Another reason fans want to see Jackson and April in Boston? The potential for familiar guest stars. As one pollster pointed out. "I'd love to see a Jackson & April spinoff, which could include so many of the cast members that have left because they're all on the East Coast." Both Callie Torres and Arizona Robbins are in New York, which is awfully close to Boston, and of course, Meredith Grey herself is hanging in Boston at the Harper Avery Foundation. Your move, Shonda Rhimes.