What To Know About Marco Grazzini, The Virgin River Star Who Plays Mike
The league of swoon-worthy new couples in "Virgin River" Season 5 includes Brie and Mike. In the newest season of the show, Mike tries to save Brady from his abductors and suffers a gunshot wound. Thankfully, he survives and Mike and Brie become an official couple. But who is the actor that brings Mike to life? Canadian actor Marco Grazzini has had the pleasure, and he has been a part of "Virgin River" since Season 2.
Grazzini had quite a career even before he debuted as Mike, however. He guest-starred in popular shows such as "Heroes Reborn," "The Flash," and "Supernatural." He also appeared in a few Lifetime movies and played the Chauffeur in two episodes of another popular Netflix original, "A Series of Unfortunate Events." After his episodes of "A Series of Unfortunate Events" premiered, Grazzini shared a clip on Facebook of him playing the part. In the caption, he expressed excitement at the opportunity: "Definitely got my exercise in on this role! ... So great to be a part of this amazing show and get to play with some comedy giants!! I'm in eps. 3 & 4."
With his star continuing to rise on "Virgin River," Marco Grazzini is one actor to be on the lookout for. Here's what else we know about him.
Grazzini is also known for his work on Hallmark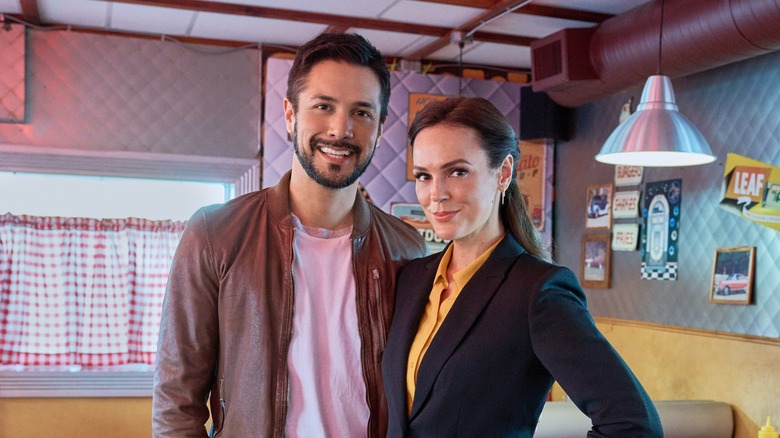 Craig Minielly/Hallmark
Something Marco Grazzini really likes is making people laugh. He enjoys playing Mike in "Virgin River" because of the balance between drama and comedy — both in his character and the show. "And, in my opinion, [the comedy and humor] makes the drama and romance even better. It just, you know, primes you for it," he told Survived the Shows.
Like many Canadian actors, Grazzini is probably recognizable to the Hallmark movie lovers of the world. He's been featured in supporting roles in a handful of the network's films and starred as the leading man in Hallmark's "Right in Front of Me" and "Hearts in the Game," and Hallmark Movies & Mysteries' "Haunted Harmony Mysteries: Murder in G Major."
In "Hearts in the Game," Grazzini plays Diego, an MLB player struggling with anxiety. In another Survived the Shows interview, he shared how enjoyable it was working with his co-stars — despite the fact that he had to shoot baseball-playing scenes in the winter in Vancouver. On the film's message, Grazzini said, "I'm hoping that the movie contributes to the ongoing dialogue and de-stigmatization about mental health. We all deserve the grace to deal with life's highs & lows through understanding and support — from ourselves, from our friends and family, and from society in general."
Grazzini had his 'best birthday ever' when his daughter was born
Marco Grazzini's partner has Hallmark experience of her own. Grazzini and fellow actor Alvina August have been dating since 2014 and got engaged in 2019. In addition to "Nancy Drew," and "Chilling Adventures of Sabrina, August starred in "A Second Chance at Love" and Hallmark Movies & Mysteries' "Deliver by Christmasfor Hallmark. 
Although the actors have yet to star in a Hallmark movie together, they're now parents! August and Grazzini welcomed a baby girl into the world in 2023 and made the announcement on September 7, which happens to be Grazzini's birthday. In the caption of the Instagram birth announcement, Grazzini said, "Best birthday ever" and included some emojis plus the hashtag "#girldad."
Prior to the baby's birth, August and Grazzini shared a collection of photos for Father's Day. In the caption, August praised Grazzini and emphasized that he's already a wonderful dad. Grazzini expressed his excitement at the time with emojis and the comment, "Can't wait! Love you two."