Does Barack Obama Support His Daughter Malia's Budding Hollywood Career?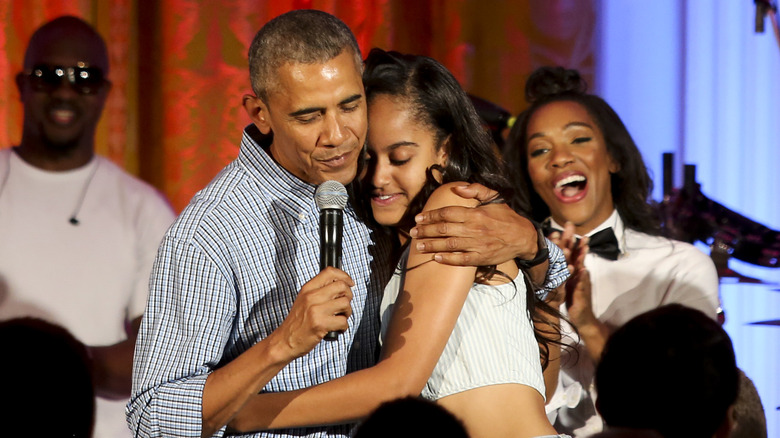 Pool/Getty Images
The series "Swarm," which premiered in March 2023, has become a sensitive point of conversation. Although much of this can be attributed to the spicy nature of the psychological thriller, a significant part of the buzz is due to the involvement of Malia Obama. The former First Daughter is a staff writer on the series, with writing credits on every episode of Season 1. Not bad for a newbie to the industry! 
Given the show's bold narrative, sexual content, and extensive violent sequences, Malia's association with "Swarm" certainly raised eyebrows. However, who better understands the pressures and pitfalls of the limelight than Malia, whose life has been under scrutiny since her father, Barack Obama, first embarked on his electoral campaigns?
One of the most intensely discussed points on "Swarm" was the graphic sexual scene featuring Chloe Bailey and Damson Idris a few minutes into the series' first episode. Many wondered if the former U.S. president had any thoughts on the show, and he certainly did. During a conversation with comedian Hasan Minhaj, the proud father expressed unequivocal support for his creative daughter.
Barack Obama watched the pilot episode of Swarm
Malia Obama's contribution to "Swarm" is subtly listed under the name "Malia Ann," notably leaving out her unique and popular last name. This only added to the intrigue and speculations concerning her contributions. Did she leave out her last name upon her father's request? This seems very unlikely as Barack clearly told Hasan Minhaj that he is a fan of "Atlanta," a comedic Afro-surrealism series by Donald Glover, who also directed the first episode of "Swarm."
The politician also clarified that he tuned in because he valued his daughter's hard work on the series, explaining, "I watched it because my daughter worked on it. So, of course, I've got to watch it." While it's unclear exactly which elements of the story she's contributed to, no doubt her unique perspective has made her a valuable asset in the writers' room. 
When Hasan Minhaj pressed further, inquiring about if the former President was okay with the graphic sex scene, he had a clear response: "Look, if what you are suggesting is that there are aspects of that show that I found a little disturbing... That's the nature of art these days, you know."
Malia Obama's fresh Hollywood career is destined for great things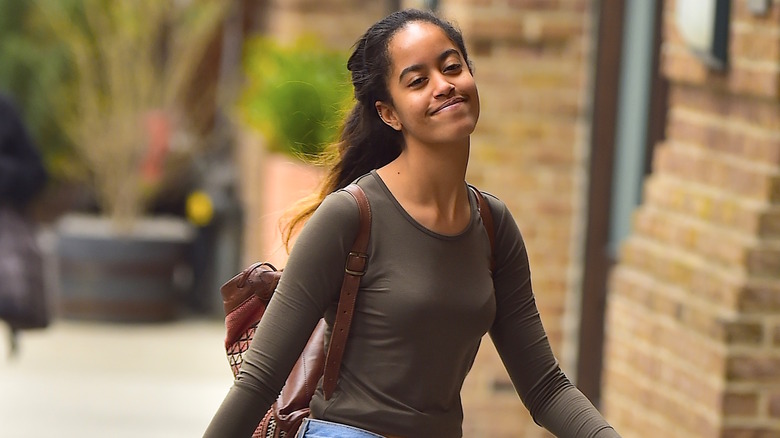 Alo Ceballos/Getty Images
The first big news of Malia Obama's Hollywood career was revealed by her mentor and producer, Donald Glover, in an interview with Vanity Fair in 2022. He described her as a talented writer with unique experiences that influenced her work. Glover even hinted that her presidential lineage had nothing to do with working with her, as the intense scrutiny due to her famous family meant that a bad movie would follow her forever.  
Despite the naysayers, "Swarm" has proven to be a huge career milestone, adding to Malia's prior experience in the movie industry. Before she graduated from Harvard University, she had internship gigs on HBO's "Girls" and at the Weinstein Company. Malia has even gained hands-on experience as an assistant producer on Halle Berry's drama "Extant."
Impressively, that's not all she's been up to. The 44th President's oldest child is finally directing her first short film, "The Heart," which IMDb says will be released on October 13, 2023. With the Writer's Guild of America's 146-day-long strike finally ending, Malia might even take on another exciting project soon.