Keanu Reeves And Alexandra Grant's Romance Began Much Earlier Than Anyone Suspected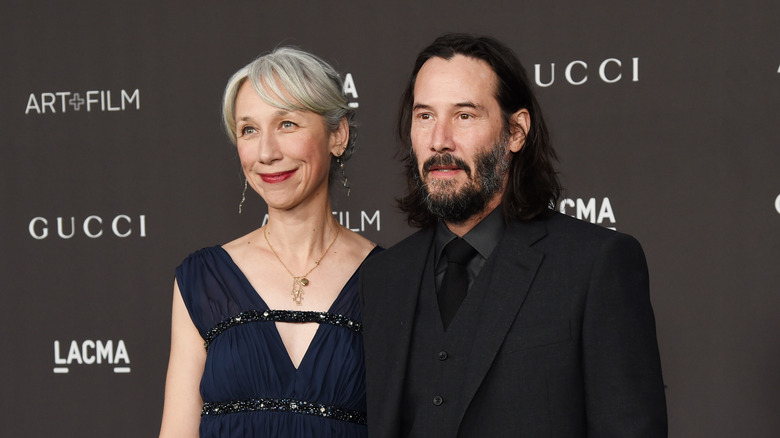 Michael Kovac/Getty Images
We may receive a commission on purchases made from links.
When Keanu Reeves and his artist girlfriend Alexandra Grant appeared together at the 2019 LACMA Art + Film Gala, they instantly joined the ranks of our favorite celebrity couples. Reeves has long been considered one of the kindest Hollywood stars around, and his relationship with Grant only makes him seem that much more down-to-earth. It's no secret that Hollywood is filled to the brim with older actors who have models in their 20s on their arms, so seeing the "John Wick" star and his girlfriend break that cliché made social media ecstatic. Their hand-holding and subtle affectionate gazes at one another had everyone in sight swooning.
As wholesome as they are, it turns out that many people were making much ado about Reeves and Grant's "budding" romance for nothing. While the rest of us only got wind of their relationship in 2019, the romance between Reeves and his artsy love interest has been brewing for more than a decade now. Here's everything we know about the history between Keanu Reeves and Alexandra Grant.
Their friendship began in 2009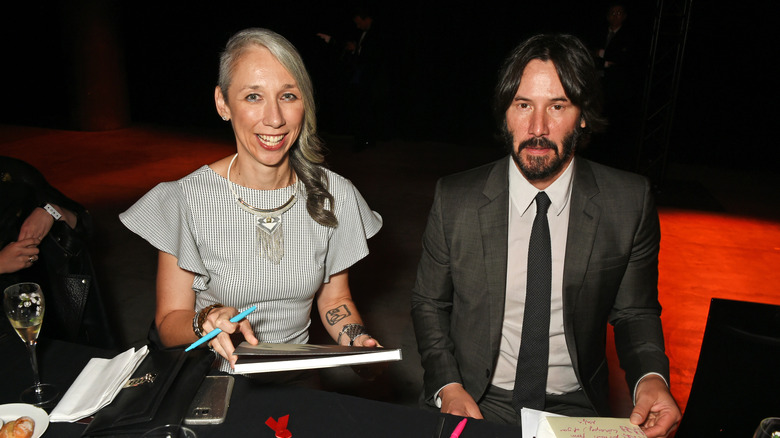 David M. Benett/Getty Images
According to the New York Times Style Magazine, Keanu Reeves and Alexandra Grant met in 2009 at a dinner party. Like Reeves, Grant shares a passion for the arts. She is an established visual artist and philanthropist based out of Los Angeles, and her work has been featured in the likes of Issue Magazine and various art galleries and museums. 
The two creatives became fast friends upon meeting and would go on to work together on future projects. Reeves' 2011 book "Ode to Happiness," which is labeled a "grown-up's picture book," features the spectral, inky artwork of Grant. Grant's art in the book is described as "reflect[ing] the dark and light, the pathos and humor of the text." They would collaborate again in 2016 on "Shadows," a book that explores the question of what a shadow truly is. Reeves' thought-provoking poetry is again accompanied by the cryptic art of Grant, this time in the form of photography. 
In 2017, Reeves and Grant officially became business partners when they created X Artists' Books, a small publishing house that helps creators of the unconventional reach their core audience.
2019 wasn't their first outing together as a couple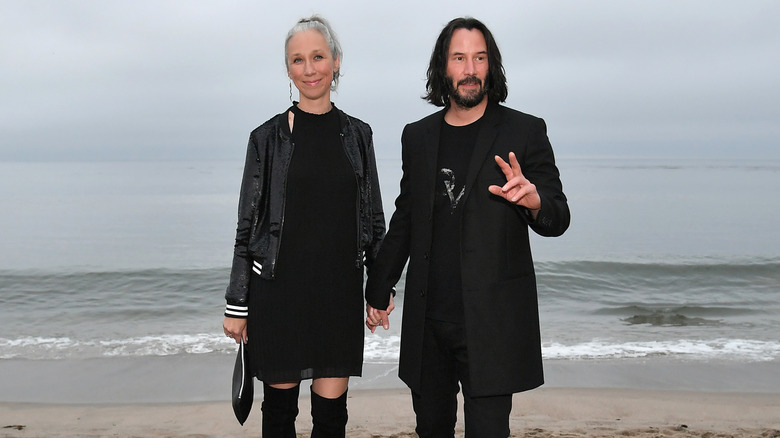 Neilson Barnard/Getty Images
Yep, you read that right. Reeves and Grant may have sparked rumors of romance with their joint appearance at the 2019 LACMA Art + Film Gala, but it wasn't their first public outing together (or even their first time showing PDA). The duo have been spotted together at many events over the years, but their romance somehow managed to fly under the radar.
In 2016, Reeves and Grant attended the UNAIDS Gala during Art Basel. They were captured with their arms around each other's waist and looking very comfortable. Grant was also spotted holding hands with Reeves at the Saint Laurent fashion show in Malibu. They looked every bit the artistic power couple in their black outfits.
Actress Jennifer Tilly, who is a friend of Grant's, confirmed that Reeves and Grant had been dating long before the famous 2019 red carpet moment. "It's really astonishing to me how in the last five months, all of a sudden, she goes to an event with him and everybody goes insane, like, 'It's his new girlfriend,' because she had gone to a lot of events with him," Tilly told Page Six in 2020. "It's just suddenly surfaced that he's been dating her for several years."