What To Know About Y&R And GH Star Hayley Erin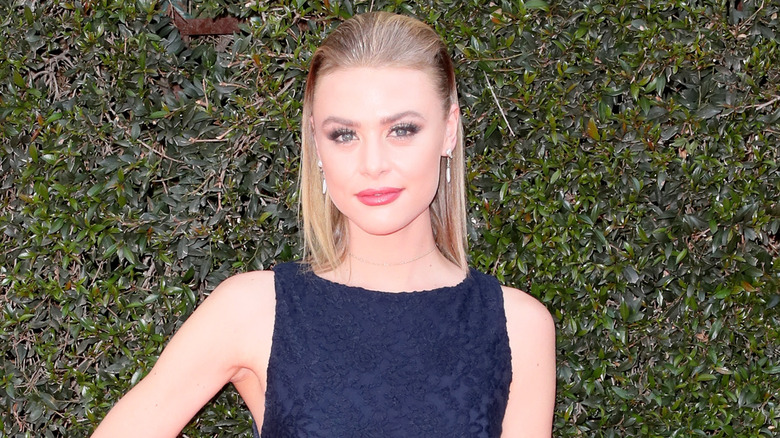 David Livingston/Getty Images
Hayley Erin has certainly left her mark on the daytime television world over the years, as she's played several unforgettable characters on two different soaps. Erin recently made headlines when she announced that she was returning to "The Young and the Restless," but not as her original character, Abby Newman. Instead, she's playing a new girl in town named Claire Grace. Previously, she also played Kiki Jerome on "General Hospital." Her departure from the soap was certainly a shocking one for fans, but Erin had other plans at the time. She was cast in the "Pretty Little Liars" spin-off, "The Perfectionists." Speaking about Kiki's death at the hands of villain Ryan Chamberlain (Jon Lindstrom), Erin told Soap Opera Digest in 2018, "It was sort of a cathartic way to leave and move on to my next project, the death of the character that I've been playing and loving for all these years."
But there's certainly more to Erin than the characters that she plays on the small screen. In fact, Erin has made a lot of changes over the years, as she doesn't even live in Hollywood full-time anymore.
Hayley Erin started off as a child actor
Hayley Erin might be a household name in the daytime television world, but she began her career before she even stepped on the sets of Genoa City and Port Charles. She starred in a handful of episodes on television shows such as "Melissa & Joey," "Austin & Ally," and even "Modern Family," per her IMDb page. However, her first professional acting gig was on "Malcolm in the Middle" when she played Buttercup #1 back in 2004 (per Soap Hub). But it was her role as Kiki Jerome on "General Hospital" that helped put her name in glittery lights. She was nominated for Outstanding Younger Actress in A Drama Series at the Daytime Emmy Awards in 2018, and managed to win the award in 2019. 
If it weren't for acting, Erin would probably be monitoring the streets as a police officer. When she was asked what other "General Hospital" character she would like to play, Erin told Soap Opera Digest in 2018, "Jordan. I've always wanted to be a cop in real life but I would settle for playing one on TV!" 
Erin is a soap opera star who doesn't really talk much about her personal life, which is probably why so many people were shocked to find out that she was engaged, married, a new mom, and moved to a new country all within the span of just a few short years.
Hayley Erin is living the Irish dream
Hayley Erin got engaged to her boyfriend Logan Luedtke back in 2017, according to Soaps.com. However, that engagement didn't last very long at all, as she secretly got married to Irish actor Adam Fergus during the summer of 2020, but she didn't announce it until September of that year (per Soaps in Depth). If that weren't enough, in 2020, Erin packed her bags and moved from California to live full-time in Ireland with Fergus. The couple even welcomed their twins, Maude and Juno, in August 2021. Erin explained to Soap Opera Digest in 2023 that at first, she didn't plan to stay in Ireland for very long. It was during the middle of the pandemic and Fergus was working on a new project in Norway. But then Erin discovered that she was pregnant and fate just had different plans for them. She said, "Circumstances just kept us there and I fell in love with the place and I was so happy to be there with my little babies and my husband, so it just kind of made sense [to stay]."
But being a mom in Ireland clearly hasn't stopped her from traveling back to Hollywood to film for "The Young and the Restless." The commute might be a little bit longer, but obviously, Erin makes it work.