How David Beckham Felt About The Massive Reaction To His Bold Y2K Buzzcut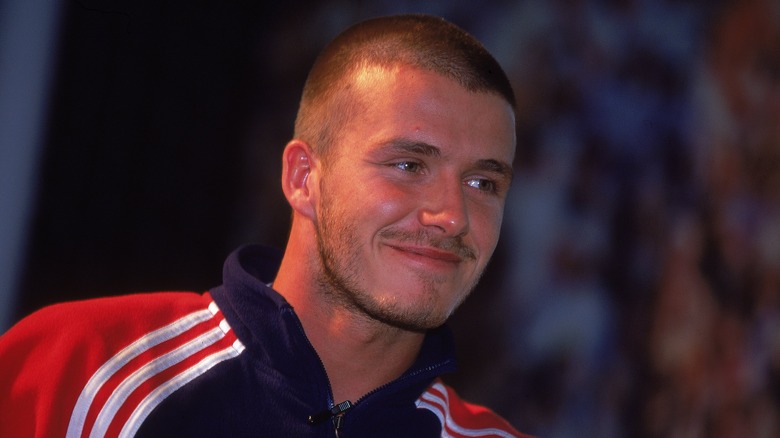 Clive Brunskill/Getty Images
David Beckham, widely recognized as one of the greatest soccer players in the world, has not only left a lasting mark on the field but has also become a global icon, with his hairstyles arguably surpassing even his athletic mastery. From bleached blonde locks to daring mohawks, Beckham often explored various lengths and styles, unintentionally transforming his image into a spotlight-stealing phenomenon.
Beckham's ever-changing hairdos established him as a trendsetter, creating a sense of anticipation among fans and the media for his next groundbreaking choice. On and off the pitch, he exuded confidence, and his hairstyles served as a visible expression of that poise. The star took his look to the next level in 2000, surprising many by shaving his head into a buzzcut. Throughout his career, Beckham often went back to the hairstyle, refreshing it by incorporating lines and bleaching his strands.
While the buzzcut wasn't necessarily a revolutionary hairstyle at the time, it turned into Beckham's signature look as he allowed it to be the focal point of his ensembles. Beckham embraced the minimalistic nature of the buzzcut, which further emphasized his facial features and overall charisma. The media couldn't get enough of his exposed skull, but the retired athlete never intended for it to gather so much attention — at least not from the general public.
The iconic look was an act of defiance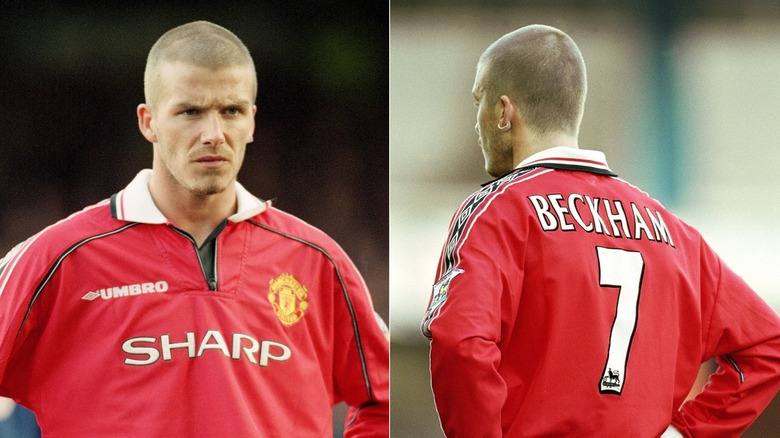 Mike Hewitt/Getty & Mike Hewitt/Getty Images
In his Netflix docuseries titled "Beckham," David Beckham revealed the behind-the-scenes story of his bold Y2K buzzcut. Dismissing any notions of seeking fame with the move, David emphasized, "I never did it to create attention. I'm not that person." Despite his hairdresser's concern, David went through with the daring look.
However, embedded in his bold decision was a hint of attention-seeking, as David admitted to wanting to annoy his then-coach, Sir Alex Ferguson, after the two had an argument, according to Nine. To make the debut more interesting, so to speak, David sported a cap until his former team, Manchester United, met with Leicester City on the pitch, where he showcased his buzzed head for the first time. While everyone noticed it immediately, his teammate Roy Keane was quite unphased by the move. "That was his personality; [the buzzcut] never bothered me in the least," Keane stated in the documentary.
Victoria Beckham, David's wife and Posh Spice from the iconic "Spice Girls," characterized the buzzcut as a pivotal moment. She described it as the point when David transitioned "from a boy to a man," symbolizing his rebellion against Ferguson. Along with his undeniable skill and talent on the field, David's cool off-the-clock looks were instrumental in propelling him to the status of a global star.
Another one of Beckham's hairstyles didn't quite hit the mark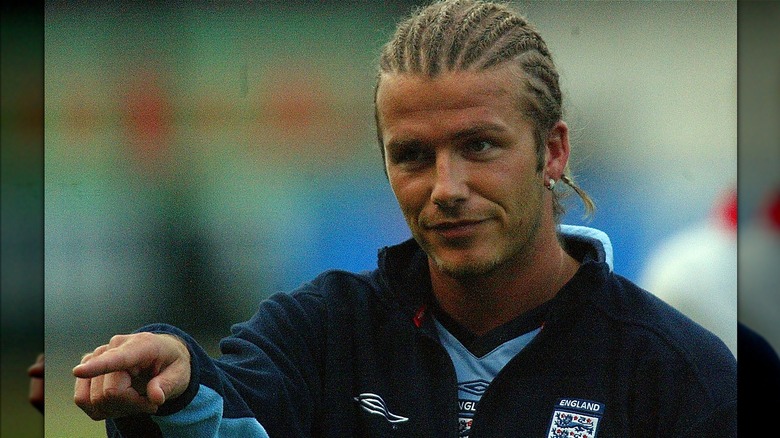 Ben Radford/Getty Images
David Beckham is no stranger to unconventional hairstyles, but not all of them resonated as well as his buzzcut. The retired soccer player has revealed that there is one look he regrets, and it's those cornrows he opted for just before meeting with Nelson Mandela. Yikes.
As reported by The Sun, a hairdresser suggested braiding David's hair into cornrows during a vacation, to which David agreed, even though he wasn't familiar with what cornrows actually were. Not thinking much about it, he went on to meet Mandela, the late South African president and anti-apartheid activist, sporting the 'do in question. Reflecting on the choice, the soccer star explained: "The picture that I've got of Nelson Mandela is me holding his hand with cornrows in my hair. That's my only regret."
While the cultural appropriation of cornrows most likely wouldn't fly today, it didn't hinder David from being a style icon of his time. From coordinating his clothes with Victoria Beckham to pulling off perfect polish, the former soccer player became the ultimate Y2K heartthrob, pushing boundaries for what it meant to be a European athlete in the spotlight. Journalist Roger Bennett highlighted this shift, stating to GQ, "Before Beckham, soccer players were liked by 40-year-old men who also liked greyhound racing and Rugby League."