A Look Back At Days Of Our Lives Star Tyler Christopher's Whirlwind Romance With Eva Longoria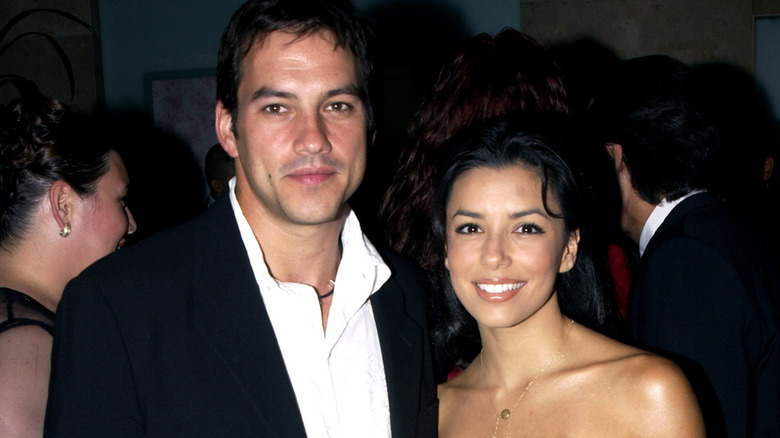 Albert L. Ortega/Getty Images
Eva Longoria might be one of the biggest stars in the entertainment world today thanks to her roles in primetime shows like "Desperate Housewives" and films such as "Crazy Kind of Love" and "Overboard," but before all of that she was a daytime television star on "The Young and the Restless." It was the soap opera that gave Longoria her show business start. It was also a time that she fell madly in love with another major soap star at the time: "General Hospital" and "Days of Our Lives" alum Tyler Christopher. The actor has seen a lot of ups and downs throughout the course of his career, like his most recent airport arrest. But back in the early 2000's Christopher was a soap opera heartthrob. Playing Nikolas Cassadine on the hit ABC soap was such a big part of his life that Christopher admitted in a 2017 interview with Soap Opera Digest that seeing the role recast "would sting a little bit." He said at the time, "If they feel like they need Nikolas Cassadine on the canvas, of course I would be upset, but I wish whoever it is I wish them well and I hope they give the character as much of themselves as I gave to him."
While Christopher got a lot of attention for his role as the handsome Cassadine heir, it was his off-screen relationship with Longoria that turned a lot of heads, too.
Tyler Christopher and Eva Longoria had a short-lived marriage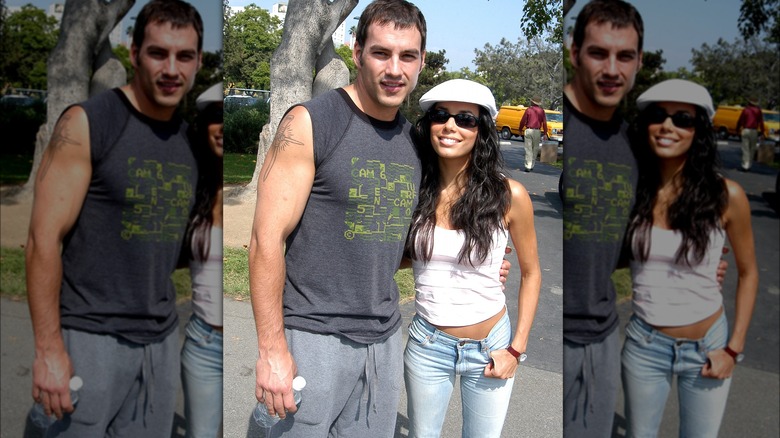 Barry King/Getty Images
According to Soap Hub, Tyler Christopher and Eva Longoria first met thanks to his "General Hospital" co-star Vanessa Marcil, who he was also engaged to at one time. There was a short time when Marcil couldn't play her character Brenda Barrett so that's when Longoria stepped in for her. After a few months of on-and-off dating, Christopher and Longoria tied the knot in Las Vegas in 2002 with both Hollywood actors Freddie Prinze, Jr. and Sarah Michelle Gellar as their witnesses. It was the soap star wedding of the year. However, Longoria admitted to Soap Opera Digest that being married to a fellow soap opera star was no walk in the park. She said, "[Being married] is harder than we thought. I'm still waiting for some profound advice. So far all I've gotten is, 'Be nice to each other.'"
Now, what made it hard no one knows, but their union only lasted two years. Longoria admitted that she felt like a "terrible wife" during her marriage to Christopher. "He was a lovely man, but I was very young. I didn't know who I was, and I was still struggling as an actor. I was a terrible wife," she said back in 2008, as detailed by Digital Spy. And while Longoria might have felt as though she didn't give Christopher the support that he needed during their short-lived marriage, the two of them have definitely moved on in their lives.
Tyler Christopher and Eva Longoria's makeups and breakups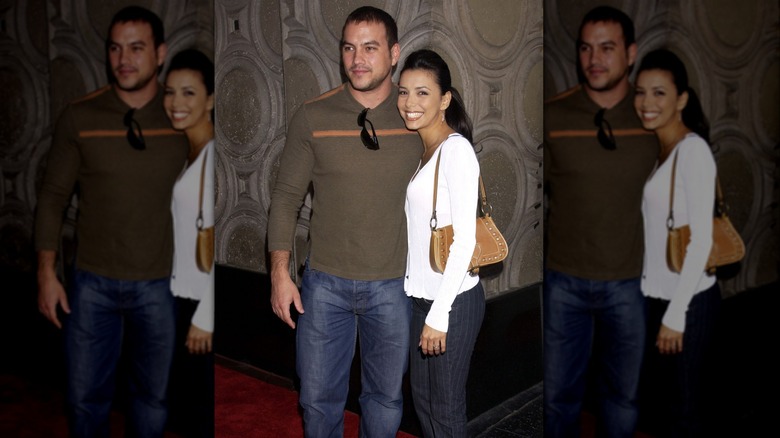 Albert L. Ortega/Getty Images
While Tyler Christopher and Eva Longoria's divorce was nothing like the ones that you see in soap opera storylines, both of them experienced even more heartache after their break up. Longoria married French-born NBA star Tony Parker in 2007 but pulled the plug on their marriage in 2011, per People. Meanwhile, Christopher married Brienne Pedigo, an ESPN and Motor Racing Network reporter, in 2008 but decided to quietly end things in 2021. 
Longoria gave marriage a third try when she wed business executive Jose Baston in 2016. In 2017, Longoria shared an Instagram photo of them together and wrote, "My partner in crime! He hates when I post pics of him, but my husband is the best human being I know." Christopher, meanwhile, is trying to pick up the pieces in his life after experiencing a few personal battles and struggles with the law. In July 2023, he shared a photo of himself on his Instagram account and wrote, "Sharing is part of the healing process."
Now, whether or not Longoria and Christopher still talk these days no one really knows, but it would be safe to say that they probably both look back at their first marriage as a moment of exciting and unforgettable soap opera history.