Landon Barker Has Grown Up Right Before Our Eyes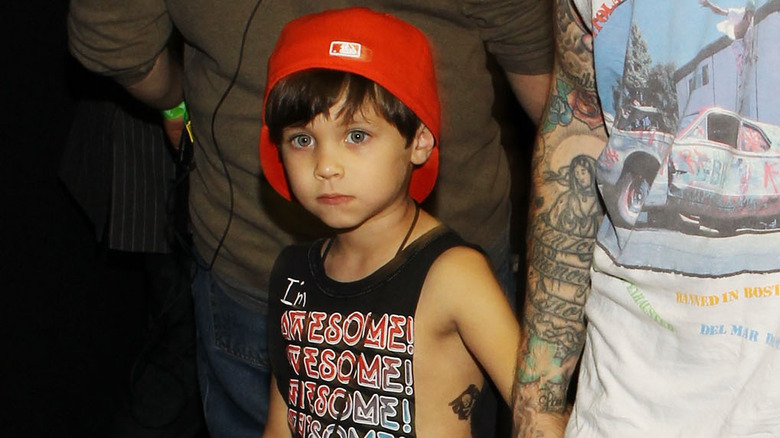 Christopher Polk/Getty Images
The following article mentions mental health issues. 
Travis Barker may be the most famous member of his family, but it seems that his son, Landon Barker, is starting to give him a run for his money. That's because Landon is not only following in his footsteps as a musician, but has already made a name for himself on TikTok. When it comes to the social media platform, Landon told the "Lightweights Podcast," "I don't think I could ... be as confident in my music without my TikTok following." It's also an outlet that he's been using since he was a child, with him adding, "This is like something ... that I can call my own."
It makes sense that Landon would want something of his own, because until recently, he was mostly known for his talented dad. That hasn't hurt their relationship though, because Landon gushed to E!, "He's always in my corner. He's always there for me as I am for him." The Blink-182 drummer isn't Landon's only ties to fame either, considering that his mom is actor, Shanna Moakler, and his stepmom is reality star, Kourtney Kardashian. Then there's his siblings, Atiana De La Hoya and Alabama Barker, who have also dabbled in the entertainment industry, as well as his girlfriend, TikTok personality, Charli D'Amelio.
With that said, it's clear that Landon is no stranger to the spotlight. You could even say that he's grown up right before our eyes too. So let's break down how he's matured into the young adult he is today.
He spent his childhood on TV and on tour with his dad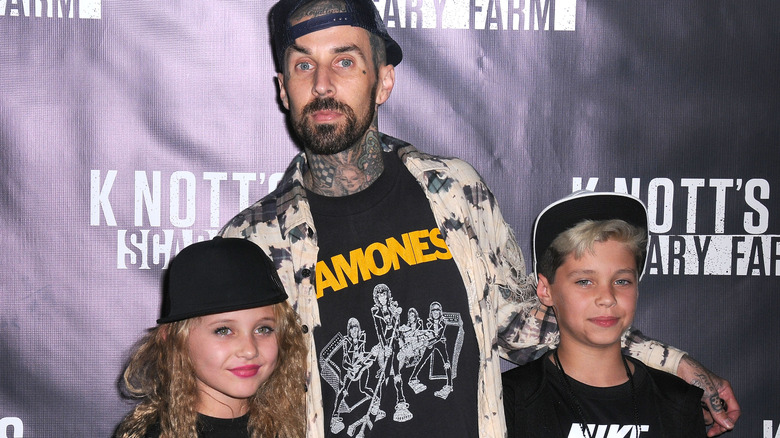 Barry King/Getty Images
It's safe to say that Landon Barker probably can't remember the first time that he was on TV. That's because he was just a baby when he appeared on his parents, Travis Barker and Shanna Moakler's, MTV reality show, "Meet the Barkers" in 2005. Landon made his debut on the show's very first episode. It seems that between him and his older half-sister, Atiana De La Hoya, viewers were able to see the softer side of their hard-partying, rocker dad.
At the time, Travis also seemingly liked how the reality TV cameras were capturing family moments. "It shows everything from us ... at the Playboy Mansion, to our son 's first steps," he told The New York Post. Unfortunately, he and Moakler eventually succumbed to the reality TV curse though, and split in 2006.
Landon presumably then spent more time with his dad, because most of his childhood took place on tour with him and his band, Blink-182. Yet Landon told the "Lightweights Podcast" that growing up on the road had its ups and downs. "I did get to be around a lot of cool people but I also wasn't around many kids." He continued, "I definitely like didn't have as many friends growing up because of that." However, Landon is still thankful that he got to see the world, and was able to realize then that he wanted to grow up to be a musician too.
Landon Barker had a rocky relationship with his mom in his teens
Landon Barker obviously had an unconventional childhood with his dad, but he apparently had issues with his mother, Shanna Moakler, in his teens. In 2021, Barker and his sister, Alabama, took to social media to publicly blast their mom for being an absent parent. It was not-so-coincidentally around the same time that Moakler was publicly bashing their dad's relationship with Kourtney Kardashian. Landon made it clear whose side he was on, by writing in an Instagram comment (via Hollywood Life), "Our mom has never been in our lives and isn't in our lives like our dad is."
Landon took it a step further a few weeks later, yet that time in a TikTok comment, where he commented, (via Life & Style), "I wouldn't consider Shanna Moakler my mom whatsoever." Moakler then acknowledged that there was tension with her kids, but that she was giving them space to work it out.
Landon's relationship with Moakler isn't always negative though, because later in October 2022, Moakler wrote a (now-deleted) touching birthday tribute to him on Instagram. She gushed, (via Us Weekly), "No one will ever stop my love for you." He commented a heart on that post, which suggested that their relationship was in a better place by then. In June 2023, Moakler also hung out with her son at a Blink-182 concert, and even posted a photo giving him a kiss on the cheek.
He was always supportive of his dad's romance with Kourtney Kardashian
Landon Barker might have been a fan of his stepmom, Kourtney Kardashian, long before she got together with his dad, Travis Barker, in early 2021. That's presumably because Landon had known Kardashian for years, since she and his dad were neighbors, who also hung out as friends. Landon can even be spotted on an old episode of her show "Keeping Up With the Kardashians," when they went to a party at her home. So it's no surprise that Landon approved of his dad's relationship with her turning romantic, especially considering that he commented on Instagram that they have a "true love."
It appears that Landon had no problem with blending their families either, since he and his sisters have been seen hanging out with Kardashian's children on multiple outings. Of course, they all attended Travis and Kardashian's Italian wedding, where Landon made it a point to praise Kardashian in a speech. "You look out for me like a mother and have always had my back," he said (via People).
Overall, Landon is apparently thrilled that Kardashian is now a bigger part of his life, mainly because he sees how elated she's made his dad. "She's amazing ... I love Kourt so much. I love expanding the family," he gushed on E!'s Daily Pop. From the looks of the adorable TikTok videos they've done together, Landon and Kardashian look like they have a special bond of their own, too.
He started dating TikTok star Charli D'Amelio in 2022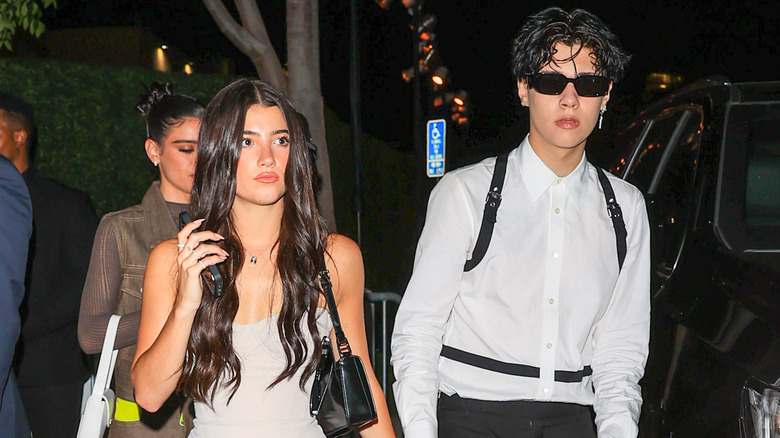 Rachpoot/bauer-griffin/Getty Images
It's not just his dad who's in a high-profile relationship, because Landon Barker started dating TikTok star Charli D'Amelio in 2022. The teens were first linked that June when D'Amelio was spotted at Barker's concert in LA, before they were rumored to have gotten tattoos together a week later. From there, they were spotted at parties in both LA and New York, and later finally made things official on social media. Barker shared a clip of them lip-syncing on TikTok, while D'Amelio shared a photo of them kissing on her Instagram Story.
D'Amelio then didn't waste any time gushing about her new boyfriend to the press. She not only told ET about how "sweet" Barker is, but also told People about how encouraging he was when she competed on "Dancing With the Stars." "He was very proud of me. He's never seen me dance before, so I think I was nervous, but he's always been so supportive," she said. Landon was, of course, cheering her on from the live audience as she competed, and publicly congratulated her after she won, calling her "a star" in a now-deleted post.
Barker seems to be very taken with D'Amelio, and has continued to let the world know. In a now-deleted Instagram birthday tribute, he wrote (via E!), "You have changed my life! Your [sic] such a kind, strong loving person and that has brought me and so many others so much happiness and love."
Landon Barker then had drama with Chase Hudson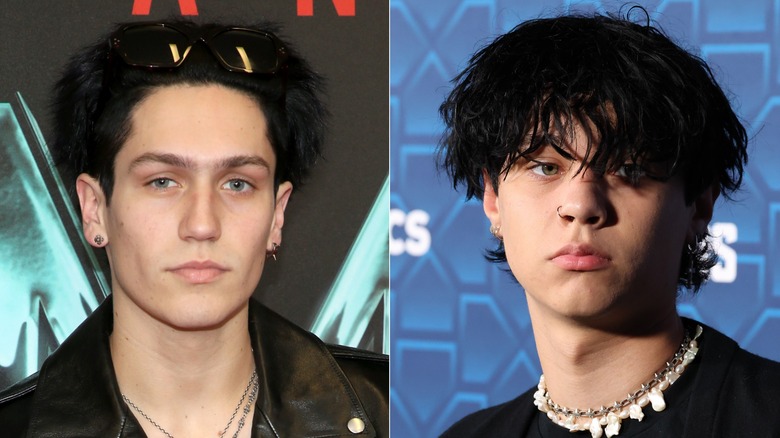 Phillip Faraone & Leon Bennett/Getty
Not everyone was happy about Landon Barker's relationship with Charli D'Amelio, since he then had drama with her ex-boyfriend, Chase "Lil Huddy" Hudson, especially because he and Hudson had been friends before. Their feud allegedly began on June 15, 2022, when Hudson reportedly deleted a photo of him and Barker on his Instagram after the news broke that he was dating D'Amelio. Yet Hudson didn't stop there, because he then released the breakup song, "All The Things I Hate About You." With lyrics like, "Stab me in the back like nothing," and "[You're a] homie hopper," many believe it's about D'Amelio.
Barker shot back at Hudson, first through his Instagram Story, where he wrote, (via People), "If you can't treat her right I'll treat her right for you 7/23." He then posted a TikTok where he seemingly called out Hudson for shading him. He gave more of an explanation in a TikTok comment, where he wrote, "I didn't steal her from him. They broke up six months ago. Me and Huddy were friends, never best friends."
Barker eventually went on to release his own song about the messy situation called, "Friends With Your Ex." "I originally got the idea to write the song just based on life and what I was going through," he told Variety. While D'Amelio was initially worried that another song about her love life would cause more drama, she came around so she could support Barker.
He released a fashion collection with a menswear brand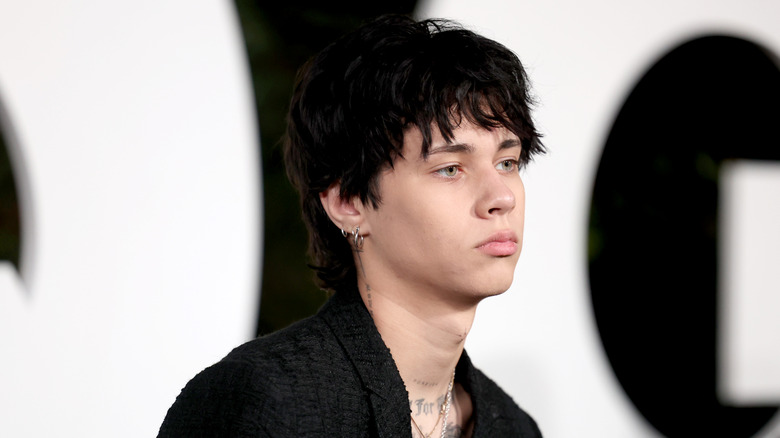 Phillip Faraone/Getty Images
Landon Barker has apparently always been interested in fashion, so it makes sense that he would one day have his own clothing line. In June 2022, that day came when he launched a collection with BoohooMAN. When it came to his edgy line, he told Nylon, "I was fully able to make it 'me.'" He added, "The inspiration was really just around how much I love fashion, and how I dress on a day-to-day basis."
While Barker released the clothes with a menswear brand, he told Teen Vogue that he wants everyone to wear his designs no matter what gender. That's because he doesn't follow any rules when he decides what to wear. Barker instead just bases his look on how he wants to express himself on that particular day. "I paint my nails. I wear glittery shirts. When I get dressed every day, I don't have guidelines," he explained.
It seems that it's most important to Barker that his clothes always represent his true self. If people don't like his fashion choices or designs, Barker didn't hold back when claiming that he doesn't actually care, because no one is forced to wear it. One person who will probably wear his designs though, is his father, Travis Barker, since Landon told People that he's inspired his dad's fashion over the years. However, he did add that his new wife, Kourtney Kardashian, has been a positive influence on his style too.
The pop-punk singer opened up about his mental health issues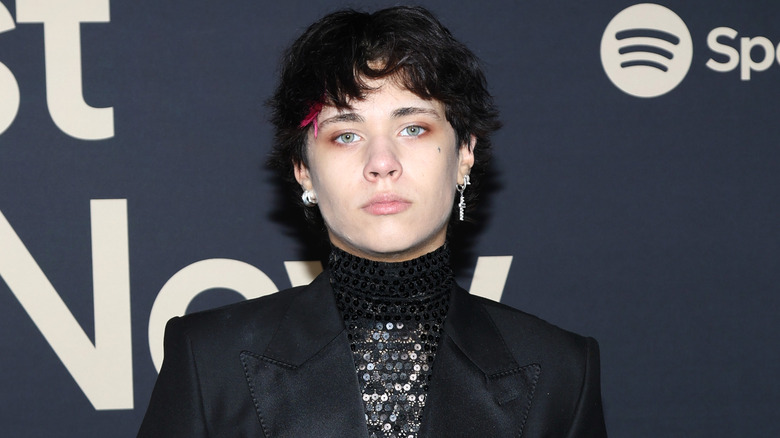 Steven Simione/Getty Images
Although Landon Barker looks to have the perfect life, he's struggled with things that not many people knew about until August 2022. That's when Barker shared on his Instagram that he suffers from mental health issues by posting graphics about OCD on his Story, according to Page Six. His focus was mainly on derealization, which is when someone mentally feels unattached to the people and things around them. Along with the graphics, Barker explained, "My derealization has been really bad and I just wanna come on here and tell everyone your [sic] not alone."
Barker has also opened up about dealing with depression, and wrote about that and feelings of self-hate on a song he did with Machine Gun Kelly called, "Die In California." When it came to what inspired the song, he told MOOD Magazine, "I've dealt with mental health problems from years and still go through it." 
It appears that songwriting and music are an outlet for Barker when he grapples with his emotional health. Yet, he still needs to take breaks from everything when he's feeling more anxiety than usual. For Barker, that's a chill day spent on his own, where he can sleep in as late as he wants, and take a long, calming shower. He explained to High Snobiety, "Having relaxing days is really the best treatment for me ... A long day to yourself is really, really, really needed for a lot of us."
If you or someone you know needs help with mental health, please contact the Crisis Text Line by texting HOME to 741741, call the National Alliance on Mental Illness helpline at 1-800-950-NAMI (6264), or visit the National Institute of Mental Health website.
Landon Barker officially launched his music career in September 2023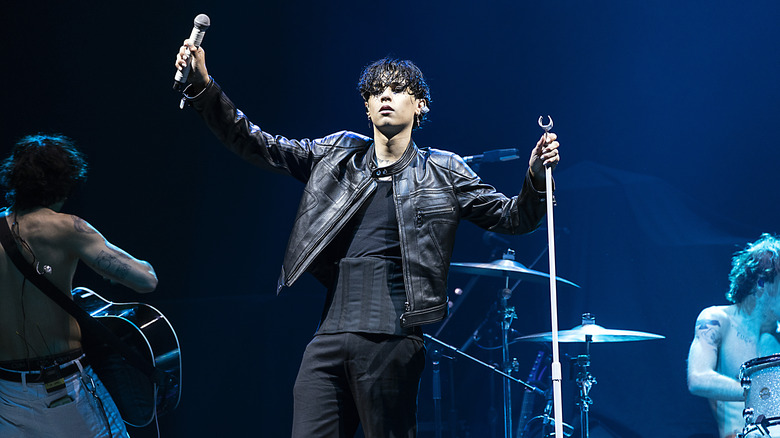 Jeff Hahne/Getty Images
At this point, it's clear that music has been a big part of Landon Barker's life for a long time. However, he didn't officially release his debut single, "Friends With Your Ex," until September 2023. He also signed with his dad, Travis Barker's music label, DTA Records, too. Landon isn't afraid to admit that his father has had a huge impact on his career, since he even inspired him to pursue music in the first place. Landon explained to Variety, "Just watching my dad perform, I've ... wanted to be up on stage and move people with music of my own." While Landon said he's happy to work with his dad, he's aware that people will either compare him to Travis, or give his dad all the credit for his success. Yet Landon seemingly rather focuses on those who just connect with his songs. 
Landon has apparently been making music for a while, because in 2018, he released R&B/ rap songs online, under the name, "OTG Landon." Then in early 2022, he appeared on Machine Gun Kelly's song, "Die in California," which he also helped co-write. Landon credits that song with getting more people interested in his music, after releasing it on TikTok.
These days, Landon is promoting his music on social media, and seems pumped that his career is finally starting to take off. He dished on "Lightweights Podcast," "I feel like it's a big moment in my life."
Landon Barker and Charli D'Amelio are getting serious
As of Fall 2023, Landon Barker's relationship with Charli D'Amelio looks to have gotten pretty serious. For one, Barker actually got a tattoo of his girlfriend's eyes on his arm after D'Amelio jokingly suggested that he get ink depicting her face. That wasn't the first time that tattoos were involved in their love story, because they've gotten inked together before.
Another less extreme milestone was that they've met each other's parents, including Barker's mom, Shanna Moakler, whom he's sometimes estranged from. More notably, in September 2023 though, Barker shared on the "Zach Sang Show" that D'Amelio had actually met his dad, Travis Barker, right after their first date. He recalled, "We hung out and then the next day I took her to lunch with my dad and my sisters." Obviously, both sets of parents approve of their romance.
Barker and D'Amelio have even involved one another in each other's work, presumably because they see a future together as a power couple. For example, Barker asked D'Amelio to star in his first music video for his song, "Friends With Your Ex," which is a song she inspired. As for D'Amelio, she included Barker on Season 3 of her family's reality show, "The D'Amelio Show." When it comes to finally making their once private relationship more public, D'Amelio told Distractify, "You can have things for yourself, but it's also fun to, you know, to go to events together or do fun things together."
Landon Barker is becoming a big brother again
Landon Barker is going to be a big brother again sometime in late 2023, thanks to his stepmother, Kourtney Kardashian and his dad, Travis Barker. While Barker does have his little sister, Alabama Barker, already, he told E! that having a baby brother will be a whole different experience. "It's crazy ... I've never really had a baby sibling. It's always been me and my sister, two years apart," he explained.
Barker was on hand at Travis and Kardashian's gender reveal party, where some fans speculated that he looked upset in a video that someone posted, of the moment when he learned that they are having a boy. They may have been on to something, because Barker admitted, "I kinda wish it was a girl though. I wish I was the only Barker boy." Barker did clarify though that he's happy for his dad, especially now that he doesn't need as much of his attention now that he's an adult. 
With that said, there will obviously be a big age difference. "We're almost 20 years apart. So I feel like our lives are gonna be very different," Barker stated. Regardless, Barker will seemingly still find a way to connect with his baby brother, since he's said in the past that family means the world to him. It's safe to say then that Barker is growing up into an all around great guy, who will once again make a terrific big brother.