The When Calls The Heart Scene Pascale Hutton And Kavan Smith Improvised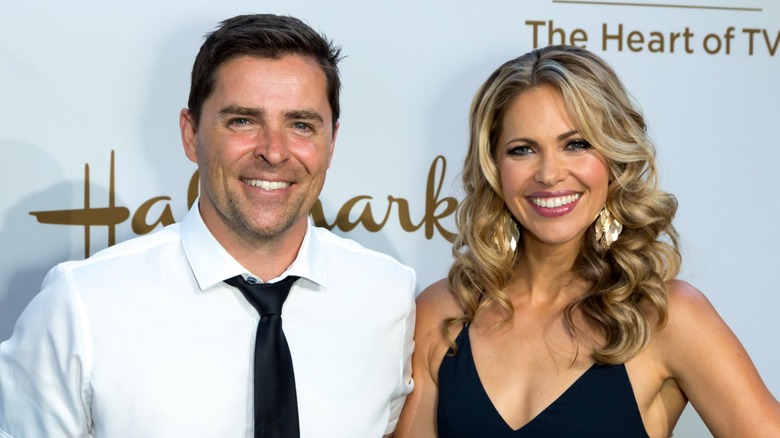 Greg Doherty/Getty
Improvisation is when actors go off-script and say lines that were not previously written. Even your favorite shows have improvised moments sometimes, such as the Hallmark Channel's hit TV show "When Calls the Heart." The show's jaw-dropping Season 10 introduced a new character — the newborn baby girl of characters Rosemary and Lee Coulter. The actors who play those proud new parents, Pascale Hutton and Kavan Smith, opened up about how parts of the labor scenes were improvised.
In a Facebook Live hosted by Entertainment Tonight interviewer Deidre Behar, Hutton talked about the labor and delivery episode and said, "That episode was a dream to film, it was so wonderful." She mentioned how Rosemary is ready to give birth and then rather suddenly goes into labor in town. So many of the other characters rally around her, and while filming that scene, the actors went off script together.
"And everybody just dove in," Hutton continued, "and there's lots of improvised moments. ... That moment where everybody starts breathing together to try and support Rosemary? That was all improvised." The actor also said how their off-camera jokes turned into a real part of the scene when Lee noticed the character of Ned hovering and mentioned him by name. Hallmark uploaded the fun, heartwarming scene to YouTube for Hearties to watch.
There was leeway on how to do the delivery scene, and the actors kept it real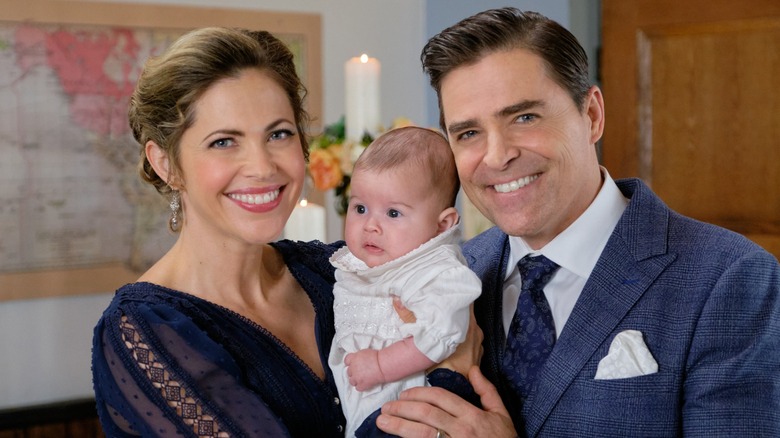 David Dolsen/Hallmark
After Pascale Hutton's character Rosemary goes into labor, it was time to shoot the delivery scene. In their Facebook Live interview, Hutton talked about the real-life intensity of labor and giving birth. She said that the delivery scene could have been acted differently depending on the tone they wanted to portray. Instead of going for something a little funny, Hutton decided to keep it more grounded and realistic. Hutton's onscreen husband, Kavan Smith, understood what she was trying to do in the moment and matched her tone.
Smith told his side of the story, admitting that his first thought was to do a more comedic take on things because he usually loves to joke around with his fellow castmates. However, when he saw what Hutton was going for, he realized his plans would not work and switched gears.
"And when we got to the very end of the day," Smith said, "the crew clapped." He quipped that the applause was for him only before adding that it was a sign that they acted the scene well. He said he and Hutton love to juxtapose a more lighthearted, silly moment with something more emotionally charged.
Most of the time, Smith and Hutton improvise to make each other laugh
The birth of baby Marigold Coulter is not the only time that improvisation has been utilized on "When Calls the Heart." In a Q&A with the cast, Kavan Smith was asked how much of Lee's lines were improvised. Smith joked that "I would say because the writers aren't here, it's all me!" The crowd and his cast mates laughed before he admitted he was just joking and answered the question seriously.
"But I would say that sometimes Pascale [Hutton] and I enjoy trying to get each other to laugh and have fun," Smith said. "And sometimes we deviate a little bit solely for the purpose of trying to make each other laugh, and sometimes it sticks. Mostly when I do it!" Hutton and Smith disagreed on how much improvisation they actually do, but Hutton quipped, "It depends on how bored we are that day."
While the scene when Rosemary initially goes into labor was played for laughs, the delivery scene's more serious energy was instead meant to tell a story that's been a long time coming. Rosemary and Lee have finally expanded their family in the way they've dreamed for ages, and Hope Valley has earned a tiny new resident.