How A Social Media Faux Pas Sparked Feud Rumors Between Selena Gomez And Dua Lipa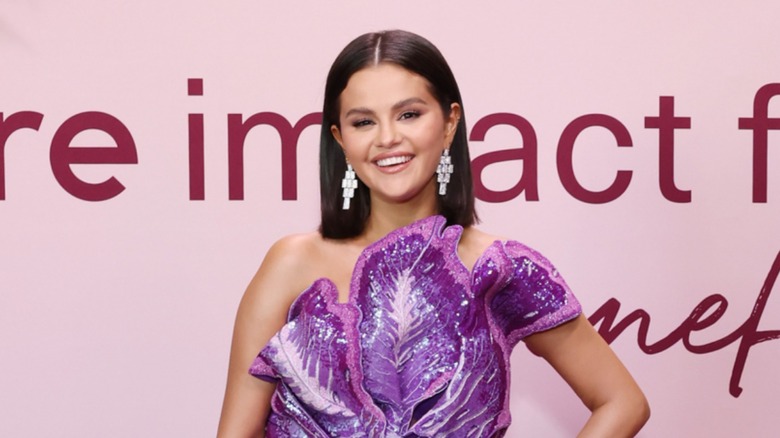 Monica Schipper/Getty
One of the downsides of fame is having all eyes on you at all times, even when you least expect it. Selena Gomez has dealt with the pitfalls of living in the spotlight for a while, and a simple mistake on social media had people spreading rumors about a feud between her and another celebrity: singer Dua Lipa.
According to Gomez's interview with Fast Company, she unfollowed Lipa on Instagram by mistake. "It was an accident!" Gomez told the outlet. "I was just cleaning up some of my Instagram. Then somebody called me and was like, 'What happened with Dua?!'"
Thankfully, nothing happened at all. To quell rumors of the fictional feud, Gomez wore a dress from La Vacanza, the collaboration Lipa did with Versace. Gomez posted a photo in the dress and also wore it to an event for Rare Beauty, the beauty company she founded. Maybe such rumored drama is a contributing reason as to why Gomez doesn't Google herself.
In 2022, Dua Lipa said she'd be game to collaborate with Selena Gomez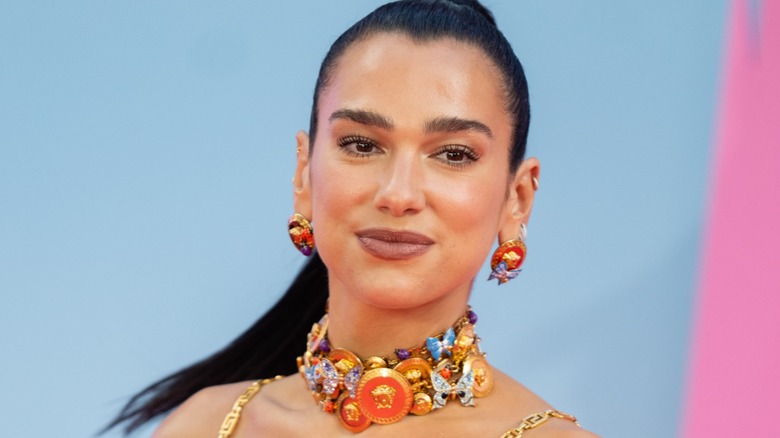 Samir Hussein/Getty
Dua Lipa and Selena Gomez are both accomplished singers, but they have yet to collaborate on a song together. However, Lipa is totally down to change that. In an interview at Variety's Hitmakers event in 2022, Lipa was asked if she would want to work with Gomez one day. "I love Selena, absolutely," Lipa said. "If something came up, yeah, sure." The interviewer joked that the album could be titled, "SeLipa," and she said, "SeLipa, okay. I'll keep that in mind!"
Lipa has yet to say anything about the unfollowing accident, but she is also not the only person Gomez unfollowed from her Instagram account around that same time. The "Single Soon" singer also unfollowed Zendaya, Zayn Malik, Gigi Hadid, and Bella Hadid. She re-followed Lipa and Zendaya shortly after unfollowing, but not the other three stars. However, an insider told People, "There are absolutely no hard feelings with anyone [Gomez] unfollowed."
Rumored drama caused Selena Gomez and Hailey Bieber to make anti-cyberbullying statements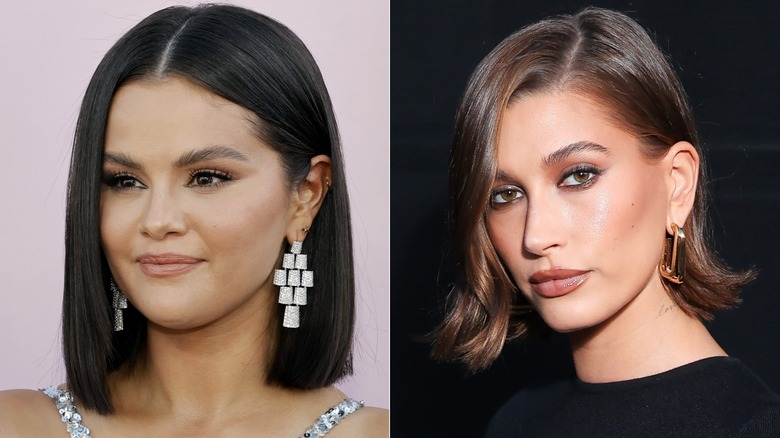 Kevin Winter & Marc Piasecki/Getty
Although Selena Gomez and Dua Lipa seem to have no drama, people have long speculated that Gomez and Hailey Bieber's relationship is fraught. Hailey is married to Justin Bieber, who was Gomez's boyfriend for a while, although they had an on-again, off-again relationship. There have been instances on social media where Hailey and Gomez seemed to make digs at each other. For example, Hailey and Kylie Jenner were accused of making fun of Gomez's over-laminated eyebrows, and Gomez commented "I love you" on a TikTok showing Gomez support and calling Hailey and Jenner "mean girls" (via Buzzfeed News).
Each woman has condemned their fans for cyberbullying. Gomez said on her Instagram story that Hailey contacted her about the cyberbullying and death threats she'd received and added, "This isn't what I stand for. No one should have to experience hate or bullying. I've always advocated for kindness and really want this all to stop." Hailey's statement was similar, imploring people not to be hateful on her behalf, per Buzzfeed News.
Hailey also spoke to The Circuit by Bloomberg in 2023 and said the drama was not actually about her and Gomez. "It's about the vile, disgusting hatred that can come from completely made-up and twisted and perpetuated narratives," she said. Hailey was adamant there's no issue between her and Gomez at all, and that people should learn to come together instead of tearing each other apart.