Inside Y&R Star Lauralee Bell's Relationship With Husband Scott Martin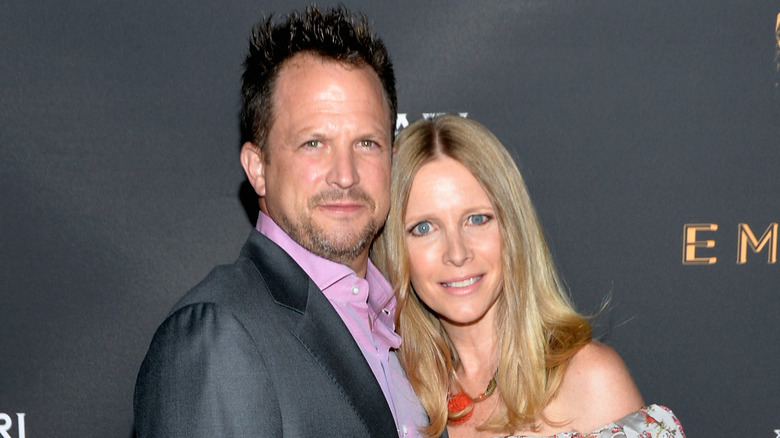 Michael Tullberg/Getty Images
Lauralee Bell is daytime television royalty, and her character Christine Blair is an icon on "The Young and the Restless." Bell has spent the past 40 years playing Cricket, a model-turned-district attorney who has had memorable if not also dramatic relationships with both Danny Romalotti (Michael Damian) and Paul Williams (Doug Davidson) over the years. She was also one of the youngest stars on the show when she began back in 1983 as a 15-year-old. Speaking to CBS in an interview, Bell said that there were very few child actors in her day. "There were no real young people on soaps at that time, 30-year-olds were playing 15-year-olds," she said. The actor also has a real-life connection to the creators of "The Young and the Restless."  Her parents, William Bell and Lee Phillip Bell, are soap opera icons who created both "Y&R" and "The Bold and the Beautiful." 
While Bell has likely experienced every soap opera storyline and cliffhanger known to man, thankfully, her life off-camera is nothing like the one she has on-screen. Bell is married to photographer Scott Martin, and together they've built quite a family legacy of their own.
All about Lauralee Bell and Scott Martin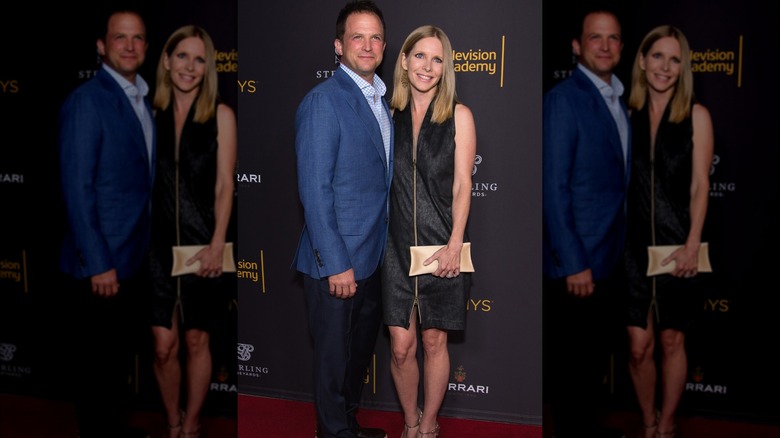 Tara Ziemba/Getty Images
"The Young and the Restless" star Lauralee Bell married Scott Martin back in October 1997. Together, they share two children: Christian James and Samantha Lee. Bell and Martin were high school sweethearts at the Latin School of Chicago, and the couple got married in a star-studded wedding fit for a soap opera princess in Santa Barbara, California. Back in 2017, Bell even got a little nostalgic and tried on her wedding veil for good old social media's sake. She even captioned her Instagram post with, "Today's the day ... I had to!"
Back in 2009, the couple created a web series called "Family Dinner," per Soap Opera Digest. Speaking about her project at the time, Bell said, "I'm in a family dinner situation every day of my life in terms of just the insanity and running to auditions when kids are screaming in the background and I'm trying to remember a line [laughs]."
These days, the couple loves to go hiking with the kids and spend special moments together. In a Father's Day Instagram post that Bell dedicated to her husband, she wrote, "From the playdate in the crib the kids have known you'd do anything to make them feel loved, safe, supported, and protected! We all feel so lucky each and every day!"
Lauralee Bell and Scott Martin still live in wedded bliss
The cute thing about Lauralee Bell and Scott Marlin's marriage is that they treat their wedding anniversary like a soap opera one, complete with souvenir mugs. Bell shared an Instagram clip of the two of them enjoying their morning coffee. Their mugs had the numbers "2" and "6" on them for their 26th anniversary along with their names. Many of Bell's followers commented on the photo with fellow "The Young and the Restless" star Tracey Bregman writing, "Happy Anniversary!! You two are an inspiration." "The Bold and the Beautiful" star Kimberlin Brown added, "Happy Anniversary. A match truly made in heaven." Similarly, during their 25th anniversary, Bell and Marlin had a picnic, per her Instagram page, that looked like it came straight out of a Chancellor Park scene from "The Young and the Restless." The couple also renewed their vows in March 2022.
Christine's love life in Genoa City might be a complicated one, but clearly, Bell has it made with her real-life husband. And just like "The Young and the Restless," here's hoping that Bell and Martin get to celebrate even more anniversary dates in the future. If they can do 26, then who is to say they can't do 50, right?