Weird Things Everyone Just Ignores About Pippa Middleton's Marriage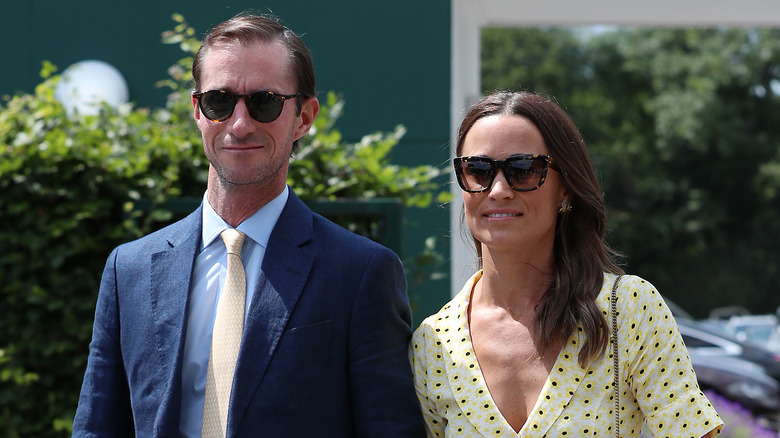 Neil Mockford/Getty Images
She became world-famous within the span of a day when her derrière made headlines at her sister Princess Catherine's royal wedding, had a short-lived relationship with Alexander Spencer Churchill (who, apparently, is a distant relative to Princess Diana), was named Tatler's "Number One Society Singleton" in 2008, and got selected as one of Time's 100 most influential people in 2012. Needless to say, Philippa "Pippa" Charlotte Middleton's name has become synonymous with the royal family ever since her older sister, Princess Catherine, married Prince William in 2011. Middleton's own nuptials followed six years later when she married esteemed financier James Matthews (who, interestingly enough, shares a name with her younger brother, James Middleton).
Royal watchers and tabloids alike have been keeping a close eye on Middleton and Matthews ever since. Although the couple had an extremely lavish wedding that was widely publicized, sources told People ahead of their nuptials that the two actually wanted to live their lives outside the glaring royal spotlight, and that they didn't want details of their wedding splashed across every tabloid in Britain. That did not work out, unfortunately. 
Another source said the couple was planning on "having children and leading a quiet life." While they do have three children, their lives aren't exactly quiet. The press and royal fans still keep close tabs on Middleton and Matthews' marriage, and when you look a little closer, there are plenty of odd details to uncover.
Pippa's husband waited 10 years to marry her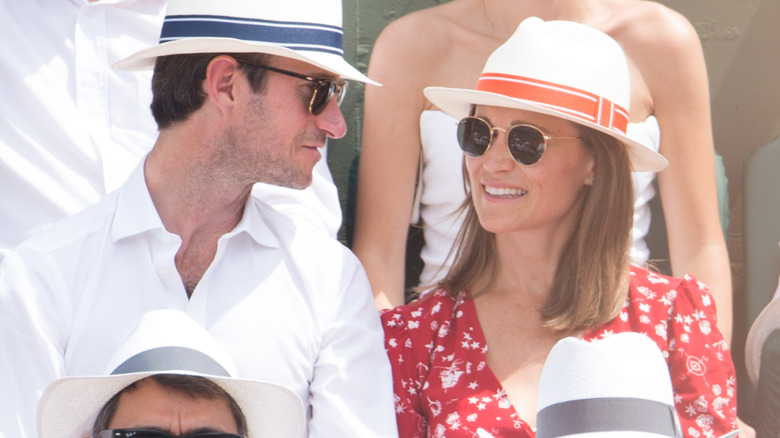 Stephane Cardinale — Corbis/Getty Images
Pippa Middleton and James Matthews have an eight-year age gap, and when Matthews first met Middleton in Saint Barthelemy in 2007, she wasn't even mildly interested in him, but he knew from the moment he saw her that she was his soul mate. Middleton, on the other hand, was blissfully unaware of the fact that she'd met her future husband — she wasn't single at the time and continued to date in the years that followed. Matthews, on the other hand, remained mostly single, knowing he'd be wasting his time with other women. "Spencer [Matthews' brother] set James up with at least one blind date. You got the sense James was holding out for the one, and that was Pippa," a source told The Daily Mail.
Matthews finally got his chance with Middleton when she broke up with her boyfriend, Alex Loudon, a professional cricket player, in 2011. Loudon reportedly couldn't deal with Middleton's newfound fame after Princess Catherine's wedding and bolted. 
Matthews and Middleton started dating in 2012, but it didn't work out — Matthews reportedly told those close to him that the eight-year age gap was the reason the relationship only lasted a couple of months. But in 2016, the two got back together. "After being in the background for at least 10 years he finally decided to pursue her and he told her she had to give him a second chance," a friend told The Daily Mail. And the rest is history. Ten years is a long wait, but Matthews' patience clearly paid off. Take note, gentlemen!
Pippa's mother apparently orchestrated the whole engagement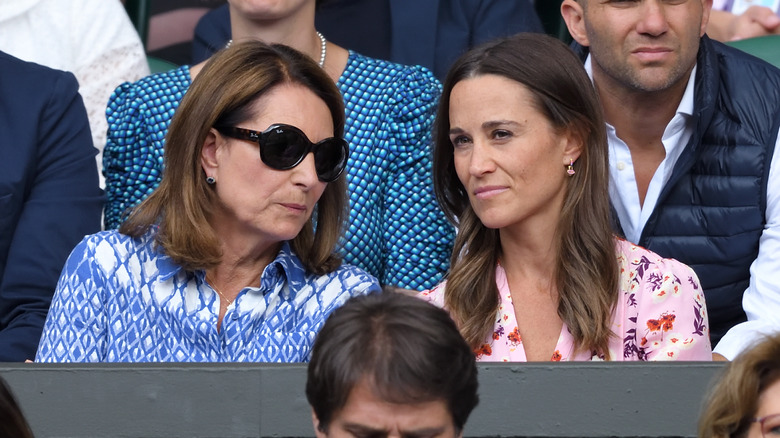 Karwai Tang/Getty Images
While James Matthews was very patient during his long wait to woo Pippa Middleton, it turns out that Middleton's mother, Carole Middleton, had a hand in the couple's engagement. 
If sources who spoke to The Telegraph are to be believed, Mrs. Middleton had been hoping her daughter would end up with Matthews since the beginning. "She appears to be something of a mastermind in making this happen," one source divulged.
Mrs. Middleton's affection for Matthews may or may not be a result of Matthews' various attempts to make an impression on her over the years. It appears he worked as much on wooing her as he did her daughter. The Middleton family was treated to a vacation in St. Barts, courtesy of Matthews, years before he asked for Middleton's hand in marriage. The family got to fly in his private jet and stayed at a hotel Matthews' parents owned. Clearly, Mrs. Middleton had been impressed by Matthews' riches (and hopefully, his personality too), and if sources are to be believed, she probably gave her daughter a gentle nudge when it came to choosing her next boyfriend after her unfortunate breakup with long-distance beau Nico Jackson.
Pippa and James had the most unusual seating plan at their wedding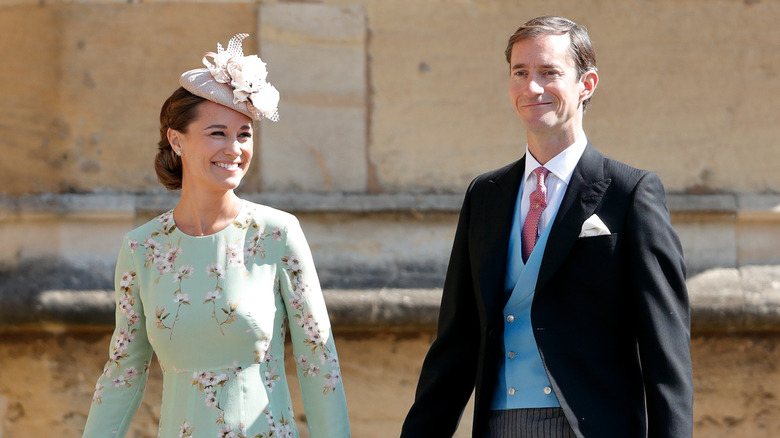 Max Mumby/indigo/Getty Images
It might be safe to say that Pippa Middleton's nuptials drew just as much attention as her sister Princess Catherine's royal wedding to Prince William. Not only did the public know all about the venue, but the press also revealed details about Middleton and James Matthews' seating plan, which sparked plenty of discussion.
It's true that weddings are a great occasion to mingle, but Middleton and Matthews took it to the next level when they switched up their seating plan so couples wouldn't be seated next to each other but would rather sit next to strangers so they could get to know their fellow guests a little better. While this might sound good in theory, it might leave a few people unhappy, and speculation was rife that this seating plan was less than ideal for Prince Harry and Meghan Markle. The latter flew all the way from America to be at the wedding and likely anticipated a fun evening chatting with her beau, but Middleton's seating plan threw a wrench in that plan.
However, Debrett's notes that it's not bad form to mix things up a bit: "It is up to the host to decide whether husbands and wives are to be seated together or apart. The former is easier to arrange, but the latter arrangement gives both husband and wife a chance to meet new people." At least no one can say Middleton and Matthews didn't go the extra mile.
Pippa was afraid of being overshadowed on her wedding day by one of the guests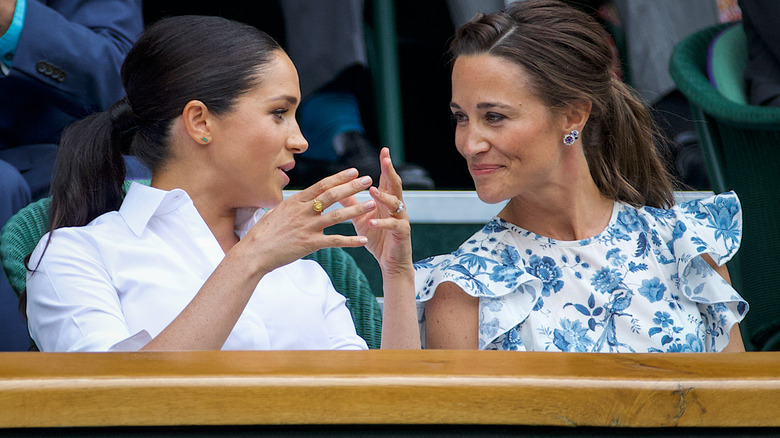 David Gray/Getty Images
While Pippa Middleton was planning her big day with James Matthews, there was speculation that she had reservations about inviting Meghan Markle to her wedding. Meghan and Prince Harry were already dating at the time, and avid royal watchers will recall that the media couldn't get enough of them, which meant chances were good that Meghan would steal Middleton's thunder on her big day, and no bride wants that.
Sources told The Sun that Middleton made it clear that some guests had to meet certain requirements to attend her nuptials, apparently instating a "no ring no bring" rule, which meant no girlfriends were allowed at the wedding. This directly affected Spencer Matthews, her new brother-in-law's plans to bring his model girlfriend Vogue to the wedding. "It's clear Pippa doesn't want to be outshone by any TV babes on her big day," one source speculated. However, TV presenter Donna Air, who was Middleton's brother's girlfriend at the time, was at the ceremony. Meghan attended the reception afterward.
The "no ring no bring" rule clearly didn't apply to everyone, but Express did report that Middleton was afraid Meghan would overshadow her big day. According to Omid Scobie and Carolyn Durand's book "Finding Freedom," Middleton's mother also shared these fears. Scobie and Durand claim that Meghan decided at the last minute to skip the ceremony and only attend the reception so she wouldn't take any attention away from the bride.
Pippa and James' wedding cost a small fortune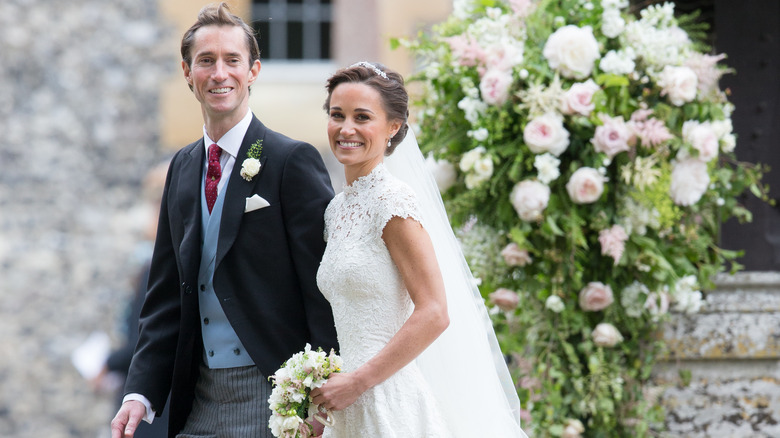 Pool/samir Hussein/Getty Images
Pippa Middleton's sister's royal wedding might have been as elaborate as can be, but her and James Matthews' nuptials ended up giving Princess Catherine and Prince William a run for their money. No expense was spared for Middleton's fairy tale day, and the media had plenty of fun keeping tabs on the arrangements and fanfare that led up to the couple's nuptials.
Matthews is a millionaire, which meant that the couple could go all-out for their big day — and they did. Apparently, all the wedding expenses amounted to more than a whopping $1 million, but E! News noted that it might've been less, given the fact that the couple could've gotten some sweet discounts, thanks to their fame and association with the royal family. The wedding included, among other things, an aerial performance, a light show, pingpong tables, 150 bottles of Dom Ruinart 2002 Champagne, and several vintage cars to drive the bridal party from the wedding to the reception.
The cake reportedly cost around $3,000, Middleton's Giles Deacon dress apparently amounted to a whopping $52,000, and her hairdo amounted to around $975 total. The couple also hinted that their wedding would be an extravagant affair when they sent out lavish invitations, which reportedly cost them $4,500 in total. The flower arrangements are said to have amounted to $20,000. Clearly, Middleton made sure that her wedding would be just as memorable as her sister's, and for those in attendance, it probably was.
Pippa didn't ask Princess Catherine to be a bridesmaid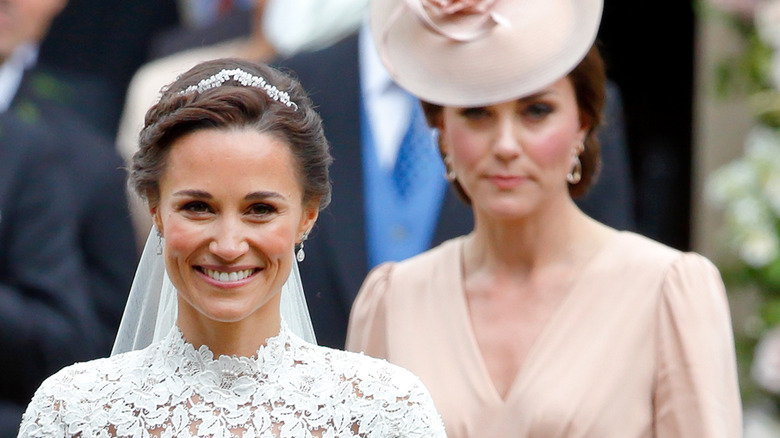 Max Mumby/indigo/Getty Images
You have to give it to the Brits — they take tradition very seriously and usually try to uphold it, so when it was revealed that Princess Catherine wouldn't be a bridesmaid at Pippa Middleton and James Matthews' wedding, many thought it was all down to the age-old rule that married women don't get to be maids of honor at weddings. The Mirror speculated that Catherine might not even be part of the bridal party, which Vogue later reported was exactly what happened.
The assumption that Catherine would forfeit the role of bridesmaid because of British etiquette was challenged by author Judy Wade, who told People, "Kate would upstage her sister," adding, "It's a tricky situation for Pippa ... Kate would want to be in the background as much as possible." It might be safe to say that either Middleton asked her sister to stay in the background for this one, or Catherine offered to do so herself, knowing full well that the media would direct all its attention to her instead of her sister on the big day. Despite the princess' best efforts, however, her plan to remain inconspicuous failed.
After the wedding, People ran a cover about the nuptials under the title "A Royal Family Wedding," but instead of placing a photograph of Middleton and her new husband on the cover, Catherine was all over it, with some snaps of Middleton on the side and Matthews nowhere in sight. Oof!
Pippa and James' wedding venue was flown in from Belgium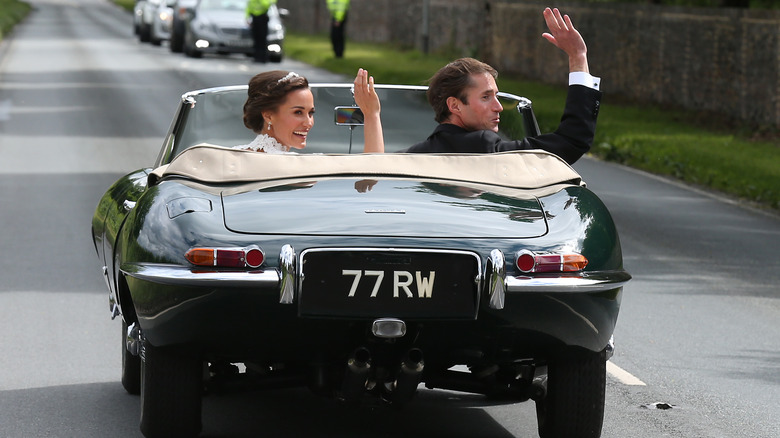 Neil Mockford/Getty Images
When you're Pippa Middleton and James Matthews, not just any old wedding venue will do. Instead of going old-school and renting an existing venue, the couple opted to fly one in from Belgium. Yes, really!
Middleton and Matthews had a temporary glass palace set up for their wedding reception which measured 40 by 120 feet and reportedly cost a whopping £100,000. The reason Middleton and Matthews could opt for this lavish venue was because Middleton's family owned land in Bucklebury village, which had plenty of space to set up the glass palace and offered a beautiful view of the countryside all around. It was said at the time that it would take around six days to set up the entire structure.
Sources told The Daily Mail that Middleton's father, Michael Middleton, was close to having a nervous breakdown over all the intricate arrangements his youngest daughter's big day required, but remained excited about her nuptials. It was clear that the wedding was set to be as fancy as can be, but The Daily Mail claimed that Middleton said she was going for a relaxed country vibe. While most of us would probably associate that description with guests seated on hay bales in an open-air venue, Middleton clearly had a very different idea of what a country wedding looks like.
Pippa and James didn't exactly relax on their honeymoon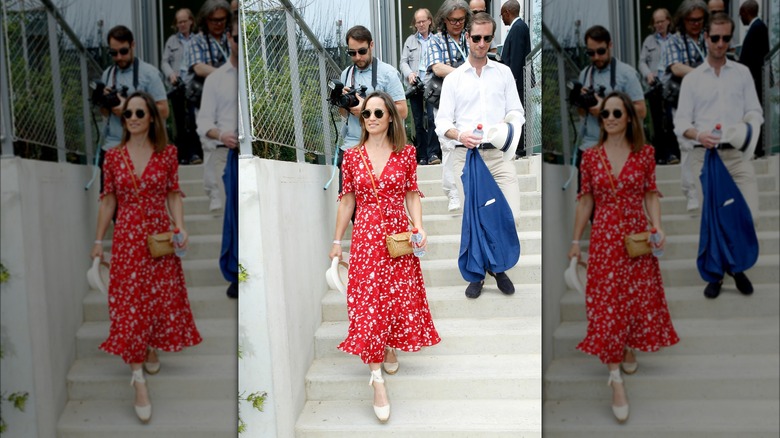 Rindoff Petroff/suu
Even though planning their lavish wedding must have left them just a tad exhausted, Pippa Middleton and James Matthews didn't slow down on their honeymoon. The couple first paid a visit to Tetiaroa, French Polynesia, before hopping on a plane to Australia, where they indulged in about every physical outdoor activity they could find.
For starters, Middleton and Matthews wasted no time getting their fitness regime back on track and went for a run below Harbour Bridge. Some of the locals spotted them, with one telling The Sydney Morning Herald, "I walked past her [Middleton] at the foot of the Harbour Bridge with her husband and, I think, a personal trainer." It shouldn't come as much of a surprise that Middleton chose to stay active during her honeymoon. Royal fans would tell you that Middleton actually enjoys a tough workout or two. After all, she once cycled 54 miles for charity and ran a marathon in 2015, so a morning jog with her husband probably felt relaxing. Jogging aside, the couple also enjoyed a nighttime climb. Yup, they enjoyed the view of the city lights from on high as they ascended Harbour Bridge.
Between hopping on a water taxi, flying to lunch, going on morning jogs, and climbing hundreds of stairs to the top of a bridge, no one can say their honeymoon wasn't memorable.
Pippa and James used to live in a ridiculously lavish house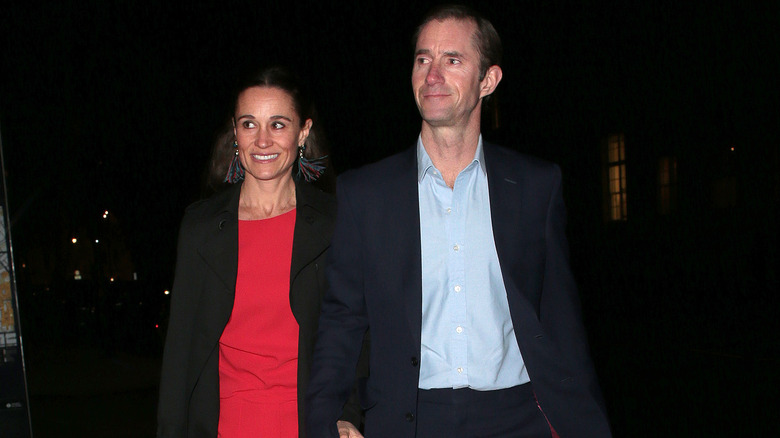 Ricky Vigil/Getty Images
Pippa Middleton got to live in her own version of a palace when she married James Matthews in 2017. Before the couple bought a £15 million (around $18 million) countryside property in Berkshire in 2022, they lived in a posh £17 million (roughly $20 million) house in Chelsea, London. The five-story house included six bedrooms with a theater in the basement. It also had a staff room and a gym, and if the couple wasn't in the mood to climb all those stairs for their movie night, they could just take the built-in elevator.
While most ordinary folks would be more than happy with a house like that as is, Middleton and Matthews wanted some extra additions, so they moved out to do renovations worth £1.2 million (around $1.5 million), which included the installation of air conditioning, separate dressing rooms, and a nursery. By 2018, the renovations were finally done, and they could move back in to start their family. Shortly after, Middleton gave birth to the couple's first child, Arthur Michael William.
When the couple moved to their new Berkshire home in 2022, it was a massive upgrade — not only is the house close to Middleton's parents' residence, but it also boasts various greenhouses, a massive garden, and 30 bedrooms. For people who reportedly want to live a quiet life, Middleton and Matthews' massive mansion sure shouts their wealth from the rooftops.