What We Know About Blake Lively's 4 Kids
Theo Wargo/Getty Images
While Blake Lively is most known as a beloved actor, starring in TV shows like "Gossip Girl" and films such as "The Age of Adaline" and "The Shallows," the celebrity is also a doting mother to four children. The California native shares her kids with fellow actor Ryan Reynolds, who's known for movies like "Deadpool," "Buried," and "Pokémon: Detective Pikachu." The two have been married since September 2012, welcoming their first child two years later.
The couple each comes from sizable families, with Lively having four siblings and Reynolds having three. They've talked about how this background has influenced their desire for a big family of their own, with the "Sisterhood of the Traveling Pants" actor joking on Today, "I'm one of five kids. My husband is one of four, so we're officially breeders. You can go on our website and we will give you some of our children."
Other than this, Lively and Reynolds have talked about keeping the lives of their kids mostly private, with the actors opening up about the paparazzi stalking their children in the past. They've continued to maintain this privacy over the years, but they've offered the occasional sneak peek into their experiences of parenthood. With this in mind, here's everything we know about Blake Lively's four children.
James and Inez are Lively's oldest daughters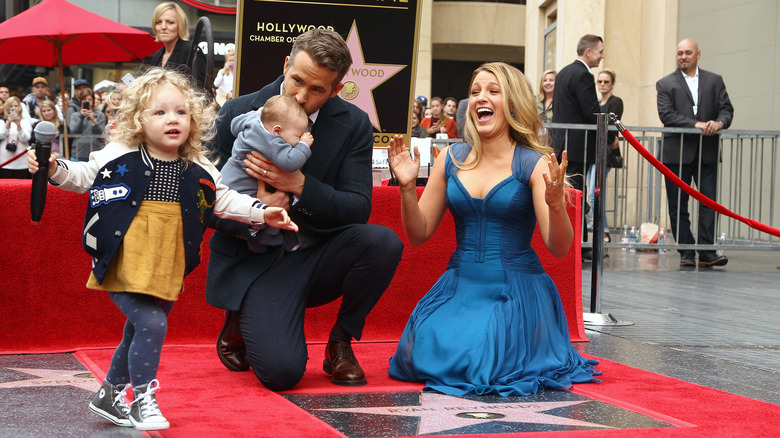 Tommaso Boddi/Getty Images
Blake Lively gave birth to her first daughter, James Reynolds, on December 16, 2014.  She and her husband named their child after Ryan Reynolds' father, who passed away shortly after his granddaughter was born. Reynolds previously had a tumultuous relationship with his dad, but the two were able to reconcile after encouragement from Lively.  If you're a Swiftie, you've likely heard the little one on Taylor Swift's track "Gorgeous," as James is featured in the song's opening.
Lively's second daughter, Inez Reynolds, was born on September 30, 2016. She and James made their first public debut in 2016 at a Hollywood Walk of Fame ceremony honoring Reynolds. Inez was only a few months old then, while James was nearly two. 
Since then, Lively has opened up about the personalities of her two oldest children, explaining in an interview on "Live With Kelly and Ryan" their differences. "What's crazy is my two-and-a-half-year-old, she wakes up at night and she's the baby, basically," she said. "My little one, oh she's just so divine. She came out of the womb a little foodie" (per ET).
Lively has two other children, including Betty Reynolds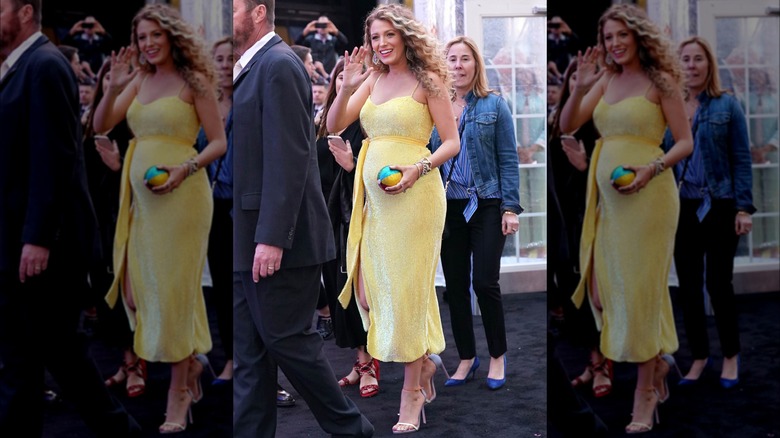 Jni/star Max
Blake Lively's third daughter is Betty Reynolds, who was born on October 4, 2019. Swifties will recognize the names of Lively's three oldest children from Taylor Swift's "Folklore" love triangle trilogy, as she used the names of her close friend's children for the characters of James, Inez, and Betty. In fact, the name of the third Reynold's child was first confirmed through the song "Betty," as Swifties surmised the then-unknown name of the little one following the mentions of James and Inez. 
Likely, Betty is actually christened after her aunt and grandma, as Lively named her non-alcoholic drink mixes "Betty Buzz" in honor of her father. "My dad's name was Ernest Brown Jr. but he was known as Ernie Lively," she shared in a press release about the brand. "When I was working hard to build this company, I wanted any success to be in a name that was meaningful to him. Betty was his mom and his sister's name."
Lively had her fourth child with Ryan Reynolds on February 12, 2023. Little is known about the youngest Reynolds child, as the couple has not revealed their sex or name. However, they did make their first public debut in March of 2023, when the Lively-Reynolds household traveled to Wales to support a Wrexham football match, as Reynolds has owned the team since late 2020.