Tatiana Casiraghi: 10 Facts About The Billionaire Heiress Who Married Into Monaco's Royal Family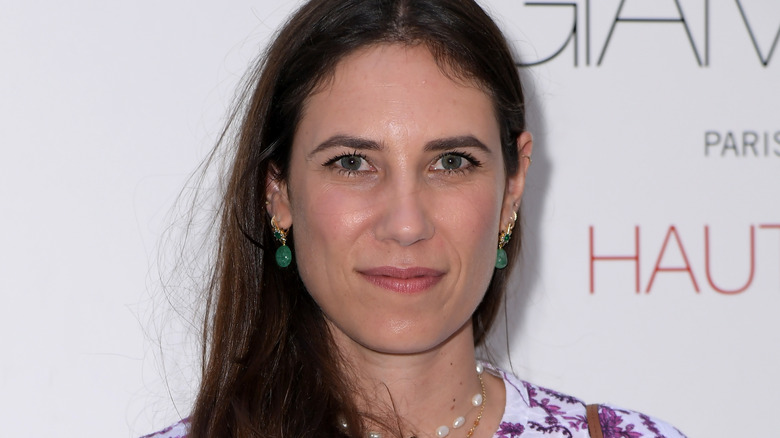 Dominique Charriau/Getty Images
Marrying into a European royal family can seem like a harrowing experience, but Tatiana Casiraghi makes it look easy. Ever since the billionaire heiress tied the knot with Princess Caroline of Monaco's son, Andrea Casiraghi, in 2013, she has nailed her position as royal consort. At the time of her wedding, pressure was high since Andrea was second in line to the throne. However, even the knowledge that she was poised to be the principality's next princess, was not enough to get Tatiana off her game.
Of course, the births of the royal twins, Prince Jacques and Princess Gabriella, means that Andrea was pushed back in the line of succession — and Tatiana is unlikely to ever wear the crown. That being said, she is still committed to doing her duties with grace. You can often spot her perched on the balcony of the Prince's Palace of Monaco, holding one of her three children, and smiling by her husband's side. Indeed, the brunette beauty seems to understand that her role as a more minor member of the royal family is to show subtle elegance — without ever breaking protocol.
Nonetheless, as discreet as Tatiana may be in her royal role, the gorgeous socialite also knows how to make her mark on the rest of the world. As a recognized fashionista, successful entrepreneur, and seasoned traveler, Tatiana is not afraid to reach for the stars. And, thanks to her go-getter attitude, we will likely see more of Tatiana moving forward.
She was born into a beer brewing empire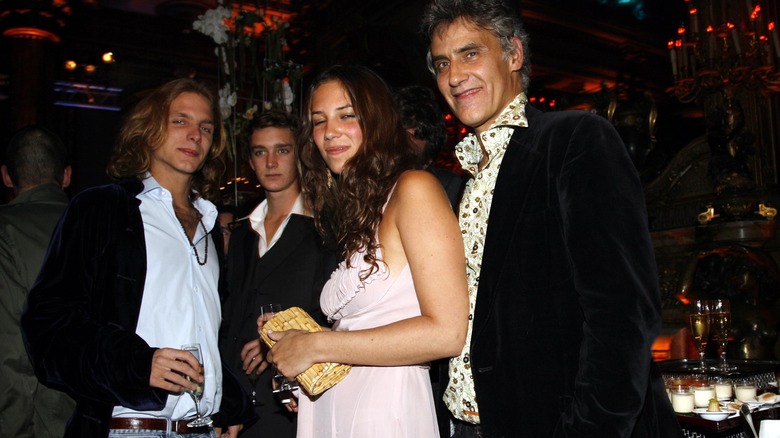 Michel Dufour/Getty Images
On November 24, 1983, Tatiana Casiraghi (née Santo Domingo) was born in New York, New York. While her family was not even remotely aristocratic in the European sense of the word, this barely mattered. Tatiana's father, Julio Santo Domingo, was the oldest son of a Colombian business tycoon of the same name. This means that Tatiana's grandfather was the ever-impressive Julio Mario Santo Domingo, who made his fortune on Bavaria brand beers. 
Of course, this was not Santo Domingo's only business venture. Over the years, he owned the Colombian national airline, Avianca, the local radio station Caracol Radio, and tons of real estate. This diversification of assets allowed him to build an empire — and what an empire it was! By the time that the patriarch died in 2011, his net worth was estimated to be worth approximately $8.4 billion, per Forbes. To put these numbers into perspective, on the day of his death, Santo Domingo was even wealthier than Steve Jobs, who passed away that same year.
In that sense, Tatiana experienced a very privileged childhood. While her own father focused on running the family business, her mother, Vera Rechulski, was huge on the NYC social scene. On one occasion, Rechulski's bathroom renovations were so luxurious that they even made it into The New York Times. At the time, the socialite told the outlet that she designed the tub to have a misty view of the Empire State Building.
Tatiana Casiraghi has Brazilian roots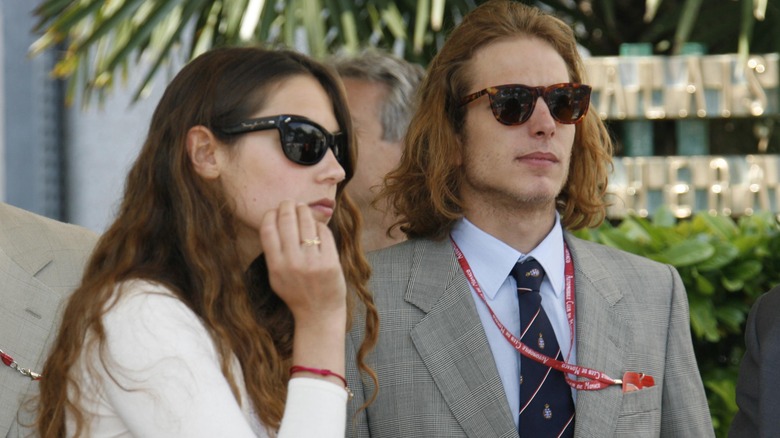 Michel Dufour/Getty Images
Although Tatiana Casiraghi is probably most associated with her father's Colombian heritage, the stunning royal consort also has strong ties to Brazil. In fact, her mother, Vera Rechulski, is considered one of the most stunning Brazilian socialites out there — meaning that Tatiana was raised with a deep understanding of cultura brasileira. What's more, Tatiana is also part Brazilian on her father's side. Her paternal grandmother was Edyala Braga, a carioca socialite who was once deemed by DASLU, "one of the most elegant Rio de Janeiro women of her time." In that sense, Tatiana's connection to the South American country runs deep — and even her interviews show it.
Speaking to the popular health and wellbeing blog, Bonberi, in 2013, Tatiana revealed just how the culture of her mother and grandmothers continues to impact her life. At one point during the interview, the heiress was asked what she likes to eat when sick. Her response? "Rice and beans, the Brazilian national dish."
Interestingly, though, Tatiana does not simply enjoy Brazilian culture — she also seeks to support citizens of the developing country. As Tatiana's business partner, Dana Alikhani, told Because, a huge facet of the heiress' own work focuses on empowering women in the slums of São Paulo. As part of their jointly-owned fashion brand, Muzungu Sisters, Dana and Tatiana sell a clutch that is "handwoven and crocheted by a non-profit women's organization that trains women from low-income urban communities [called] favelas."
She enjoyed an internationally-focused childhood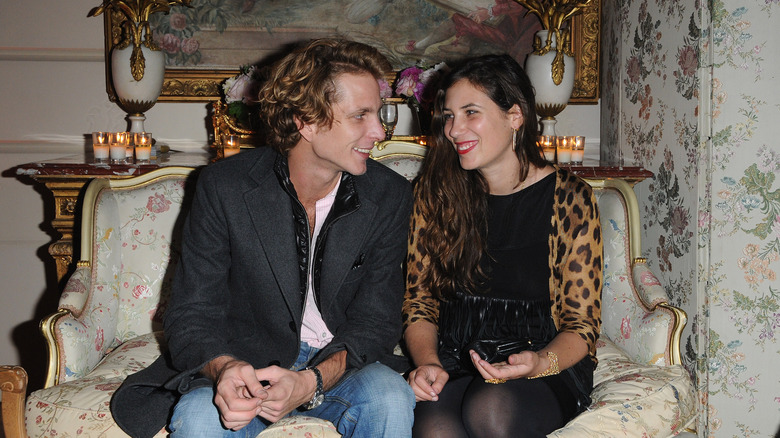 Pascal Le Segretain/Getty Images
Perhaps because of these strong ties to Colombia and Brazil alike, Tatiana Casiraghi was raised with a very international mindset. She was surrounded by people from all over the world — both inside and outside her home. Over the course of her childhood, Tatiana traveled extensively with her parents. In addition, she went to the prestigious Le Rosey boarding school in Switzerland, where she rubbed shoulders with other wealthy kids from across the world. Through these sorts of experiences, Tatiana was able to master fluency in several languages, including Portuguese, English, Spanish, French, and Italian.
Although Tatiana probably enjoyed her time at Le Rosey — most alums recall their years nestled in the snow-capped mountains near Gstaad as some of the best of their lives — she did not remain at that school forever. The reason for this might have had something to do with the institution's reputation for being relatively laid-back, in terms of academic rigor. As reported by Town & Country, Le Rosey's goal in 1999, (the year when Tatiana would turn 16), was to seek "neither an intellectual elite nor a set of model students. It does strive, however, to avoid academic failure and/or completely deviant behavior."
Eventually, Tatiana transferred to the more rigorous Lycée Fontainebleau near Paris, making her education an even more international affair. There, she met the Italian-Monégasque beauty, Charlotte Casiraghi, who would later introduce Tatiana to another fellow student, Andrea Casiraghi. The rest is history.
Tatiana Casiraghi became a style icon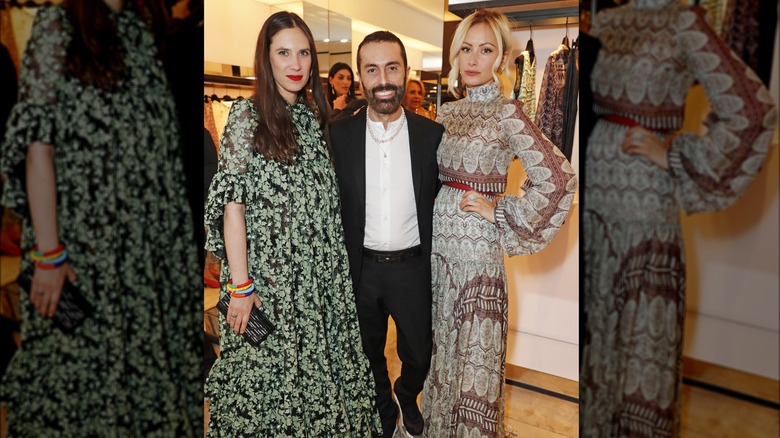 Dave Benett/Getty Images
Like many other women with resources, Tatiana Casiraghi spent much of her youth experimenting with fashion. However, different from many of her peers, Tatiana seemed invested in trying out styles that had nothing to do with whatever was trending. As the heiress would later tell Bonberi of herself and her business partner, Dana Alikhani, "We definitely like fashion but neither Dana or I are fashion victims or care to follow trends." She later added, "We wear what we like and what we feel comfortable in." 
Armed with this open mind — and her uniquely international perspective — Tatiana decided to throw the same-old-same-old trends to the wind. Instead, she began putting together a wardrobe using boutique and artisan pieces that she had found in different corners of the world. And, it didn't take long for her efforts to pay off. 
In 2010, Tatiana was ranked on Vanity Fair's famous International Best-Dressed List. Chatting with the outlet about a few of her favorite pieces, the heiress claimed that her residence was "nowhere" and that her most beloved outfit was "a vintage dress found at Ganesha in Ibiza." The remainder of her fashion inspiration also came from locations scattered across the globe — a pair of diamond earrings purchased in Jaipur, a five-centuries year-old ring purchased by her grandfather in the Majapahit Kingdom. At the time, The Guardian called her look "posh hippy ... meets vamp." These days, though, Tatiana prefers the expression "nomad chic."
She inherited much of her grandfather's fortune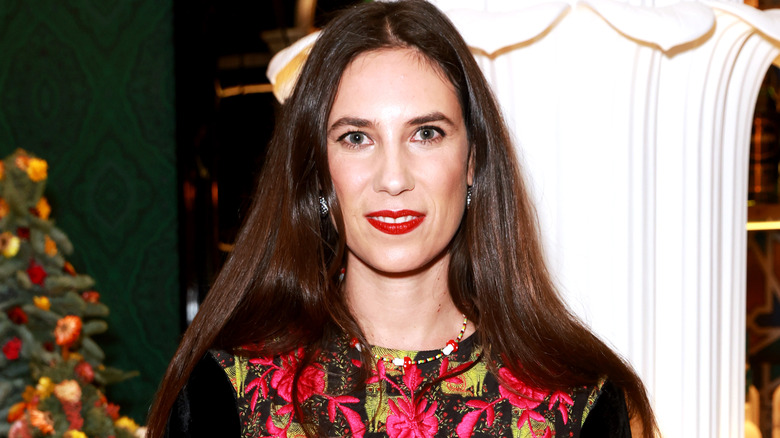 Dave Benett/Getty Images
Although much of Tatiana Casiraghi's life has been a whirl of jet-setting and fashion, the Colombian-Brazilian socialite is no stranger to tragedy. This was especially true in 2009 when her father, Julio Santo Domingo, died of cancer. He was reportedly just 52 years old. To make matters worse for the mourning family, it was not long before they took another major blow. Just two years after Tatiana's father passed away, the heiress' grandfather — the business tycoon also named Julio Santo Domingo — died, as well. In emotional terms, these losses meant empty spaces at family gatherings but, in practical ones, they also left the Santo Domingo clan with the challenge of divvying up the family fortune.
Ultimately, Tatiana and her brother, Julio Mario Santo Domingo III, each inherited one sixth of their grandfather's wealth, making them both extraordinarily wealthy. Indeed, by 2015, Hello! reported that Tatiana was estimated to be the 847th wealthiest person on Earth. At the time, Forbes estimated her net worth to be approximately $2.2 billion. Since then, however, the magazine has posted that Tatiana's monetary holdings have taken a 23% loss, placing her updated net worth at $1.7 billion. (We're sure she's fine, though).
Interestingly, it seems that Tatiana has managed her money much more efficiently than her brother. A separate report in Forbes estimated Julio's worth at $1 billion, down from $2.2 billion in 2015. Julio is currently employed as a DJ.
Tatiana Casiraghi co-founded a fashion company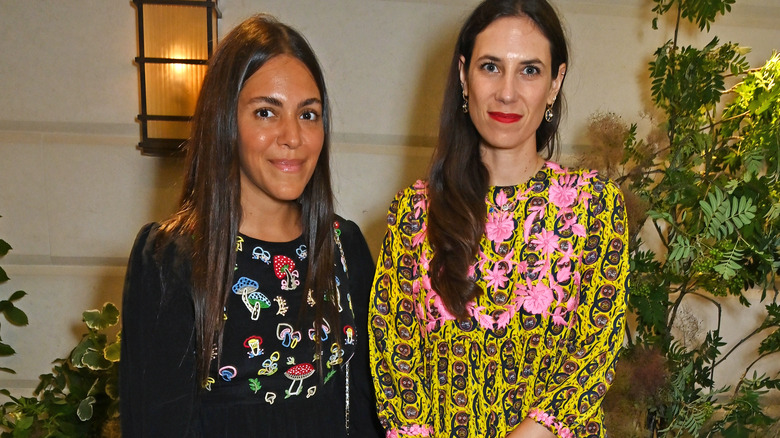 Dave Benett/Getty Images
The same year that her grandfather died, Tatiana Casiraghi made a decision that would change her life. She decided to team up with human rights activist, Dana Alikhani, to create a fashion brand called Muzungu Sisters. At the time, Tatiana was mulling over her future. Although she was employed at Vanity Fair, she also dreamed of creating an online store where people could buy cute clothes from across the world without having to travel. Meanwhile, her friend, Dana, was planning to launch an ethical fashion brand. Before long, the dynamic duo put their ideas together to create a fair trade brand that sources hand-made artisan goods from different countries. The Muzungu Sisters were officially in business.
Chatting with the Because, about their work, Dana reflected on the way that the brand seeks to uplift communities across the world, sharing, "One of our main goals is to raise awareness of the crafts of the local artisans we work with. By exposing these traditional items of national heritage to an international audience and new markets, we aim to support local economies."
One of the ways that they do that is by paying their artisans fair wages. As described on the Muzungu Sisters website, "All of the artisans we work with are directly paid a living wage for the goods they produce for us." The store also says that it "exceeds" the standards set by the International Labour Organization for ethical production.
She married the Monegasque royal, Andrea Casiraghi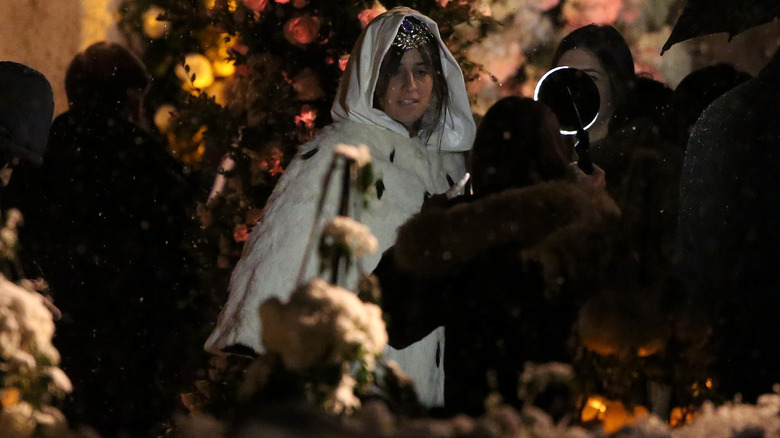 Pix4u/Getty Images
When Tatiana Casiraghi decided to tie the knot with the handsome Andrea Casiraghi, few were surprised. The duo had first crossed paths in boarding school — and been in love for years. In fact, they first became official in 2006 and even welcomed a baby boy, Alexandre Casiraghi, in 2013. Because of this, when Tatiana and Andrea decided to make their relationship legal just a few months after their son was born, both of their families seemed supportive.
What was surprising, though, was that Tatiana and Andrea did not have one wedding, but two. Indeed, the attractive young couple first wed in a civil ceremony that took place at the Prince's Palace of Monaco in August 2013. Leading up to this summertime event, Tatiana celebrated her last days of singledom by soaking up the sun. The heiress' mother-in-law-to-be, Princess Caroline, even lent her a yacht to use for her bridesmaids' dinner.
Six months later, the pair wed again — this time in a totally different setting. Far from the Mediterranean ambiance that marked their first bash, the couple held their religious wedding at Rougemont Church in Gstaad, Switzerland. While thick, luscious snowflakes fell from the night sky, Tatiana and Andrea said their religious vows in a stone church illuminated by candles. Wearing a white fur cape over her bespoke Valentino gown, the bride looked like a snow queen. To keep the paparazzi away from the event, the Monégasque police provided security.
The couple welcomed three children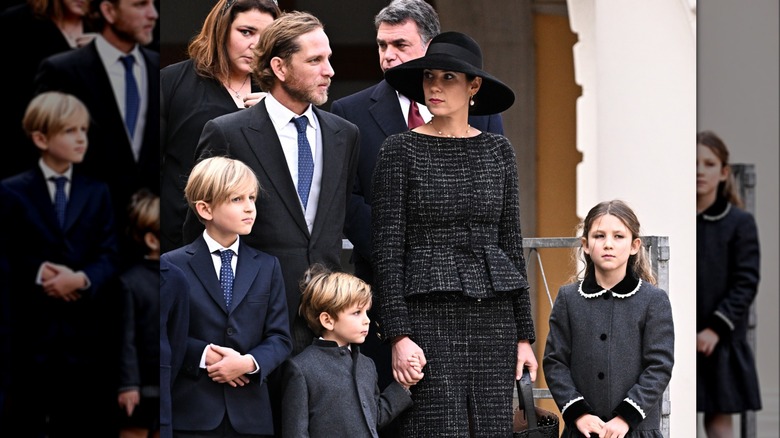 Sc Pool - Corbis/Getty Images
Tatiana Casiraghi and Andrea Casiraghi did not take long to start building their family life. Before they even got married, they already had a son, Alexandre Casiraghi. And, just two years later, they were joined by a daughter, who they named India Casiraghi. Their third child, Maximilian Casiraghi, was born in 2018.
All in all, Tatiana appears like a very present mother. Unlike other royal wives or even entrepreneurs, she does not seem to be afraid to get involved in all the messy parts of parenthood. As she told the blog, Nine In The Mirror, Tatiana was especially exhausted during her second pregnancy because she kept so busy "running around after the first one!" Quips aside, even though child rearing has its challenging moments, Tatiana told the outlet that she likes to focus on the positives. "I'm a very nostalgic person so I have already forgotten all of the bad sides [of having a newborn] and only remember the good sides. I'm sure the second the next baby is born I will remember all of the difficult moments again."
It goes without saying, though, that one of the hardest parts of taking care of three kids is balancing that responsibility with her clothing brand, Muzungu Sisters. In the same interview, Tatiana revealed that she has cut back on business trips. She also admitted, "I don't really go on maternity [leave] — it's hard to switch off and say bye when it's your own business."
Tatiana Casiraghi tries to take care of her health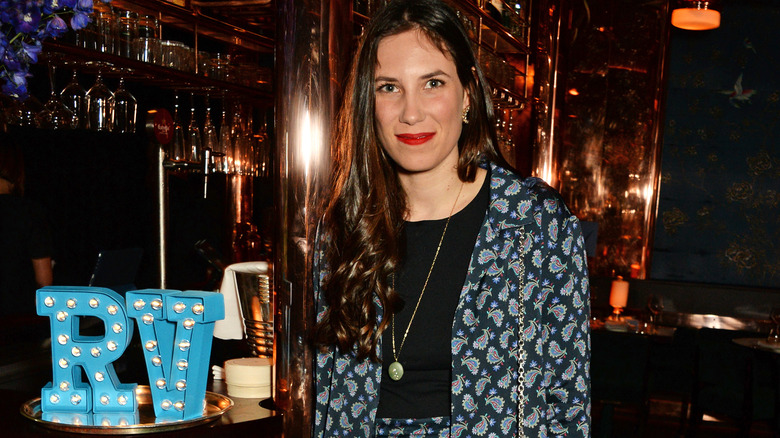 David M. Benett/Getty Images
It's no easy feat to juggle motherhood with entrepreneurship and royal responsibilities, but Tatiana Casiraghi seems to do it all. Chatting with Nine In The Mirror, the busybody heiress confessed that, since having kids, she does not always remember to prioritize herself. "There's so much [that has changed since becoming a mother] that I don't even know where to start, I guess I don't put myself first any more."
That being said, Tatiana seems to understand that self-care is key to keeping up the rhythm in her fast-paced daily life. As the socialite told Bonberi, she enjoys engaging with traditional medicine as a way to relax. "I love acupuncture and reflexology. They can usually fix just about anything that's wrong." On top of those things, Tatiana takes care of herself by enjoying certain routines. She generally starts her day by drinking hot water with lemon as soon as she wakes up. And she also tries to get good sleep when she's on the road.
Naturally, Tatiana also tries to incorporate nutritious foods into her diet. In the same interview the heiress shared, "I try to eat good fresh produce and avoid processed foods as much as possible." In practice, this means cooking meals with plenty of whole grains and lots of veggies. One of Tatiana's favorite meals is a "quinoa salad with mint, cucumber, tomatoes and any other seasonal vegetables." In her opinion, this combination is "fresh and delicious." 
She has developed an interest in interior decor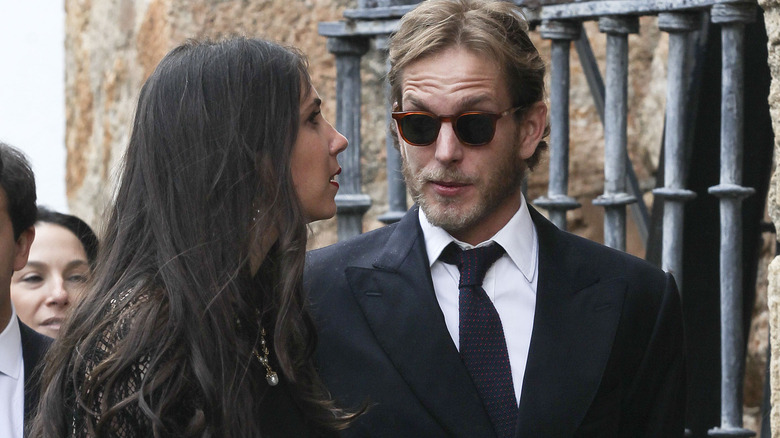 Daniel Perez/Getty Images
If it ever seems like there is anything that Tatiana Casiraghi cannot do, you might want to think again. Beyond her duties as a mother, a royal consort, and a boho fashion entrepreneur, Tatiana has also developed an interest in an unlikely area: interior decor. In a conversation with Vogue, the heiress revealed that clothing is not the only thing that she likes to pick up on her shopping trips across the world. She also likes to buy unique fabrics, baskets, vases, and rugs to make her own home look beautiful.
That being said, Tatiana is no pack rat. Rather than filling her house with random decorations, the socialite prefers to switch things out every once in a while to keep things fresh. In practice, this might mean trading out one set of pillows for another, or even reupholstering her furniture. At the end of the day, these changes have the capacity to transform the inside of her house without fundamentally upending the space.
Interestingly, Tatiana is not a huge fan of anything that looks too perfect — and her mother-in-law agrees. Apparently, the ever-elusive Princess Caroline does not like it when a room looks like it came straight out of a catalog. As Tatiana told Vogue, "My mother-in-law says you need une faute de mauvaise goût, an error of taste so to speak" for a house to look good. Tatiana seems to walk this line perfectly.