Meet Jake Johnson's Wife, Erin Payne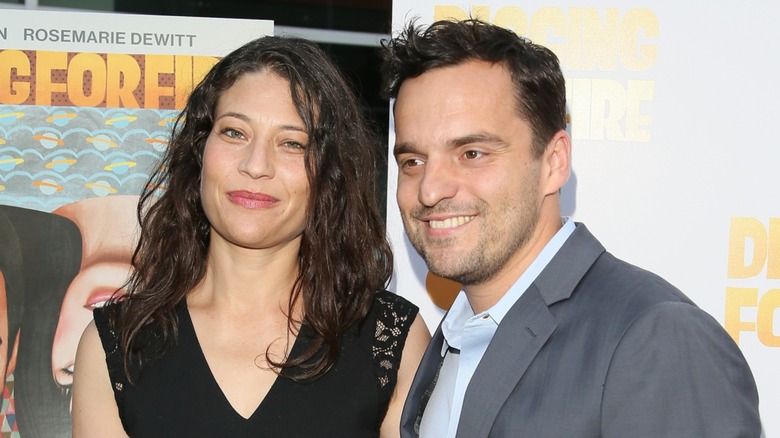 Jb Lacroix/Getty
Actor Jake Johnson has been married to artist Erin Payne since 2011, but they've known each other longer than that. While Zooey Deschanel and Johnson had lots of chemistry on "New Girl," all of that was manufactured for TV, because he was already with Payne at the time (plus, Deschanel is now engaged to HGTV's Jonathan Scott). In a 2012 interview, Johnson told Marie Claire that he and Payne had been together since about 2005, and he confirmed to Kelly Clarkson on her talk show in 2022 that he and Payne had been together for approximately 20 years. He also talked about how they met on that appearance.
Payne was a bartender, and as soon as Johnson walked into her place of work and saw her, he felt a connection. She did not, so Johnson began to play the long game and regularly showed up to her shifts. Although Payne didn't seem to see him despite being at the bar often, Johnson eventually was able to strike up a conversation with her based on what he'd overheard her and other patrons discuss. Clarkson joked that it's stalking, and Johnson gave a couple of examples of what he meant.
"And I was like, 'Yeah, I'm just thinking about getting a dog. I love rescue dogs,'" Johnson said. "She's like, 'I have a rescue dog!' I'm like, 'This is insane! We should get outta here.'"
Payne is an accomplished artist
Although they do not share much about their personal lives, Erin Payne and Jake Johnson are a mom and dad to twins. Their twin daughters, Olivia and Elizabeth, were born in 2014. Not much is known about Payne's younger life, but according to her website, she graduated with a B.A. from The Evergreen State College in 1994 and a B.F.A. from the School of the Art Institute of Chicago in 2002. Almost a decade later, she graduated with an M.F.A. from Claremont Graduate University. Payne won a variety of scholarships, fellowships, and awards, including the "New American Paintings" Readers Choice Prize in 2012.
The collection that won was Payne's "Piles Paintings" work, which are paintings of piles of discarded fabric, sometimes painted in front of nature backdrops. Many of the paintings include icebergs in the background, or landscapes of other places Payne has not been. On the piles, Payne said, "I imagine each discarded blanket, linen, and household textile as a surrogate for the human that once held and used it. ... Placing it in the landscape is a way for me to engage in a conversation about humans and the environment we occupy and share with other living things" (via New American Paintings).
Many of the Piles Paintings are available to view on Payne's online portfolio. One of Payne's Piles pieces ended up in Johnson's show "New Girl," but that's not the only time her work appeared in the sitcom.
Payne's artwork made its way to Apartment 4D in 'New Girl' and beyond
Vulture did a deep dive on some interesting items featured on the set of "New Girl," and some of Erin Payne's artwork made the list. Jake Johnson — who played lovable slacker Nick Miller on the show — is the one who told "New Girl" set decorator Jane Shirkes about his wife's artwork. Payne's Piles Paintings got their time to shine on Fox, with one of them hanging up in the "New Girl" episode titled "Neighbors."  A Payne original that ended up in Nick's bedroom was a photograph of a squirrel in front of a painted backdrop of icebergs. Another Payne piece for Nick's room was a gorilla painting. Johnson told FanFest that he took that and the squirrel artwork home after the show ended.
In addition to "New Girl," Payne's Hollywood credits include working as a scenic artist in projects such as "Shutter Island" and "The Other Guys." She also painted artwork for "Ride the Eagle," a film Johnson wrote and acted in. On the @erinpaynestudio Instagram account, Payne shared photos of the work to advertise the movie.
In addition to contributing her art to his projects, Payne has helped Johnson in other ways. He credits Payne with fixing his 2015 movie "Digging for Fire" after he explained the plot and she didn't like it at all. Hopefully the couple will collaborate creatively again in the future!