Why Michelle Obama Was Surprised The First Time She Met Barack's Grandparents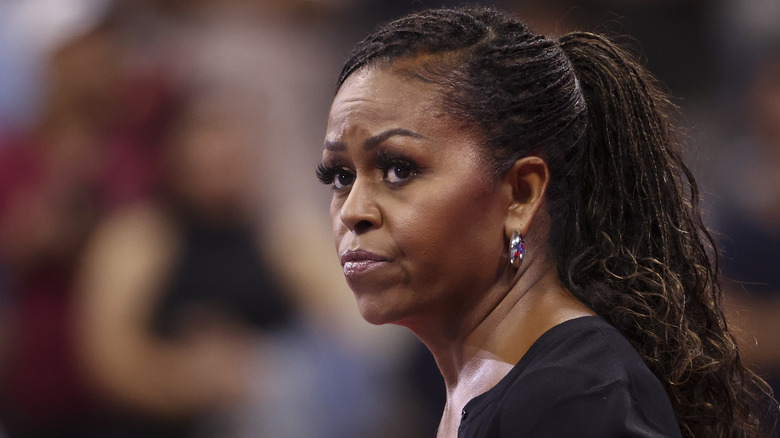 Jean Catuffe/Getty Images
When former first lady Michelle Obama flew to Hawaii to visit former President Barack Obama's grandparents for the first time, she was expecting fruity cocktails, sunsets on the beach, and hula dancing. What she got instead was an eye-opening experience — complete with TV dinners, board games, and daytime television — that offered invaluable insights into what was important to her future husband.
On a December 2022 episode of "Jimmy Kimmel Live," the author and philanthropist described how excited she was to meet Barack's grandparents in Hawaii over a Christmas holiday. "I was a second-year associate at a law firm in Chicago. Winters in Chicago are deadly, dreary, so the thought of going to spend Christmas with the love of my life in Hawaii? I was like, sign me up."
As the former first lady found out, visiting Hawaii with someone who grew up there is less "whimsical tropical island getaway" and more "quiet trip to the grandparents' house."
The romance Michelle encountered was not the kind she anticipated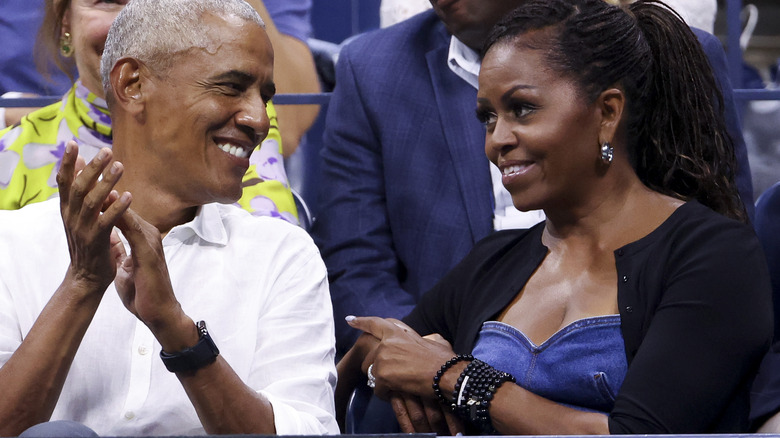 Jean Catuffe/Getty Images
Former first lady Michelle Obama told Jimmy Kimmel her expectations of Hawaii were largely based on the 1972 episode of "The Brady Bunch," and she was expecting a romantic trip with mai tais and beach sunsets. Instead, "We drive in from the airport on the highway, we go into the city, I don't see the beach anywhere, I don't see Greg Brady ... I see nothing that I was expecting," she recounted.
Michelle recalled pulling up to Barack's grandparents' apartment building and thinking how much it looked like her own grandparents' home. She, Barack, Gramps (Stanley Dunham), and Toot (Madelyn Dunham) spent time together watching "60 Minutes," doing jigsaw puzzles, and eating tuna and sweet pickle sandwiches in front of the television on TV dinner trays. "You do what you do when you visit grandparents," she said. 
Although Michelle had originally expected romantic strolls on the sand, she later realized this quality time at Gramps and Toot's place was Barack's silent way of showing her his priorities. "Sometimes as people looking for partners, we're looking for what we think are mai tais and sunsets. What we need is somebody who respects and loves their family and is gonna show up for them again and again," Michelle told Oprah Winfrey on "Michelle Obama: The Light Podcast."
Michelle's first trip to Hawaii set the standard for the Obamas' future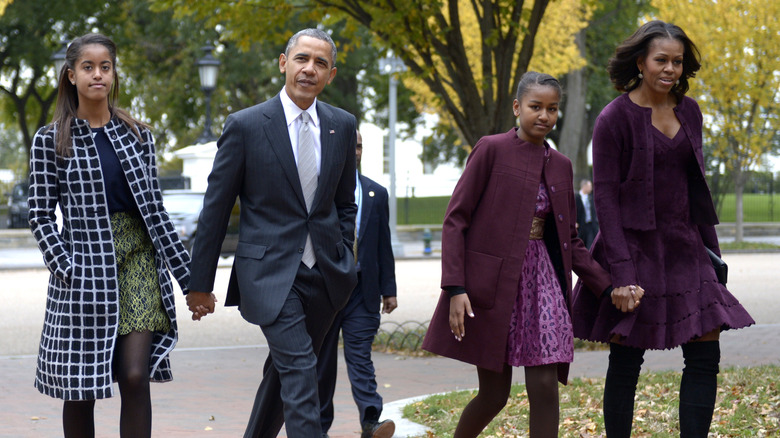 Pool/Getty Images
The world has watched Michelle and Barack Obama's stunning relationship transformation for years, serving as a powerful united front during Barack's two presidential terms and acting as the cool, hip parents with a wellspring of wise advice for newly married couples (and long-time partners, too). Despite Hawaii not living up to her "Brady Bunch" dreams, Michelle told Oprah she wouldn't have had it any other way.
"Barack valued the time that he had with his family ... he was the rock," she told the TV icon. "Let me just tell you, he always shows up for me and the girls. That same way he is present and there when we need him, that's what he was showing me in Hawaii when I was trying to get to the beach." Indeed, the Obamas have long been seen as a bastion of sincere but down-to-earth familial connection, even through what Michelle Obama called the "tough times" in her marriage.
"It's incumbent upon us — people who have had successful marriages — to be really honest about the fact that making a commitment to be with someone means you compromise, and compromise ain't always fun," Michelle said to Gayle King on "CBS Mornings." For young Michelle, that compromise looked like trading in mai tais for a tuna and sweet pickle sandwich in front of the TV.