Details About Nicole Richie's Little-Known Adoption Story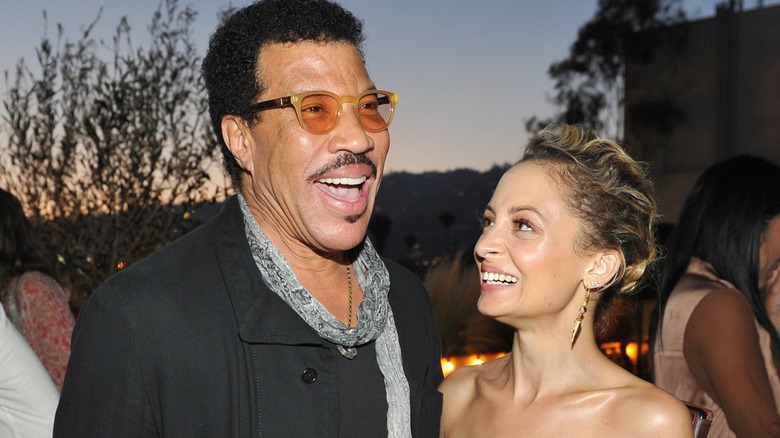 Donato Sardella/Getty Images
You may have noticed Nicole Richie shares her last name with another famous figure, the "All Night Long" singer, Lionel Richie. Her adoption story is little known, as the family did not initially share much detail about it publicly.
Despite divorcing her adoptive mother, Brenda Harvey, starting a new family, and maintaining his superstar status, Lionel remained a devoted father to a young Nicole, leaving her with nothing but fond memories to share. Lionel later married fashion designer Diane Alexander, and together they welcomed Miles and Sofia Richie before divorcing in 2003. The family remained close, and Nicole warmly welcomed Lionel's biological children as her own siblings.
The Richies frequently share heartwarming moments of their time spent together on social media, proving that family requires love, not DNA. "It's #nationalparentsday & these are mine," Nicole wrote under a nostalgic photo featuring a younger Lionel and Diane Harvey on Instagram. Harvey also often expresses her deep love for Nicole on her own account. "I thank God every day that I have you in my life. You are everything to me, Nicole," she captioned a throwback snap of the two of them.
Lionel Richie thinks adopting Nicole Richie was a blessing
Nicole Richie was born to Peter Michael Escovedo and Karen Moss, Lionel's bandmate and his partner. Lionel first met Nicole at a Prince concert when she was merely 2 years old, the father-daughter duo revealed in an interview for HuffPost.
Upon meeting Nicole, Lionel shared that he realized the toddler was living in an unstable home, prompting him to jump in and help. Nicole's parents faced financial challenges after she was born and were unable to provide for her. Initially intending to be Nicole's legal guardian until her family situation improved, things turned out differently.
Lionel opened up to People about officially adopting Nicole when she was 9 years old, describing her as a blessing to him and his first wife, Brenda Harvey. "She was a little girl who needed a shot," he explained. Despite their separation in 1988 and subsequent divorce in 1993, Lionel and Harvey remained united in their commitment to Nicole. Reflecting on the experience, Lionel told Nicole, "[You] changed my life a great deal in terms of softening my heart." The renowned "Lady" singer emphasized that Nicole, who was accustomed to people leaving, found stability with his family, stating, "[She'd look] at me, and I'd say, 'I'm not going anywhere.'"
Nicole Richie remembers Lionel Richie as a great dad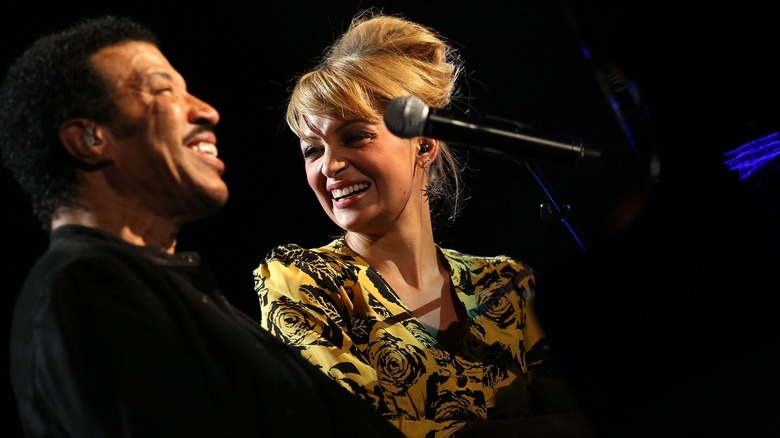 Christopher Polk/acma2012
Despite providing Nicole Richie with a wonderful childhood, Lionel Richie often felt inadequate in his role as a father. According to a People report, Lionel thought that he "wasn't a good dad" to Nicole when she was younger due to his frequent touring, as the singer revealed in a conversation with Diane Sawyer.
However, Nicole has nothing but positive sentiments about her adoptive father. In an interview with Larry King on CNN, she expressed her discomfort with Lionel's self-critical statements. "I remember him coming down in the kitchen in the morning and singing songs, and us playing," she fondly recalled.
In contrast, Nicole's comments about her biological parents paint a different picture. In a two-part Access Hollywood interview in 2007, as reported by CBS News, Nicole hinted at the strained relationship with Peter Michael Escovedo and Karen Moss. When she became pregnant with her daughter, Harlow Madden, she felt compelled to address their issues but didn't disclose how the situation unfolded. Although she didn't delve into specific details, it appeared that she didn't have much of a connection with them and hasn't addressed the topic since. According to RadarOnline, Escovedo has allegedly agreed not to make public statements about Nicole or her family.