Details About Ariana Grande And Dalton Gomez's Quick Divorce Settlement
There were signs that Ariana Grande and Dalton Gomez's marriage was destined for failure, and now their divorce is settled. Grande and Gomez apparently separated in January or February 2023 and, after an explosion of gossip surrounding Grande and "Wicked" co-star Ethan Slater's relationship in July 2023, Grande and Gomez both filed for divorce in September 2023.
The divorce filing from Grande asked for the prenuptial agreement to be honored, and she also listed some other things (both physical items and monetary wealth) that she wanted to keep in the divorce. She also said Gomez needed to contribute toward the cost of their divorce lawyers (via E! News).
"They were taking their time together to slowly work through the details of the agreement privately before filing," a source told E! News. "They've been really caring and respectful of one another every step of this process. It's been a very kind and patient uncoupling process." The insider also stated that both Gomez and Grande have moved on, which makes sense considering recent reports.
Dalton Gomez is contractually obligated not to write a book about their marriage
Ariana Grande and Dalton Gomez's divorce settlement was a straightforward one. Grande will get to keep her things, most likely thanks to that prenuptial agreement they signed, and Daily Mail reports that she'll officially be considered a single woman again on March 19, 2024. According to TMZ, Grande agreed to pay Gomez $1,250,000 upfront, instead of making payments over time, and that money is tax-free. She will also pay no more than $25,000 to Gomez's lawyer.
Page Six shared more details on the settlement after getting a look at the official documents, and apparently, Gomez can stay in their L.A. home for, " ... thirty (30) days rent-free ... " and neither he nor Grande are responsible for any future support payments. The exes will pay the mortgage of their home before selling it, and they'll each get half of the profit when the house is sold.
Privacy is a hallmark of this divorce, as Grande and Gomez cannot share, "any photograph (and related negatives), tape, film or like embodiments in all forms whether now or hereafter created or other record or recording of any aspect of any activity in or about any home, office or other property owned," as per Daily Mail. Gomez is also not allowed to speak publicly about what their marriage was like and is forbidden from writing a book about it, and Grande said she wouldn't do that, either.
Dalton Gomez and Ariana Grande have new partners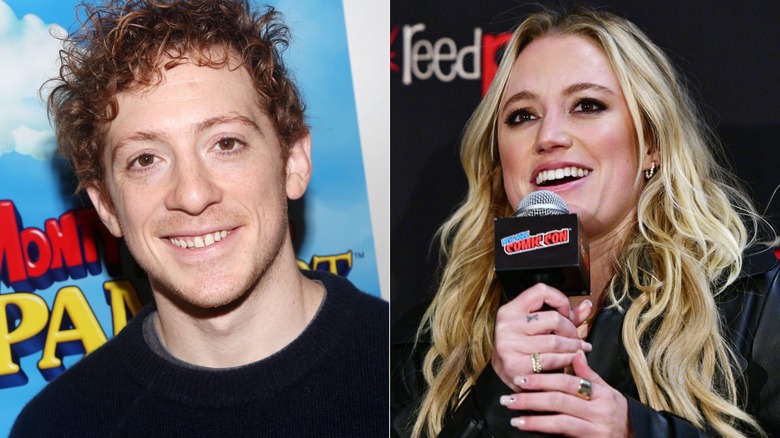 Bruce Glikas & Eugene Gologursky/Getty
Despite the drama surrounding their relationships with new partners, an insider who spoke with TMZ reiterated that Ariana Grande and Dalton Gomez are on good terms. They said, "There is still a strong mutual love and respect between Ariana and Dalton, and they wanted to make sure everything was done right in lockstep with one another."
Grande's new love interest is Ethan Slater, whom she met while filming the musical movie "Wicked." According to a source for Us Magazine, Slater and Grande are now living together in New York City. The source told the outlet, "They're really happy and really good for each other. All of her friends love him." This news comes about 3 months after Slater filed for divorce from his wife Lilly Jay, whom he was supposedly separated from before his relationship with Grande began. Jay did not take the news of Slater's new romance well, speaking out against Grande at the time and calling her, "Not a girl's girl" (via Page Six).
Gomez has found a new love, as well. He and "Watcher" star Maika Monroe were supposedly seen kissing in public and did not seem to mind who saw, according to reports on Deuxmoi (via Page Six). Monroe previously dated actor and musician Joe Keery. Although neither of them ever confirmed a breakup, there were rumors they had split in late 2022 and again in June 2023, when Keery was seen with another woman in Italy.