What We Know About Ariana Grande's New Love Interest, Ethan Slater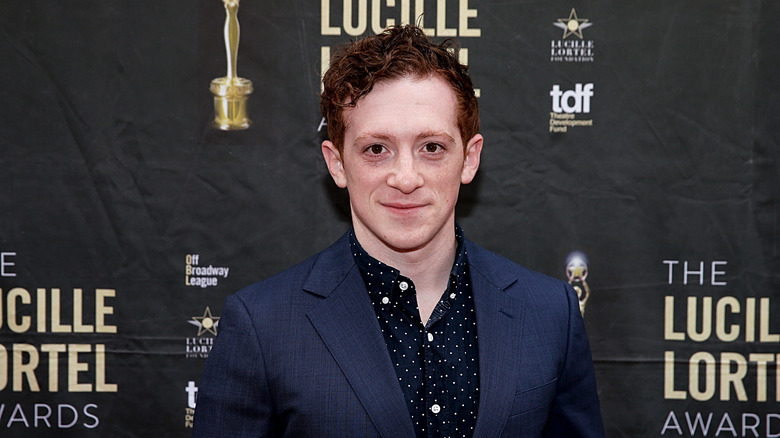 Dominik Bindl/Getty Images
Ethan Slater, who originated the role of SpongeBob in "SpongeBob SquarePants" on Broadway, is making headlines. However, they aren't for his acting chops, high tenor notes, or role in the live-action adaptation of the musical "Wicked" as the love-struck Munchkin, Boq. Instead, Slater is getting buzz surrounding his new romance with fellow "Wicked" co-star Ariana Grande, who plays Glinda in the film. 
Despite having Broadway backgrounds, the two singers didn't meet until filming in London, which commenced in July 2022. On July 20, news of Slater and Grande's romance broke out. The suddenness of the announcement shocked fans, because both Grande and Slater had recently married other people. For Grande, her two-year marriage to Dalton Gomez ended in January upon separation rumors, while Slater was reportedly still with his wife of four years, Lilly Jay. Since the rumors surfaced, Jay has confirmed that the three of them spent an ample amount of time together on the set of "Wicked" before the two co-stars started dating. Of course, infidelity rumors are just one of the ways celebrity marriages have faced uphill battles, but even with the suspiciousness surrounding the rumored affair, fans are growing more curious about Slater, who remains relatively unknown compared to Grande.
Ethan Slater's performing background and personal life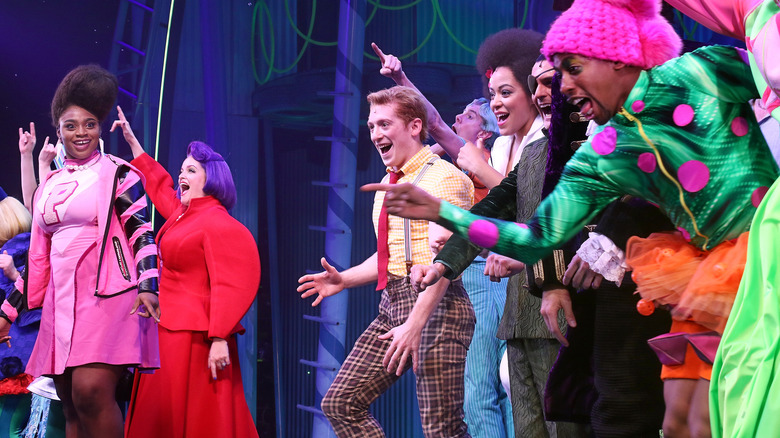 Jim Spellman/Getty Images
As for his personal life, Slater was born in 1992 in Silver Springs, Maryland, and grew up in a Jewish household with two sisters. Throughout his early childhood, Slater developed a natural passion for singing and quickly became involved in community theater productions. In addition to performing, Slater simultaneously played baseball and competed on his high school's wrestling team. Slater told The Broadway Podcast Network that he remains an avid baseball fanatic to this day, collecting vintage baseball cards and rooting for the Baltimore Orioles.
After graduating high school in 2010, Slater attended Vassar College for theater, graduating in 2014. During his sophomore year of college, he auditioned for the workshop of "SpongeBob SquarePants, the Musical," eventually landing the titular role when the show advanced to Broadway.
Slater was nominated for a Tony Award for best actor for his portrayal of happy-go-lucky sea sponge, SpongeBob SquarePants. Slater has additional theater credits under his belt too, including Off-Broadway shows like "Assassins," "Baghdaddy," and "Claudio Quest." Aside from the stage, Slater has experience acting for the camera and has credits spanning both feature films and web series ("Lightning Bugs in a Jar," "Evol," and "Redheads Anonymous"). Additionally, Slater has appeared in Emmy-nominated shows, including "Fosse/Verdon," "Murphy Brown," "Law & Order: SVU," and "The Marvelous Mrs. Maisel." Slater is also a composer. He co-wrote a new musical "Edge of the World," and released a concept album for the show in 2021.
Ethan Slater's marriage to ex-wife Lilly Jay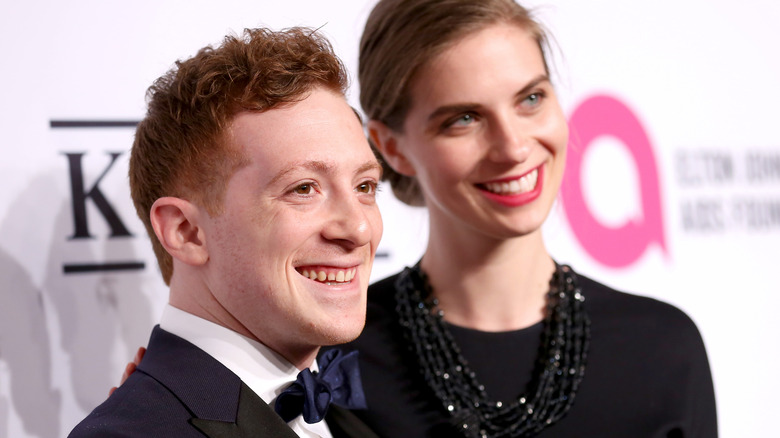 Monica Schipper/Getty Images
Perhaps the biggest question mark involving Ethan Slater's history is his marriage to high-school sweetheart, Lilly Jay. Like Slater, Jay was born and raised in Maryland and met the future "SpongeBob" star while attending Georgetown Day School in Washington, D.C. The pair publicly began dating in 2012, and six years later, they welcomed a healthy baby boy together.
Slater has also made a series of sweet posts to his then-wife on his now-private Instagram account, ranging from supporting Jay as a partner to celebrating her as a mom. One, in particular, may be one of the sweetest things a celeb has said about their significant other. On Mother's Day 2023, Slater took to Instagram to honor Jay, calling her "loving, caring, and wonderful." However, after the viral announcement of his new relationship with Grande, Slater set his Instagram to private and filed for divorce from Jay as of Wednesday, July 26.