All The Lawsuits And Allegations Brought Against Love Is Blind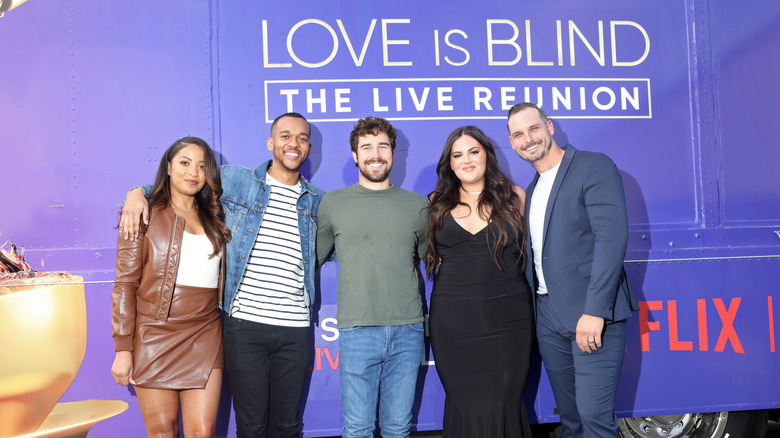 Roger Kisby/Getty Images
After its premiere in 2020, Netflix's "Love Is Blind" quickly captured the hearts of fans around the world. The reality series, hosted by Nick and Vanessa Lachey, encourages contestants to build real connections without seeing each other. But within the past year, the popular dating show has faced allegations of on-set abuse and unjust working conditions.
These issues first came to light in July 2022, when Jeremy Hartwell filed a lawsuit against the series and its producers. As a participant in Season 2, Hartwell claimed that "Love Is Blind" showrunners manipulated participants in order to make better television. "They intentionally underpaid the cast members, deprived them of food, water, and sleep," Hartwell's attorney said in a statement (per Us Weekly). "This made cast members hungry for social connections and altered their emotions and decision-making."
In 2023, more "Love Is Blind" alums stepped forward to condemn the showrunners' abuse. Nick Thomspon and Danielle Ruhl, who got married during Season 2, have spoken out about negligence and its effect on their mental health. Additionally, harrowing claims of on-set sexual assault have been made, with another lawsuit filed against "Love is Blind"'s production company. In light of these suits, fans fear that the end of this reality TV staple could be near.
Lawsuits allege that showrunners falsely imprisoned participants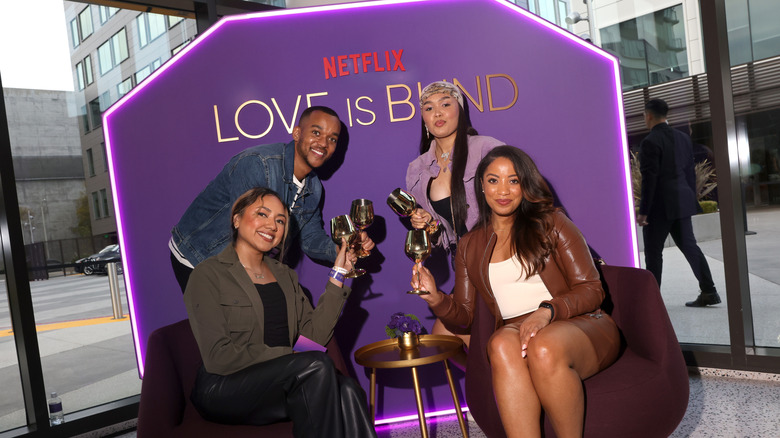 Roger Kisby/Getty Images
"Love Is Blind" isn't the first popular television show to face controversy. There were many scandals across the "Law & Order" franchise, and its series are still running. But reality television is much more tricky — behind-the-scenes neglect created the on-screen storylines that audiences were hooked on. In an interview with Business Insider, contestants Danielle Drouin and Danielle Ruhl opened up about 20-hour film days in which they were paid $7.14 an hour.
In addition to a toxic work environment, participants alleged that the psychological evaluations were not taken seriously. Ruhl said that after telling producers about her suicidal thoughts, they pressured her to continue filming, which worsened her mental health. "I joke [that] they don't want you to be too crazy, but just crazy enough," Drouin explained to Business Insider of the showrunners' manipulation tactics. "The sleep deprivation was real. I feel like they do it on purpose because they're trying to break you."
"Love Is Blind" fell into a deeper hole after Tran Dang, a Season 5 contestant whose scenes were cut from the show, alleged that she was assaulted during filming. Dang's lawsuit states that after getting engaged to fellow participant Thomas Smith, he sexually assaulted her during their post-pod vacation in Mexico (via The Today Show). Dang said that she reported the incident to producers, who waved it off. To make matters worse, she also believes that these crimes were caught on camera since the couples were filmed 24/7.
'Love Is Blind' showrunners deny all of these claims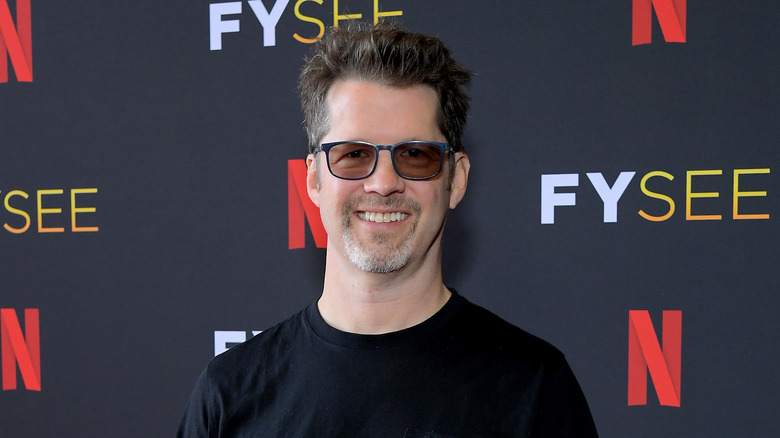 Charley Gallay/Getty Images
Kinetic Content and Delirium TV, which produce the series for Netflix, released a statement calling Tran Dang's suit meritless. The production companies stated that they have no responsibility over what happens between couples during off-camera moments (via The Today Show). "Love Is Blind" series creator Chris Coelen echoed these sentiments and also condemned Dang's claims that she was falsely imprisoned during filming.
"If anybody ever came to us and said they felt unsafe in any way, we would immediately remove them from the experiment and talk to them," Coelen told People. "Claiming that you are falsely imprisoned on 'Love Is Blind' is preposterous and ridiculous." While all parties involved in running the series have refuted these allegations, there is a common thread between former castmates' stories. Similar statements about production's pushing of alcohol and limited outside contact were addressed in Jeremy Hartwell's lawsuit, as well.
While there may be some weird rules that contestants have to follow, these filming conditions were enough to drive legal action. To further hold production accountable, Hartwell and Nick Thompson teamed up to form the "Unscripted Cast Advocacy Network (UCAN)" in 2023. They founded UCAN after realizing the severe impact participating in "Love Is Blind" had on their mental health, careers, and reputation. This foundation is a resource for former contestants suffering from psychological and legal struggles after appearing on reality television.