HGTV's Jonathan Scott Almost Lost Zooey Deschanel Over Bad Cell Service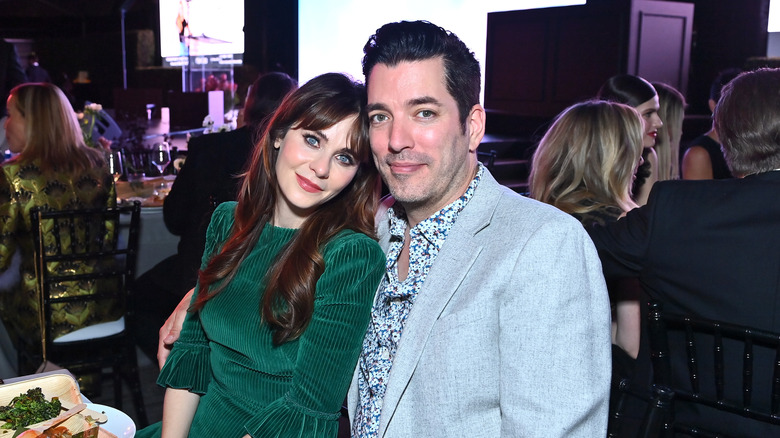 Stefanie Keenan/Getty Images
While the stunning Zooey Deschanel is known for her acting gigs, starring in the fan-favorite sitcom "New Girl," and appearing in cult-classic movies such as "500 Days of Summer" and "Elf," Jonathan Scott is known as one-half of HGTV's "Property Brothers." Their worlds collided back in 2019 when they appeared alongside their siblings, Drew Scott and Emily Deschanel, on an episode of James Corden's "Carpool Karaoke."
According to Scott, their connection was pretty instant, with the HGTV star even telling Bustle, "I was flirting so bad that they had to edit it down." Though the Deschanel-Scott romance was budding in 2019, it hit a bit of a road bump when the HGTV star took a horse-riding trip through the Rocky Mountains. The days-long adventure left him with no way to contact Deschanel, who was under the impression that she was being ghosted.
Luckily, the misunderstanding was resolved with a happy ending, and the two have gone on to announce their over-the-moon sweet engagement in August 2023. 
How Jonathan Scott salvaged his budding relationship with Zooey Deschanel
Following their meet-cute, Zooey Deschanel and Jonathan Scott were in constant contact as their early romance began to bud. "We talked or texted every single day, I think, and still have every day since we met," Scott told People in October 2023. "Except for the [time] I went up on a packed trip up into the middle of the Rocky Mountains, where there was no cell service."
As a result, Scott was forced to have no contact with Deschanel for three to four days. "She thought I was just blowing her off," he explained, a sentiment that Deschanel echoed in the same interview. While this misunderstanding could've spelled disaster for another couple, these two were able to survive with minimal damage. 
The "Property Brothers" host was able to make it up to the "New Girl" star using their shared love of music. "The very first text I sent when I came out of the mountains was a video I recorded to a Canadian country song that she had mentioned to me," Scott told Bustle in 2022. "She was like, 'Oh, this guy likes me.' And we've literally talked every single day since. It's been the best 3 years of my life." 
Music has been an important element of the couple's relationship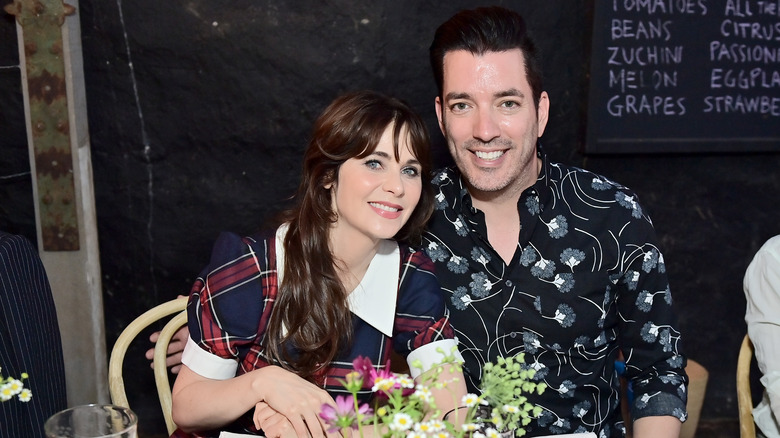 Stefanie Keenan/Getty Images
According to a source close to the couple, music has been something that Jonathan Scott and Zooey Deschanel have particularly bonded over, with both having their own share of musical talent (via People). "Let me tell you, I've been quarantined with the perfect person," Scott told People during the COVID-19 lockdown. "Not only is Zooey an amazing cook, but she's a musician, so our house is constantly filled with music."
You've likely heard Deschanel's voice in some of her acting work, as she's featured on the soundtracks of films like "Elf," "500 Days of Summer," and "Yes Man," but she's also one-half of the music duo She & Him. Similarly, Scott has released several songs, including the tracks "Hold On" and "You Chose Me," with his brother Drew under the name "The Scott Brothers."
With both having an interest in music and their original connection being made on "Carpool Karaoke," it's not surprising that Scott was able to salvage his chance with Deschanel using a song she had recommended to him. That said, we're just glad that the HGTV star didn't actually ghost Deschanel, as they wouldn't be the power couple they are today if he had.