The Dark Side Of JoJo Siwa's Time On Dance Moms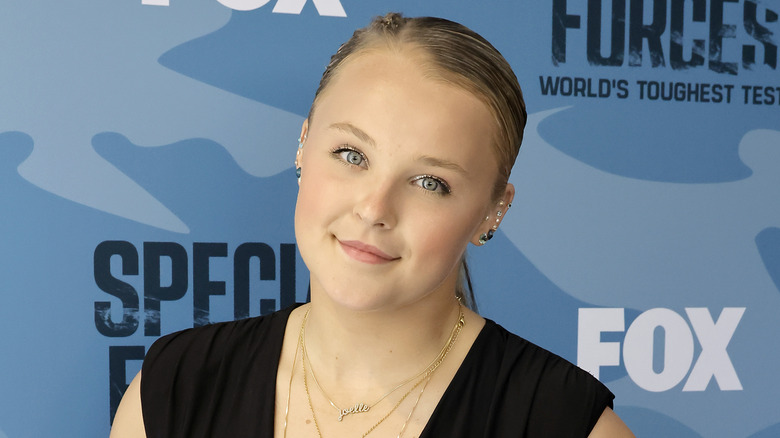 Kevin Winter/Getty Images
TV star, professional dancer, singer, YouTuber, and hair-bow wearer extraordinaire JoJo Siwa has entertained and inspired millions of fans for more than a decade. Surprisingly, although she's best known for her performances on "Dance Moms," Siwa appeared as a regular for just two seasons. She first debuted on "Abby's Ultimate Dance Competition," then joined the cast of "Dance Moms" for Seasons 5 and 6, and was an occasional guest on Season 8. But her outsized personality and impressive dance skills quickly made Siwa a fan favorite, and they followed her when Nickelodeon signed the reality star to a multi-project deal. 
Since then, Siwa has gone on to competitive turns on "Dancing With the Stars" (she was runner-up), "The Masked Singer" (she was T-Rex), and perhaps her biggest challenge yet, "Special Forces." She also gained the confidence to live her truth. Siwa came out as LGBTQ+ in 2021, instantly earning praise and gratitude from other queer youth delighted to have a peer in their corner. 
Siwa is well aware that her time with the Abby Lee Dance Studio helped propel her to stardom. As she told Entertainment Tonight, "I am one of the few — there's only a few people — that really, truly thank Abby, and are thankful and grateful for what she's done for us. Because without her, 'Dance Moms' wouldn't be a thing, and without that, none of us would have a career." Yet Siwa also discovered that this opportunity came at the cost of her privacy and health.
JoJo Siwa's time with Abby Lee Miller cost her some hair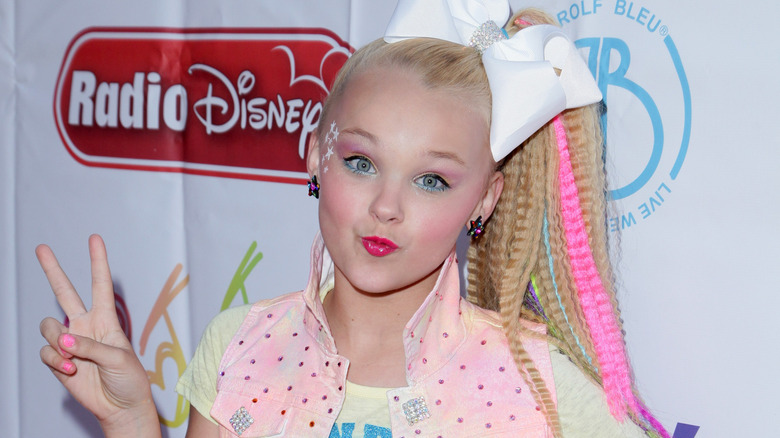 Paul Redmond/Getty Images
Abby Lee Miller was the driving force behind "Dance Moms." The acclaimed coach helped secure numerous victories for her students, but Miller's methods were often questionable. The no-nonsense leader frequently pitted her young charges against each other to vie for coveted solos, resorted to name-calling and fat-shaming when they didn't fall in line, and even engaged in physical brawls with the mothers who thought their daughters weren't being given fair treatment. The young dancers tried their best to take all the drama in stride, but the tense atmosphere took its toll. And, for JoJo Siwa, the agita manifested itself in a very visible way.
In 2022, long after leaving ALDS, Siwa posted a TikTok in which she parted her hair to reveal a nearly bald patch near her right temple. "Stress rash on my head when I was on Dance [M]oms lead to no more hair there," she captioned it. Some fans surmised the hair loss really developed as a result of the tight ponytails Siwa wore in practice and competitions (this condition is called traction alopecia, according to the American Academy of Dermatology). 
However, the former child star clarified in a follow-up video that it was, in fact, a skin rash that led to follicle damage because she picked at it so often. Many followers offered sympathy. One wrote, "I'm sorry you were under so much stress at such a young age but you've grown into someone [m]y daughter and son can look up [to]!"
The Dance Moms breakout learned a terrifying lesson about fame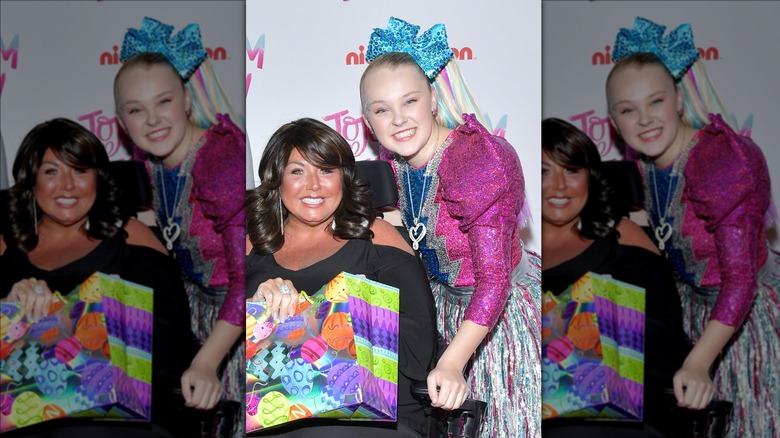 Amy Sussman/Getty Images
As JoJo Siwa learned, there are plenty of perks to being a young TV star including a fattened bank account, invites to prestigious events, and career opportunities most teens can only dream of. Siwa's relatively short stint on "Dance Moms" helped her become a worldwide brand; the array of products bearing her name and likeness includes clothing, dolls, books, makeup, bedding, home accessories, and, of course, huge hair bows. Being famous also means being recognized and admired by millions — which also has its downside, as Siwa quickly learned.
When the "Dance Moms" alum was just 11 years old, she became the object of unwanted attention from a 36-year-old California man. As NBC San Diego reported at the time, Phoenix Sundown grew completely obsessed with the young dancer, even going so far as to have her portrait tattooed on his neck. Two months later, he was arrested in connection with sexually explicit material sent in packages to Siwa's Pennsylvania home. Admitting he had also sent similar mailings to fellow "Dance Moms" star Maddie Ziegler, Sundown was sentenced to three years in jail. 
Naturally, Siwa has also had to deal with plenty of haters, both online and in person. She once regaled Variety with a story about an unpleasant outing to an amusement park at Halloween. "I went to Knott's Scary Farm, and people were being awful," Siwa recalled. "All these teenagers were, like, 'JoJo Siwa, F– you! Go home.' All night long people were shouting things at me." Thankfully, her naturally positive nature helps Siwa to rise above all the negativity.